'Good Bones' Season 2 Finale: The Little House on Lexington
Mina and Karen take a financial risk on a house in an established historic neighborhood but, with structural issues and zoning restrictions, soon find they may have landed themselves in a historic hot mess.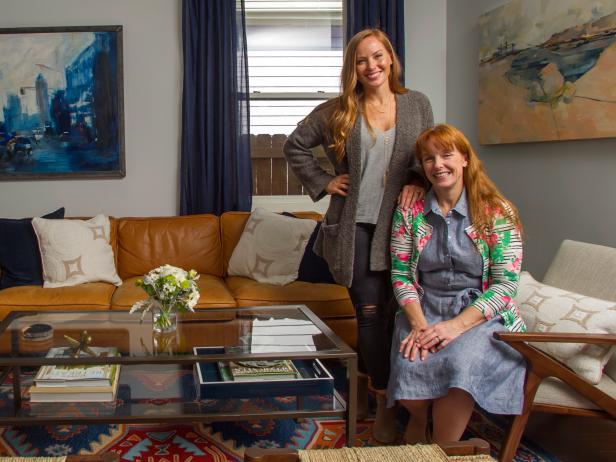 Mina Starsiak Hawk and Karen E Laine of HGTV's Good Bones
Mary Ann Carter/Getty Images
Mina Starsiak Hawk and Karen E Laine of HGTV's Good Bones
The season finale of Good Bones finds the ladies restoring a 845-square-foot house in Indy's historic Fletcher Place neighborhood. Like many homes in the area, the house comes with elements of charm but, though the house is tiny, this particular renovation comes with at least three big challenges.
Number one is getting rid of the mountain of trash left inside the house by former tenants. Number two is dealing with a seriously compromised foundation. Number three is updating the house to make it buyer friendly while, at the same time, meeting the requirements of the city's historic preservation commission – since the house is vintage and located in a designated historic neighborhood.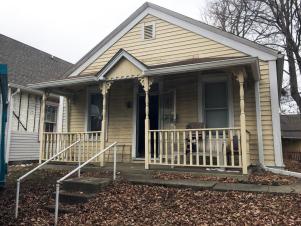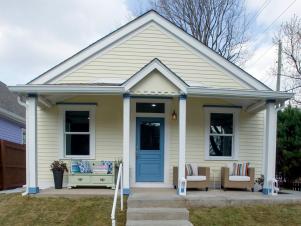 Mary Ann Carter/Getty Images
The purchase price for the house was $65,000, relatively high compared to many of Karen and Mina's other renovations — some of which involve homes that would otherwise be destined for the wrecking ball and are purchased for as little as $5k. This house, though, is in an older and more established neighborhood that's been zoned historic, so the property values tend to be a little higher and more stable than in some nearby areas. The hope is to complete the renovation for around $125,000 then list the house for $230,000 for a potential profit of around $40,000.
This historic house presents a number of big issues. The demo's going to be massive because we've got tons of trash to get rid of. There are definitely some huge structural issues we'll need to fix. And we'll need to work within guidelines of the historic commission, which could substantially add to our costs.
Mina
When Karen and Mina pay an initial visit to the house to assess the scope of the project, they find enough trash inside to create a small land-fill, then end up staring down the barrel of two refrigerators filled with rotting food. Needless to say, the demo phase of the project — involving brother Tad and his entourage — will prove interesting. Then there's an unexpected plot twist involving Mina's cell phone. And don't miss Karen's novel choice of demo-day headwear.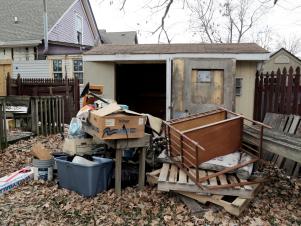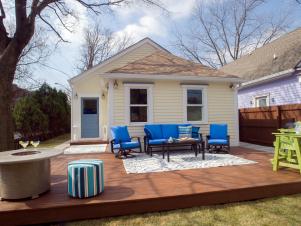 Mary Ann Carter/Getty Images
Adding to the challenge for this project is the rigid set of guidelines that must be followed when restoring a home in a neighborhood within a historic overlay. Materials used in the restoration must match the types used when the house was originally built, placement, size and style of windows and doors must remain intact, and no major modifications or additions to the original structure are permitted.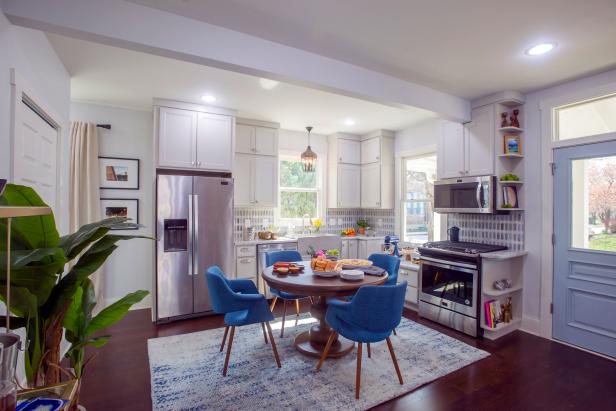 White Mid-Century Modern Kitchen with Double-Stacked Upper Cabinets
The newly renovated kitchen
Mary Ann Carter/Getty Images
The newly renovated kitchen
Renovations of this type can be a labor-of-love and an expensive proposition, but the guidelines help ensure that both the house and the neighborhood as a whole retain their timeless, historic character. Big-budget items for this reno include all new wood siding and replacing the original windows with new wood-framed ones to match the original style.
As they often do, our intrepid house-flippers already have a potential buyer in mind who's excited by the prospect of moving to this neighborhood. The question is whether the renovation will match his personal style and fall within his budget.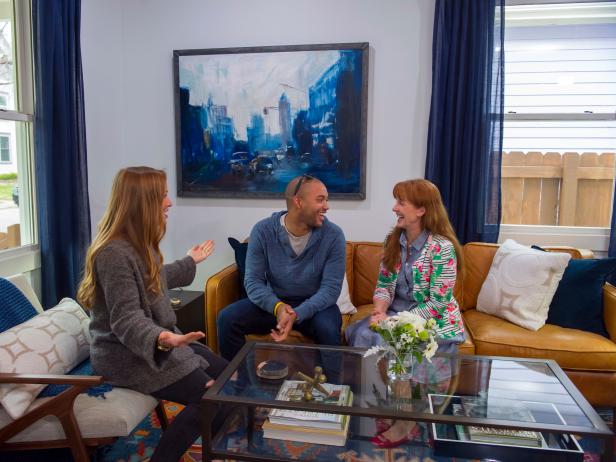 Mina and Karen chat up potential buyer Ryan in hopes that he may turn out to be a brand new homeowner — and become their newest neighbor.
Mary Ann Carter/Getty Images
Mina and Karen chat up potential buyer Ryan in hopes that he may turn out to be a brand new homeowner — and become their newest neighbor.
The Good Bones episode titled "Historical Hot Mess" premieres August 29 at 10p|9c.
The Little Lexington House
Mina and Karen pose for a pic with potential home buyer, Ryan. For this project, the Mina and Karen splurged on a corner-lot home in the established Fletcher Place neighborhood, an area that contains many vintage homes and is zoned historic. In some ways it's a less risky venture than their other flips — since the property values in this area tend to be more stable. But the initial purchase price was higher than what they typically pay, and renovating in accordance with historic zoning requirements can come with its own special challenges.
Modern and Masculine
The newly remodeled living room features new engineered hardwood flooring in dark finish, a cool blue palette and modern styled furnishings. "We added some mid-century style chairs and a low industrial glass coffee table," said Karen, "so it fills the space well without making the space feel overfilled."
Kitchenistas
The footprint of the entire house is tiny, so all the spaces are naturally small. The kitchen, which in Mina's new floor plan is moved forward and contiguous with the redesigned living room, is compact but efficiently designed and laid out with plenty of storage and counter space.
Before
Mina and Karen purchased this house in the Fletcher Place neighborhood for $65,000. It came with two bedrooms, one bath, lots of closets and the kitchen located in an addition at the rear of the house. Prior to the renovation, the exterior was painted a dingy yellow, the wood siding was rotted and there were foundation issues. The renovation estimate at the outset was $125,000, and Mina hoped to be able to put the house on the market for at least $230,000.
After
Exterior enhancements include new wood siding and insulation, heavier porch columns, pale yellow paint and white trim. The front door and windows were replaced but, in keeping with historic preservation guidelines, doors and windows must remain in their original sizes and locations and use the same design and materials as when the house was built. Rather than using modern vinyl, fiberglass or composite frames, these are classic wood windows in sash design.
Backyard, After
At the time that the kitchen add-on was built at the rear house, the home's back door was incorporated into that structure. Mina's design plan called for moving the kitchen forward in the floor plan, turning the rear section into a bedroom and offsetting the back door to the side of that section. The historic zoning restrictions that prohibit relocating of doors presented a problem in that respect. Fortunately, during demo the home's original back-door framing – pre-dating the add-on – was located, so the renovation could include returning the door to its original offset location seen here.
Backyard, After
Highlights in the newly landscaped backyard include a large rear deck with outdoor dining area and fire pit.
Living Room, Before
Many of the distressed homes that Mina and Karen have purchased have had trash and belongings left by former tenants, but this one may have been the record breaker for shear volume of trash.
Before
Once the refuse could be cleared away, the planned renovation would essentially be a full gut job would create a combined kitchen and living space at the front of the house, with bedrooms and baths at the rear.
Living Room, After
"There's this grown-up, masculine feel going on," said Karen. "We went with this mid-century modern [look], some organic elements, some warm woods and brighter colors to accent." The original painting featured in the living room is an impressionistic styled cityscape of Indianapolis by Mina and Karen's friend Beth, a local artist whose paintings have been featured in a number of their restorations.
Kitchen, After
The kitchen, newly relocated to the front portion of the house, features quartz countertops in light gray, a concrete sink, double-stacked upper cabinets, marble hex tile and brushed stainless appliances.
Kitchen, Detail
One of the kitchen's more distinctive features is this deep concrete sink.
A challenge with the new kitchen was designing around the existing windows — which had to be retained in their original dimensions in order to meet historic preservation guidelines.
Bedroom, After
The first of two newly remodeled bedrooms, this one is located in what was once part of the kitchen and laundry room. It features new recessed lighting and powder blue walls, and is staged with coordinating bed linens and dhurrie area rug and a bed with calfskin leather headboard.
Bathroom #1, After
Connected to the front bedroom is this en suite bath with full combination bathtub and shower and double vanity,
Bedroom #2, After
The rear bedroom, which can serve as the master, is spacious and open with high ceilings and lots of closet space. The table lamp at right was custom created by Karen using wood turnings that were original to the house and salvaged during demo.
Bathroom, Before
Prior to the renovation, this cramped, narrow bathroom — which Mina likened to a bowling alley — was the only bathroom in the house.
Bathroom #2, After
Both of the new bathrooms feature gray Carrara marble hex tile for the shower surrounds.
Office Nook
Working within the 845-square-foot house, Mina wanted to make every square foot count, se she added this fun workspace with built-in shelves and desk. A panel from one of the original wood doors was cut and repurposed to create the desk top then topped with glass to make a smooth work surface.
Powder Room, After
There was also room to add this half bath tucked into a small space just off the hallway.
Backyard, After
The newly revitalized backyard is what Mina calls "the icing on the cake" for this renovaiton.
Backyard, After
"We've got a grill. We've got a high-top bar setting, dining table, fire pit, storage shed, deck and green space," said Mina. "I mean, if the house doesn't sell them, this yard definitely will."
Behind the Scenes
With the renovation complete, Mina and Karen take a break to enjoy hors d'oeuvres on the rear lanai.
Behind the Scenes: The Reveal
As they often do, Mina and Karen already had a potential buyer in mind for this house before the renovation was complete. In this case it was Ryan, seen here getting the full guided tour, who's excited by the prospect of moving to Fletcher Place.
Behind the Scenes: The Reveal
After showing Ryan all of the renovated spaces, our two house-flippers extraordinaire are hopeful that a glass of wine might just help close the deal.
Behind the Scenes: The Reveal
Spoiler Alert: Ryan found the house to be ideal and perfectly in line with his tastes, In the end, he did buy it.
Behind the Scenes: The Reveal
Behind the Scenes: The Reveal
Sold!
"Ryan is totally the spark that will give life to this historic house again," said Karen. "This is his house."
Afterword
After taking a considerable risk on the Little Lexington House, Mina and Karen can chalk up another happy victory. After purchasing the house for $65,000, and investing around $200,000 in the renovation (considerably more than their original estimate), they were ultimately able to sell the house to an enthusiastic buyer. "We ended up selling it to Ryan for 285,000," said Mina "which gives us a profit of $20,000, which isn't huge, but part of our business model is renovating homes and getting good people into the neighborhoods, so it was definitely worth it."
One More Thing
The "Little Lexington House" episode of Good Bones is the Season 2 finale. But fear not, fans. Mina, Karen and the whole Good Bones gang will be back for Season 3, scheduled to air on HGTV in March 2018. Meanwhile, keep checking back here for exclusive photos, video and show updates.
And with Season 2 drawing to a close, this is the last new Good Bones episode for a while. But fear not, followers of Indy's favorite "Two Chicks and a Hammer" mother-daughter duo. A third season is in the works and scheduled to air on HGTV in March 2018. And be sure to check back here to see more exclusive photo galleries, videos and Good Bones updates.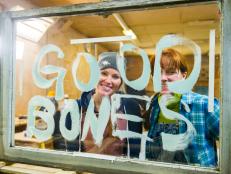 The ladies of Good Bones transform a tiny and sad Victorian home on the outskirts of downtown Indy into a stylish showplace brimming with light and space.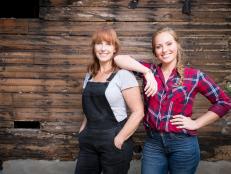 Bigger projects, bigger family news and more Tad! Can't wait for Karen and Mina to return to the screen on April 10? Tide yourself over with some sneak peeks of what's to come.
Hoarded to the brim and so badly rotted out, even Mina and Karen couldn't save this Indy house filled with 'danger zones.'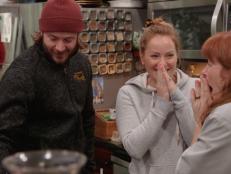 Watch the Good Bones star surprise her family with the news of expecting her first child this summer.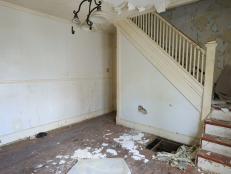 A tub goes missing, an accent wall gets gone, treasure falls out of the ceiling ... this episode of Good Bones is an emotional rollercoaster for Karen the Collector (not Hoarder).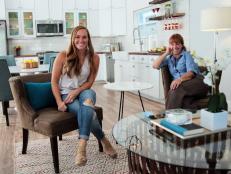 Those mighty Indy women, Mina and Karen, are back for a second season of home renos and rescues in their city's historic neighborhoods.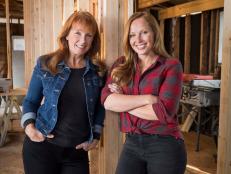 Good news, fellow Good Bones fans: The show will return for a second season! Let us count the ways we love Mina, Karen and their colorful fixer uppers.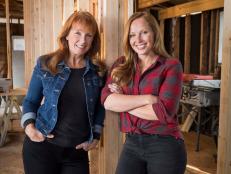 Now that's what we call a constructive relationship. (Sorry. We couldn't help ourselves.)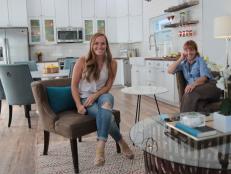 Mina and Karen head back to Woodlawn Ave. to rescue a partially finished new-construction home that was abandoned halfway through completion.
When a family moved to Los Angeles, Jeff Troyer Associates created a home full of the New England charm the owners grew up with. The historic 1938 ranch house was remodeled for modern-day living while retaining original details and fixtures throughout.