Outfit Your Home's Exterior
Make the outside of your home shine by choosing smart details that define the look and style.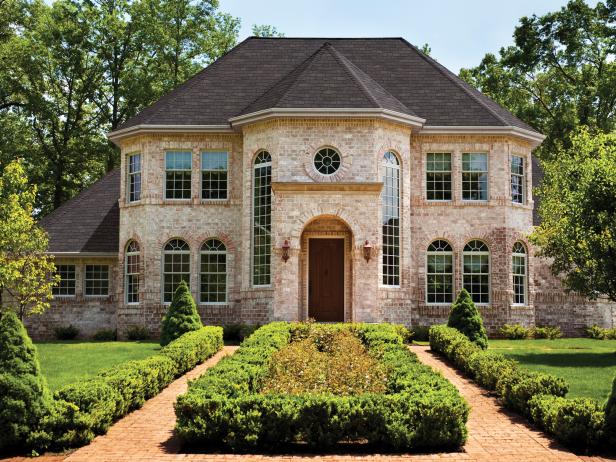 CI-GAF-Roofing-exterior-buying-guide-brick-house_s4x3
Photo courtesy of GAF Roofing
James G Brey
Photo courtesy of GAF Roofing
The exterior of your home not only provides a safe and secure environment for the rooms inside, it also establishes the style of your house. First impressions are always important, and you can set the tone for the rest of your property by carefully selecting exterior components that give your house a personality. Your finished roof, your home's siding and well-chosen architectural details add curb appeal, make guests feel welcome and create a defined look.
"At a certain level, the outer skin of your house is who you are," says architect Lewis Butler, AIA, president of Butler Armsden Architects of San Francisco. "There's great opportunity with the exterior of your house to say something profound, if you choose to do that. The outside is the face of your house."
Attractive trim, a well-placed arbor, a beautiful stone walkway or a period porch light are other tools you can use to give your home a sense of style. But choosing wisely will help you avoid the too-many-ornaments-on-the-Christmas-tree syndrome. Smart decisions and some restraint allow your home to shine.
Midcentury Modern
Among some of the country's best architecture, this midcentury bungalow features cast concrete blocks laid in a brick-like pattern and a gently sloped low-profile roofline.
Cape Cod
Cape Cods originated in the 1600s and were designed to withstand the sometimes-stormy weather on the Massachusetts coastline. Cape Cods are traditionally modest boxes with few exterior details — simple gray shingles and a dormer window or two — but they have evolved over the years, now incorporating different styles and influences.
Contemporary
Contemporary homes are a broad category that often feature an interesting mix of natural materials, horizontal lines and flat or low-pitched roofs. These homes often emphasize a strong connection between the indoors and outdoors, with large walls of glass that allow natural light inside.
Cottage
Cottages are smaller-scale homes that are charming and cozy. Used for everyday living and as vacation homes, cottages often include dormer windows, an inviting porch with wicker furniture, or a casual garden with a picket fence and bright flowers.
Craftsman
With details inspired by the Arts and Crafts Movement, Craftsman homes are known for their broad front porches with thick, square columns. These homes are often economical bungalows and feature clean lines, warm colors and natural materials.
Farmhouse
Straightforward and functional, these homes originated as houses built on agricultural lands. Farmhouses often feature porches added for shade, dormer windows and local stone or timber. This home's aesthetic is heavy on necessities and timeworn finishes, with a simplified interpretation of other styles and influences.
Victorian
Detailed craftsmanship and multiple rooflines add lots of personality to Victorian homes. A diverse style, Victorians feature elaborate and ornate details with a liberal use of decorations on the facade. Turrets and towers are some of the eye-catching details, along with interesting exterior color combinations, often with three to five different hues. Design by KTGY Group, Inc.
Ranch
These often single-story homes with large, overhanging eaves usually include a large sliding door that connects the indoor spaces with a courtyard or patio outside. Ranch homes often have an attached garage that blends with the rest of the house.
Colonial
Colonials have a formal feel and stately look, with a restrained style developed by settlers from Europe who brought their architectural influences with them. Many traditional symmetrical Colonials have a brick facade, flat front and a prominent front door flanked by columns.
Tudor
Known for their steeply pitched roofs, pointed arched doorways and decorative half-timbered exteriors, Tudors often have a medieval look and feel. Tall and narrow windows grouped in multiple locations, sometimes with decorative crossbars for visual interest, give Tudors a distinct sense of style.
"Less is more on the outside of a house," says Armsden. "People sometimes try to do too much. We like to use materials with depth and warmth. Good architecture has to be reinforced by good detailing."
You can even perform an "architectural facelift" by using key design details and some imagination to transform a 1950s ranch home into an inviting Cape Cod-style house. But be aware that what makes a Cape Cod special are not the same details that give a Colonial or Tudor their distinct personality. Explore your home's architectural roots for inspiration and think about the look you want to achieve.
"A big mistake people make is that they don't let their house be what it wants to be," says architect Eddie Maestri, AIA, of Maestri Architecture & Design. "Pay attention to architectural details and go with a theme."
Take a good look at what your home already offers and consider how you can take your house to the next level. The following articles offer ideas and tips to help you reach your goals and create a cohesive look.
You may even discover a new love for your house that you never had before.