Outdoor Living Spaces: Ideas for Outdoor Rooms
Learn about options and ideas for outdoor rooms and outdoor living spaces.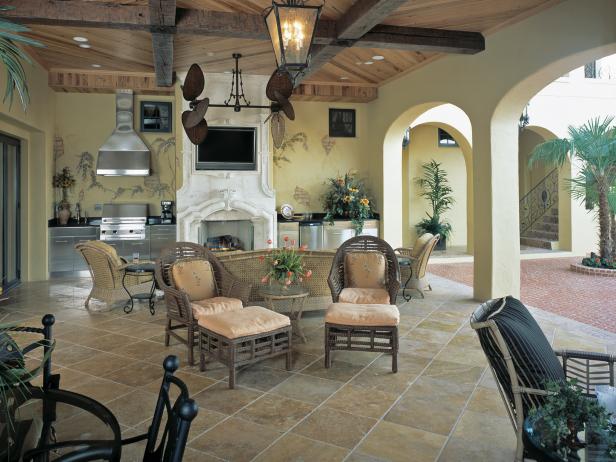 ibs_outdoor_09-outdoor-living-room-kitchen
Nature is a popular interior decorating theme, and the term "bringing the outside in" is often used to describe using natural features like plants and rocks inside—but what about "bringing the inside out"?
As you explore , keep in mind that creating a relaxing, stylish outdoor living space or outdoor room can greatly increase the appeal and value of your home and provide an oasis for friends and family to enjoy the great outdoors in supreme comfort.
A Charming Spot for Outdoor Dining
Rustic furniture pieces add warmth to an intimate backyard setting, while antique lighting allows guests to visit even after the sun sets. For those who enjoy the smoky flavors of a delicious homemade pizza, consider a brick wood-burning pizza oven. Photo courtesy of Wood Stone Kopke
An Oceanfront Escape
An ideal outdoor room is all about flow from the interiors. The oversize windows and the large opening to the balcony create an exotic staycation in a weather-controlled space. Photo courtesy of Kichler Lighting
An Outdoor Room for Fireside Chats
Outdoor fireplaces create a strong focal point in outdoor rooms, and they provide warmth for those cool evenings in the mountains. Photo courtesy of Mega-Bergerac
Lakeside Living
Sometimes all you need is a stone fire pit, two Adirondack chairs and a lake view. For a completely natural look, nothing beats stone. Keep in mind, natural stone costs more because it is quarried and has to be trucked in, adding transportation costs. Photo courtesy of Mega-Arbel
Outdoor Dining With a View
This outdoor dining room offers a year-round entertaining experience with a breathtaking view. When deciding on location for your outdoor room, consider how you want to use it. Photo courtesy of Gloster Furniture Inc.
Lounge-Worthy in the Backyard
Plush seating is a must-have in any outdoor room. Make sure you pick weather-resistant materials for long-lasting use. Photo courtesy of Kichler Lighting
An Intimate Gathering Place
Walls, a ceiling and a fireplace create a distinctive living room outdoors. Layer in mood lighting with eye-catching fixtures and lanterns. Photo courtesy of Kichler Lighting
Poolside Play
An umbrella is a great option to shade your outdoor living spaces. Also, consider awnings, canopies and gazebos to keep your guests comfortable on sunny days. Photo courtesy of Room and Board
Southwestern Retreat
Personalize your space with flair. This rustic outdoor room by is complete with a branch chandelier, flagstone flooring, a patterned rug and an antique.
Pops of Color
While gray stone is a classic hue for an outdoor space, add pops of interest with colorful accessories. When picking your furniture pieces, look for synthetic wicker for more durability. Photo courtesy of Mega-Arbel
Courtyard Dining
A full-service outdoor kitchen and dining area invites a crowd. In a sheltered backyard, large French doors with transom windows above can provide access while allowing natural light into your home.
A Grand Retreat
Provide plenty of seating options for your guests. This outdoor room features a plush couch, a built-in bench and a dining area for optimal gathering. Photo courtesy of Marrokal Design and Remodeling
Simply Chic
Turn your dull concrete slab into a fabulous backyard focal point with a clean mix of color. To define the space, face some seats toward your house. Photo courtesy of Room and Board
Contemporary Outdoor Dining
To add structure to the space, added walls covered with scented herbs and fruit.
Outdoor Destination
Greenery adds softness to a hardscaped outdoor design. Choose plants that are well-suited to your area and give them plenty of room to thrive in big pots. Browse images from
One of the most popular outdoor room touches you can explore is enclosing a gazebo or pergola in colorful outdoor curtains. These will have the effect of framing the outdoor room and creating a gentle perimeter, and they can also offer precious shade on sunny days.
Another outdoor room idea is to create an arch, trellis or doorway leading to your outdoor room. This structure can give guests the distinct feeling of entering a new space, and you can add interest to the design with colorful climbing plants.
Fencing is another great way to frame an outdoor room. Latticework, bamboo, weathered barn wood or even shrubs can create a stylish boundary for your outdoor living space, and once you have these "walls" in place, you can explore decorating them with artwork that'll stand up to the elements.
To protect your outdoor room from the elements, consider adding an awning in an eye-popping design. This way, your outdoor living space will be open for enjoyment even during inclement weather.
Don't be afraid to add stylish accents and traditional indoor furnishings to your outdoor room. Carpets, throw pillows for furniture, and other design touches will create a welcoming feel. Just make sure they're rated for outdoor use if they'll be exposed to the elements.
More ideas for Outdoor Living