Create Healthy, Delicious Homemade Kale Pesto
Move over basil! Frost-hardy kale is the star of this yummy pesto.
Kale Pesto In Jar
Kale pesto can stand alone as a zesty dip that can be made fresh long past frost.

Once frost hits, basil bows out of the garden scene with no hope of return, except on a windowsill indoors. But basil's exit doesn't have to end the pesto season. Stock your garden with kale plants, and you can feast on fresh kale pesto until well after the snow flies. Frost actually sweetens many kale varieties, which routinely survive temps in the low 20s. This Tuscan kale shows its hearty genetics on a 23-degree morning.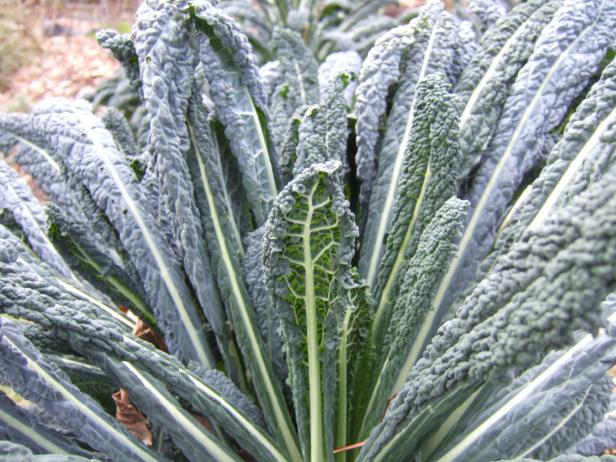 Tuscan Kale In Garden
Tuscan kale stands up to hard frosts with ease. These leaves survived 23 degrees F overnight and still offered a good crunch in the salad bowl.
Red Russian kale survives even colder nights, offering tasty leaves from beneath snow drifts.
Kale pesto fills every role in the kitchen that basil does—serve it with pasta, add to a frittata, toss with veggies or munch as a dip. Its versatility is only beaten by its evergreen hue. Kale pesto doesn't brown like basil—it looks as fresh on Day 3 as the moment it's made. This recipe yields roughly one cup, enough to sauce one pound of pasta.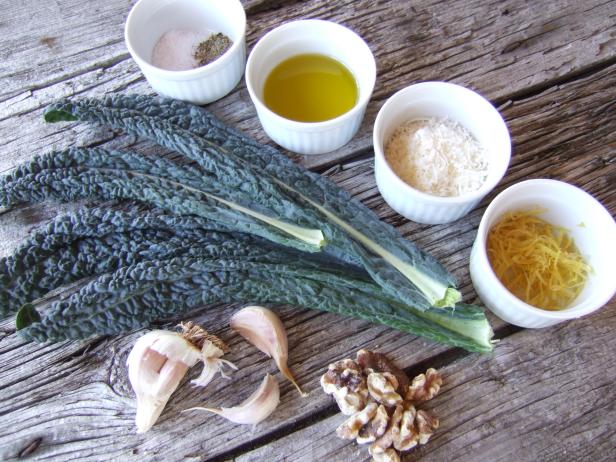 Kale Pesto Ingredients
A basic kale pesto blend features the following ingredients: walnuts, garlic, Tuscan kale, salt, pepper, extra virgin olive oil, romano cheese and lemon zest.
2-3 tablespoons walnuts, toasted
2 cloves garlic
Tuscan kale, 1 bunch (roughly 10 leaves, 6-9 inches long)
1/4 teaspoon salt
1/4 teaspoon pepper
1/4 cup extra virgin olive oil
1/4 cup pecorino Romano cheese
1/2 tablespoon lemon zest
1/2 - 1 tablespoon lemon juice (to taste)
Prep kale by washing and removing center rib. Tear long leaves into smaller pieces and add to bowl of food processor.
Add walnuts and garlic, then pulse until ingredients are coarsely chopped.
Add cheese, lemon zest and lemon juice. Pulse two to three times.
With motor running, slowly pour in olive oil. Process kale pesto until smooth.
Transfer kale pesto to a bowl. Stir in salt and pepper, seasoning to taste.
Try different types of kale to achieve taste variations. Commonly available kale includes (above, top to bottom): lacinato (also known as dinosaur or Tuscan), Red Russian and Vates Blue.
Kale leaves can offer a firm bite, even with midribs removed. Blanching helps soften the leaf. To blanch, submerge leaves in boiling water for 15 seconds until wilted. Immediately place in ice water for 15 seconds. Drain and blot dry before use.
Add more or less olive oil, depending on your taste. Reduce oil if you plan to freeze pesto in cubes. Increase oil to improve spreadability on pizza crust.
Stick with a strong flavored cheese to pair with the kale, like pecorino Romano, grana Padoro or fiore Sardo.
Amp up the Omega-3 content by adding flaxseed. Substitute flaxseed oil fo EVOO and flaxseed for walnuts. Omega-3's are most available in flaxseed when it's not heated, so plan to use flaxseed kale pesto cold—as a dip, sandwich spread or salad topping.
Substitute at will on the walnuts. Good options include toasted pine nuts or almonds, hemp seed, flaxseed, or roasted sunflower or pumpkin seeds.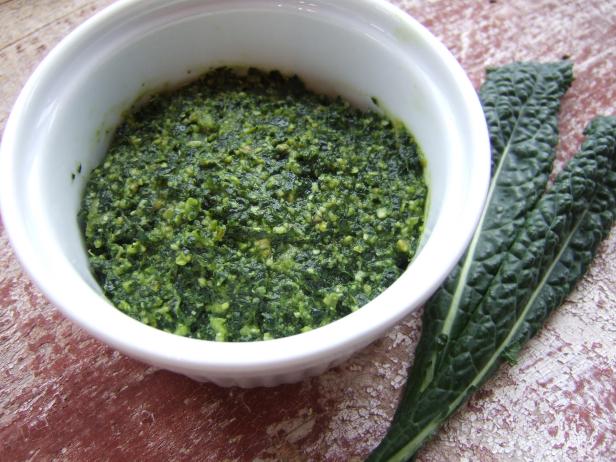 Kale Pesto In Bowl
Kale pesto offers a solid alternative for fresh pesto after frost has knocked basil out of the running.
Three Kinds Of Kale
Consider growing different types of kale for colorful pesto and salads. Three common types of kale include Tuscan, Red Russian and Vates Blue.