How to Prune Fall Raspberries
The plump, juicy fruit of a raspberry is one of summer's greatest joys, but it doesn't have to stop there.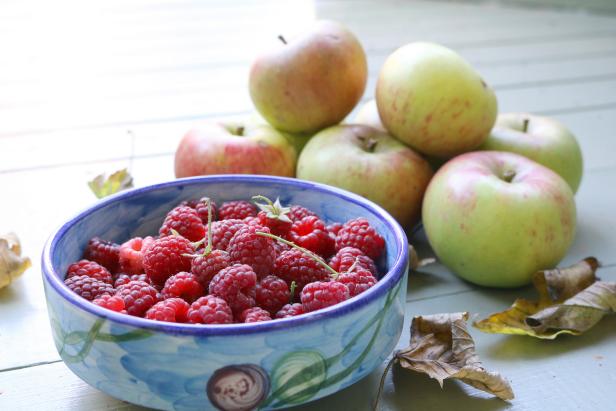 614962544
Raspberries in a blue bowl with a pile of apples nearby, surrounded by autumn leaves on a green wooden floor.
©iStockphoto.com/lunarfrost
To begin, a basic understanding of the raspberry-harvest schedule is pertinent. When prepping your raspberry canes for the year, you have the option of choosing between two harvesting systems: a one-crop system and a two-crop system. As can be gathered from their names, the difference between the two systems is determined by the number and timing of the harvests desired. With the one-crop system, you can decide to grow one robust crop in either the fall or summer; otherwise, you have the option of prepping your canes to produce a crop in two separate seasons. The cause for the timing difference lies primarily in the method and time frame used when pruning the plant canes. Regardless of the desired blooming season, the pruning technique remains effectively the same.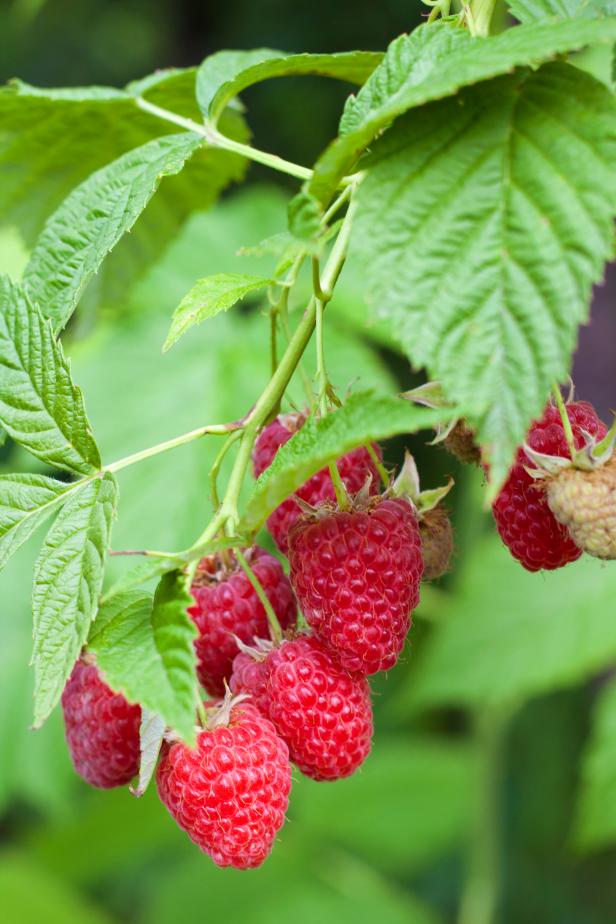 500802489
Raspberries growing on a branch
According to Neal Denton, University of Tennessee Extension Agent and renowned plant guru, the first step in prepping your canes for a fall harvest is to remove any canes that have been compromised by disease as well as canes that are structurally weak or damaged. Be certain that all canes measure approximately 1/4 inch in diameter at 30 inches in height. These will be the healthiest canes. To ensure the wellbeing of your plant and consequent harvest, space canes roughly 6 inches apart, making sure that all canes have been paired back to the live tissue.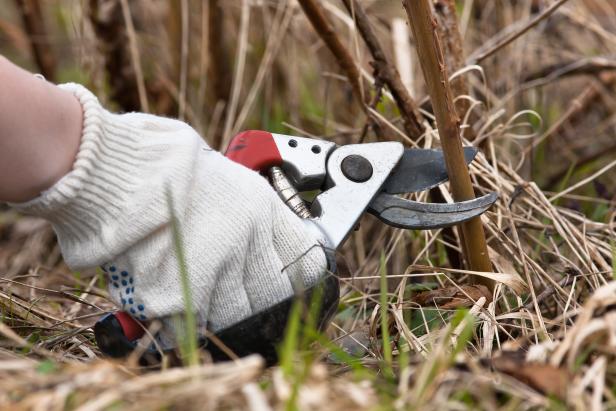 618858420
hand in glove pruning raspberry with secateurs in the garden
©iStockphoto.com/PavelRodimov
If you decide to prepare your plants for a single harvest, you will want to prune your raspberry canes all the way back to ground level. If you are desirous of a fall harvest, this is a step you will complete in the early spring. On the other hand, if you plan to harvest at two separate times, your preparations will look slightly different. For your plants to yield a summer and a fall crop, you will need to prune the canes back to ground level in the winter months. This will produce a harvest in early spring/summer, which will give you time to prune the canes back again so that a fall harvest can be gleaned. Neal states that one of the greatest difficulties in a two-crop system is "removing the dead canes that have borne fruit without damaging the canes that will bear fruit in the fall". One reason a one-crop, fall-bearing system is often more appealing is the benefit of pruning the canes all the way back to the ground only once.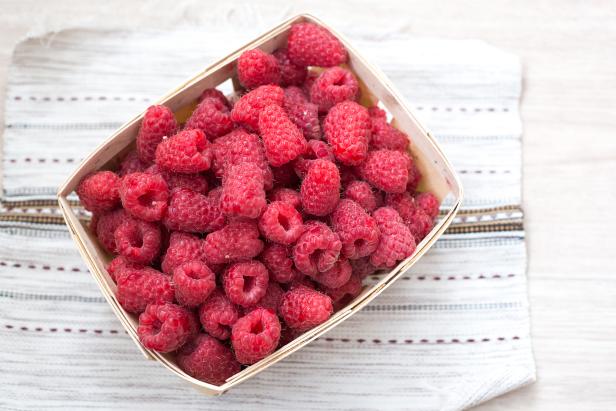 674711040
Fresh raspberries in a wicker basket on a village tablecloth, top view. Healthy helpful food.
©iStockphoto.com/Tuutikka
One of Neal's best tips for harvesting a fall crop? Once your crop has been harvested, as the first frost is about to happen, prune the raspberry cane tips off, leaving live tissue exposed. This will ensure that any lingering disease or insect eggs that have made their way into the cane will be frozen out.
Regardless of whether you decide to go with a one-crop or two-crop system when harvesting your raspberries, following the simple steps of proper pruning will ensure a full and robust crop each year.