Blooming BFFs: Great Choices to Pair With Peonies This Fall
Fall is peony planting time. Take your peonies to the next level by pairing them with plants that really make them sparkle.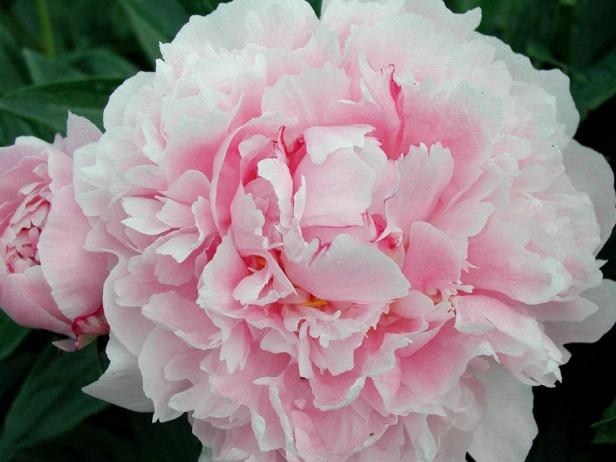 Sarah Bernhardt Peony
Sarah Bernhardt peony opens fully double, pink blooms in late spring. The 8-inch blossoms offer a gentle fragrance.

A peony easily steals the spotlight in the spring garden with its fabulous flowers. The double ones unfurl too many petals to count, and the fragrant ones perfume a garden. Peonies are a tough act to follow, but they don't have to be the solo number in your garden's orchestra of color. Surround peonies with plants to keep the show going all season long.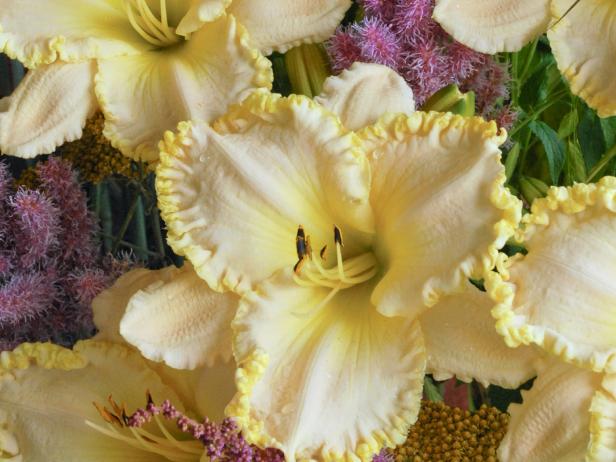 Marque Moon Daylily
This daylily packs the flower power, opening up to 40 buds per flower stem. Fragrant cream colored blooms open to a whopping 5.5-inch across.
Daylilies bring two things to the peony party: leaf texture and flowers. Leaves of a daylily are long and strappy, providing an eye-catching contrast to the thicker shape of peony leaves. A daylily's flowering window may overlap the peony somewhat, but when you plant the reblooming types (check the plant tag), it can unfurl flower buds all summer long. Daylilies that open flowers in lighter, brighter hues pop against the deep green of peony leaves. This daylily is Marque Moon, which opens up to 40 buds per flower stem. Other strap-leafed perennials that work well with peonies include Siberian iris and bearded iris.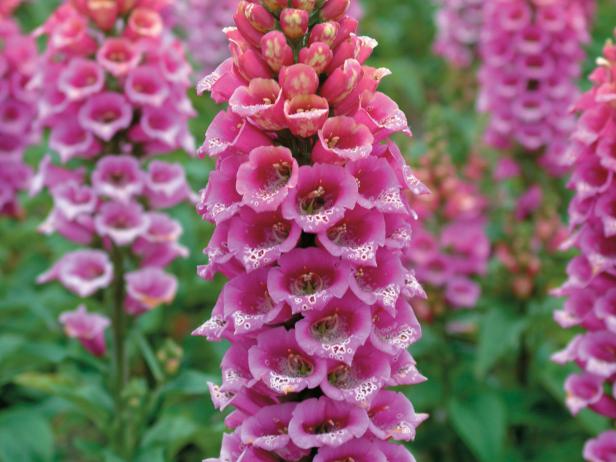 Candy Mountain Foxglove
Candy Mountain foxglove packs blossoms along a flower spike. This foxglove is different because each individual bloom faces upwards, showcasing a classically speckled foxglove throat.
Peony blooms open to a round shape, which pairs smartly with flowers formed along a spike. Good spike bloomers that flower when peonies do include foxglove, delphinium, lupine and clustered bellflower (Campanula glomerata). False indigo (Baptisia australis) is another great spike bloomer for pairing with peony. Choose a variety that grows to the height you want—some are tall enough to plant behind peonies, while others should go in front.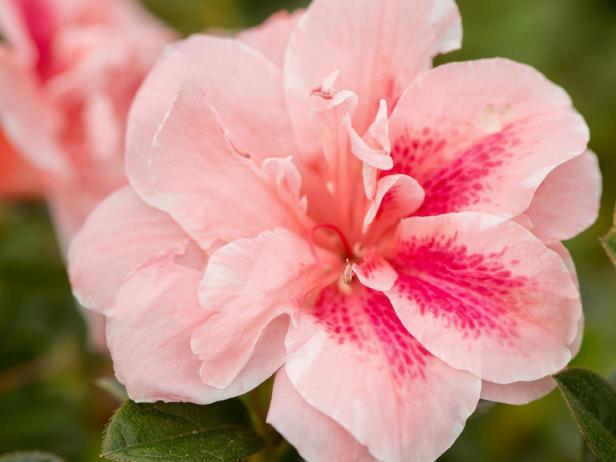 Autumn Belle Azalea
Autumn Belle azalea is a reblooming type, opening bicolor pink flowers in spring, summer and fall.
Consider using short shrubs, such as dwarf azalea or rhododendron, miniature evergreens, dwarf hollies or sweet box. Choose shrubs that are evergreen year-round, and you'll add interest for every season. Shrubs help conceal the base of peony plants and also serve as informal supports for top-heavy peony blooms.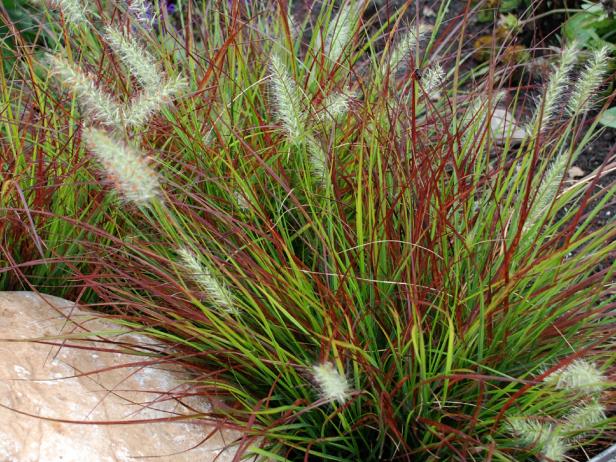 Burgundy Bunny Fountain Grass
Burgundy Bunny fountain grass is a dwarf ornamental grass, growing 12 to 16 inches tall. Plants display a few red leaves in summer, followed by all-over red in autumn.
Grasses or grass-like plants provide an ideal leaf texture for pairing with peonies. You have to do your homework on this one to be sure to choose a grass that won't spread aggressively (many do). 'Burgundy Bunny' fountain grass (Pennisetum alopecuroides 'Burgundy Bunny') is a dwarf grass that won't overtake a peony. Other good choices include blue fescue or carex, a grass-like plant that offers a variety of leaf colors. The bronze types, like 'Toffee Twist' or 'Red Rooster' look striking against peony foliage.
Rules of Thump for Peony Planting Partners
— Think elbow room. Check plant tags and be sure to give each plant the full amount of space it will need at maturity. With peonies, you can expect stem numbers to double each year until it reaches mature size. Give it enough room to reach its potential.
— Keep crowns clear. If you choose scampering ground cover plants to grow beneath peonies, a few times a year you'll need to remove any stems that have grown and/or rooted over peony crowns. Peonies won't bloom when they're buried more than 2 inches deep. Anything that covers the crowns to a greater depth, including ground covers or mulch, can interfere with flowering.
— Corral wandering stems. If you plant a perennial that tends to spread and form colonies, like achillea or coreopsis, remove stems that invade the peony clump as needed. A good time to do this is in spring and/or fall. Remove stems when they're young for easiest—and quickest—results.