A Dated Living Room Gets a Much Needed Refresh
This fuddy-duddy space isn't part of a historic museum — it's home to a cool mom and her two kids. So HGTV Magazine stepped in with a miracle makeover!

When you relocate your old furniture to a new house, it doesn't always look at home. That's what happened to Carter Sieck when she and her two kids moved from an 1800s Victorian to a 1950s Colonial in Baltimore, MD. "Most of our stuff had an old-fashioned look, which fit our previous home, and which I liked at the time," says Carter. "But once it landed in this new space, it felt out of whack with the house — and my taste." Overhauling the room seemed daunting, so Carter decided to live with her original stuff and paint the walls a buttery yellow, similar to the color in the old house, so her furniture would match.
But after eight long years, the living room was desperately in need of a refresh. "It just didn't look like ours anymore," says Carter. The furniture was not only a snooze aesthetically but also wasn't functional for her 10- and 13-year-old kids and their friends. "This is the biggest room in the house, but we never used it," she says. That all changed once the stuffy chairs and two-seat sofa were swapped out for comfy yet sleek seating and a fresh green, pink, black, and white palette. "Now it's the only place the kids want to be when they have friends over," says Carter. "And my family asks for every holiday to be at our house!"
Sofa: The mammoth 122-inch sectional from Apt2B, upholstered in a durable poly-blend gray fabric, puts the former too-small sofa to shame. It's plenty big to accommodate the family of three plus their two cats.
Rug: After the yellow walls were painted bright white (Decorator's White by Benjamin Moore), the space needed a mega dose of color. A wool-blend Jaipur Living Kate Spade New York rug in a groovy green, white and black wave pattern delivered.
Mantel and Art: Painting the brick surround white (Decorator's White by Benjamin Moore) and the wall behind the mantel charcoal gray (Graphite by Benjamin Moore) completely transformed the once-stodgy fireplace. Carter wasn't sure about the dark color at first. "I nearly dropped to the floor," she says. "But now I love it — it totally works." Abstract art from Society6 above the mantel and sofa tie the room's colors together.
Chandelier: The old living room had only one small table lamp, and without any additional lighting, it always felt dark­ — another reason the room was barely used. But this brass sputnik-style chandelier from World Market "looks pretty even when it's off," says Carter.
Window Shades: One of the room's best features is its large bay window. Custom Roman shades from Calico mounted inside each window frame add privacy but don't overwhelm the space. The black-and-white dotty fabric is by Kate Spade New York for Kravet, and it's trimmed with a 1 3/4-inch-wide black grosgrain-tape border.
Table and Chairs: No one ever sat in the uncomfortable Louis-style chairs that were positioned by the window, but with a new sleek oval table from LexMod and chairs from All Modern upholstered in pink cotton by Fabricut, it's become the preferred game/homework station in the house.
Hutch: Years ago, Carter's sister bought this hutch secondhand, but it somehow ended up with Carter. "I never liked it, but I felt guilty throwing away a good piece of furniture," she says. Removing the mullions and the mirrored backing, and painting it emerald green (Green Gables by Benjamin Moore) with white trim turned it into a keeper.
Coffee Table: At 40 inches in diameter, this stunner from Worlds Away is hefty, but because there's plenty of space to walk around it, it doesn't feel bulky in the room. The basket-weave design plays off the wavy rug pattern, and its brushed gold color picks up the light fixture over the table. Bonus: The glass top is easy to wipe down.
Chair: Carter bought the wingback chair at an estate sale but it wasn't her favorite. Reupholstering it in a black-and-white-stripe fabric from Zinc Textile and painting the legs black erased any trace of stuffiness. "My kids couldn't believe it's the same chair," she says. "What an amazing transformation!"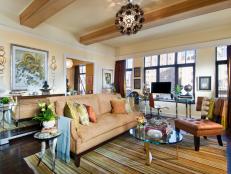 Use smart strategies to make your small living room feel larger.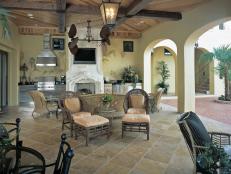 Learn about options and ideas for outdoor rooms and outdoor living spaces.
San Francisco designer Tineke Triggs makes a smaller home feel more spacious by creating a light and airy great room.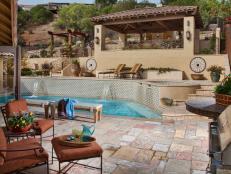 Spend less money on vacations and more time with friends and family on your deck or patio.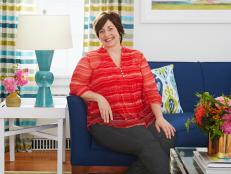 HGTV Magazine 's lifestyle editor was hiding a secret: She couldn't stand her living room! Inspired by the magazine's colorful pages, she finally updated the space.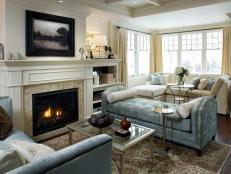 Transform cramped living quarters with designer Candice Olson's decorating ideas for mixing traditional antiques with contemporary style.
Designer Jenna Pizzigati transforms a typical small New York City apartment into a contemporary, lively home.
Designer Jean Larette details how she made a bland living room feel more grand and inviting with bold use of orange.
The right layout makes your long, open or square living room attractive and user friendly.
Designer Maria Toczylowski blends contemporary and traditional styles with a touch of rustic charm to create comfortable, family-friendly living and dining rooms.