A Bold Kitchen That's Still Budget-Friendly
This space from HGTV Magazine proves you don't need a big budget to get the kitchen of your dreams. 

When Caroline O'Meara and Matt Traub started talking about the renovations they wanted in their Austin, TX, kitchen, they didn't make a list of all the things they hated about their current space. Instead they rattled off the things they liked. "The floors were great," says Caroline. "We've always loved that retro look. And the appliances were all fairly new, so why get rid of them?" The overall layout suited the couple too. "Once we decided not to mess with those major investments, we focused our ideas — and our budget — on what really mattered," Caroline says, including upping the counter space and cabinets, and adding a customized bar/desk area with barstool seating.
To help them carve out the kitchen they envisioned, the couple turned to local designer and friend Amity Worrel, who made it her mission to keep the remodel on budget. "I don't feel like we sacrificed anything," says Caroline. "Plus, saving that cash allowed me take a year to figure out what I wanted to do next with my career. It was a no-brainer!"
One of the things that sold Matt and Caroline on the house was the easy-to-clean checkerboard linoleum floor. "We had one in an apartment in Los Angeles, and we loved it," says Caroline. "It felt like kismet that there was one in this house, too." The rug is from Annie Selke's Dash & Albert.
After knocking out a pantry, the couple installed new cabinetry along the wall with the range to make up for the lost storage. To cut costs, designer Amity suggested keeping the old cabinet boxes above and below the sink, and replacing just the doors with Shaker-style ones to match the new set. The uppers are painted Linen White and the lowers Wales Green, both by Benjamin Moore.
Here's one place where Caroline and Matt allowed themselves to splurge: locally made terra-cotta tiles in matte black, from Architerra Studio in Austin. "Because they aren't shiny, splatters aren't immediately noticeable," says Caroline.
Concrete countertops would have been beyond the couple's budget, so Amity found an affordable textured gray Formica look-alike. It's easy to care for (just wipe down the counters with a damp sponge and mild soap), and, unlike concrete, it never needs to be sealed.
Designer Matthew Coates creates an open concept kitchen at the heart of a new home.
Designer Shelley Rodner kept this family's budget intact by mixing new design elements to already-owned pieces to give the space an upgrade.
Designer Mary Jo Fiorella makes over her master bedroom to create a cozy, relaxing retreat.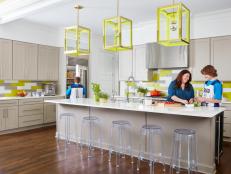 A North Carolina couple packed a ton of fun and function into one cooking, eating and living space. HGTV Magazine helps you recreate the look for yourself.
Designer Richard T. Anuszkiewicz used color blocks of black, white and vibrant orange to create an ultra-contemporary kitchen area.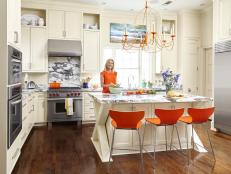 True, it's (mostly) white, but this Baton Rouge, LA, space is anything but basic, thanks to a few dramatic details. HGTV Magazine takes you inside.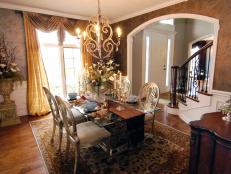 We asked. They answered. Expert designers share what to buy if you only have $200.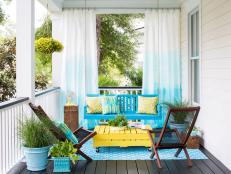 HGTV Magazine gave this porch a whole new look thanks to low-cost DIY projects. Here's how to recreate the projects in your own home.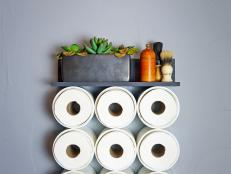 Repurposed plumbing fixtures make modern storage for your toilet tissue or other bathroom accessories.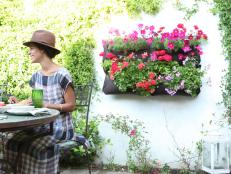 Tackle these projects and spend more time outside this season.