Small Bathroom Decorating Ideas
Gather small bathroom decorating ideas, and get ready to add style and appeal to a snug bathroom space.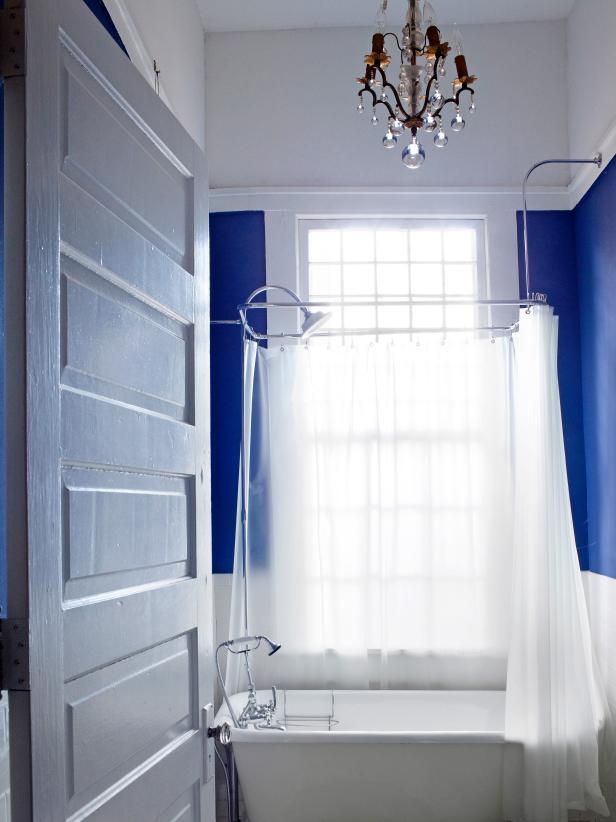 Royal Blue Bathroom With White Slipper Tub
A translucent shower curtain surrounds the freestanding white bathtub creating a functional shower. Bold blue walls pop against white trim and wainscoting. White molding placed below the line of the ceiling creates a visually smaller space, and a sparkling chandelier adds a touch of glamor to the space
If you're remodeling or installing a bathroom, you'll want to browse small bathroom decorating ideas. While the blueprint for your bathroom won't change based on how it's decorated, you can "expand" the space with a few strategic decorating ideas, creating a space that's elegant, attractive and efficient.
Break the Rules
"Powder rooms are usually where I really go all out, break all the rules and use materials that might look 'over the top' in larger spaces," says interior designer Melissa Miranda. Dark colors or bold patterns, like this graphic lattice wallpaper, add dimension and a bit of fun. Design by Jennifer Jones
Go Big
An advantage of small bathrooms? Smaller prices. "Since the space is usually so small, you can get away with using higher priced materials as you need so little of them," says interior designer Melissa Miranda. Designer Shelly Reihl David paired a hand-carved marble sink with a modern metallic damask wall covering, gold gilded mirror and amber crystal wall sconces to create this impactful space.
Make Built-In Storage Part of the Design
Design blogger Layla Palmer maximizes the storage space in her small bathroom with a custom floor-to-ceiling built-in shelf for storing bath-time necessities.

Kick Up the Color
As this 6-foot-by-7-foot Atlanta bathroom demonstrates, sometimes bold color is all you need to make a big statement. Although this space receives no natural light, the bold kelly green walls give it fresh personality. The ultra-white floor and wainscoting counterbalance the green's intensity.
Give an Illusion With Glass
Glass shower enclosures give the illusion of space in a small bathroom by allowing you to see from one end of the room to the other. Design by Sarah Richardson
Indulge Your Vanity
The vanity is typically the only piece of furniture in a small bath so it should make a big impact. Furniture-style vanities have been popular for quite a while and this timeless look is still going strong. There are many pre-made versions available or you can make your own with basic woodworking skills and an old buffet or dresser. Our step-by-step instructions will show you how.
Choose Small-Scale Fixtures
In this urban bathroom, designer Vern Yip selected compact, sculptural fixtures to maximize floor space and match the apartment's streamlined vibe.
Bring On the Charm
Wood paneling and a chair rail add formality to this charming powder room. Design by Thomas A. Conway
Go for a Saturated Shade
Small bathrooms or powder rooms are a great place to try ultra-dark shades you might be scared to use elsewhere. "I had a lot of natural light in the powder room so I didn't hesitate in choosing black as the main color," says designer . Miranda chose ceiling-reaching "Woods" wallpaper from to emphasize the height of the room.
Add Floating Storage
In this small bathroom designed by Jordan Iverson, a floating vanity takes up less visual space without compromising style. A pocket door, instead of a standard swinging door, lends privacy to the bathroom while freeing up floor space.
Make Organizing Fun
Make stashing your stuff a little more fun by adding an unexpected splash of color to the inside of your vanity using paint or just a brightly colored adhesive paper.

Declutter Countertops
Store makeup, prescription items and any personal grooming tools out of sight. Style your countertop with fresh flowers and sweet-smelling lotion or soap.
Add Spa-Style Extras
Luxury can be found even in a small space. This bathroom has just a standard-sized tub, but the tile, oversized shower head and accessories turn it into a retreat.
Try Open Shelving
Floating shelves provide storage space for style-boosting accesories and bath necessities while making the room appear bigger by allowing you to see all the way to the wall.
DIY Your Way to a Fresh Look
No matter how small your bath, gutting and replacing fixtures is an expensive undertaking. Save money by updating what you can yourself. Here, design blogger Layla Palmer gave a builder-basic vanity a trendy cottage-style update with a quart of gray paint and a little distressing with sandpaper.
Add Color With Accessories
Even a minimal splash of color in a small space will add a big dose of fun. Stick to a soft neutral or white color palette for the walls and fixtures to maximize light then mix in just the right amount of color with the shower curtain, towels or accessories.
Put It on a Pedestal
In this bright and cheery basement bathroom, designed by Sarah Richardson, a classic pedestal sink creates the illusion of extra square footage while a bright-white palette keeps the teeny-tiny space from feeling cramped.
Skirt the Issue
Pedestal sinks are ideal for tight spaces but often show exposed plumbing and offer no hidden storage. An easy-to-sew sink skirt will solve both problems, providing style and function to a bathroom. Learn how to whip one up with our step-by-step instructions.
Add Style Underfoot
The lack of square footage is a good thing when it comes to purchasing new flooring. Even a pricey pick, like this black, gray and white marble hexagonal tile, won't set your budget back too much.
Change the Floor Plan
A cramped floor plan and outdated finishes prompted the remodel of this small master bathroom. Relocating the toilet to the rear wall and adding a wall-mounted sink maximizes the space. The glass mosaic tile feature wall adds movement and draws attention to the high ceilings and skylight. Design by Jennifer Jones
Small bathrooms can be a design and decorating challenge, but with the right combination of fixtures, surfaces, colors, decor and lighting, it's possible to create the illusion of a much larger space. In recent years, bathrooms have begun to expand significantly in size — master bathrooms in newer homes can be positively palatial affairs, for example. Older homes tend to feature much smaller bathrooms throughout, and even newer construction often features half baths that can benefit from the decorating tricks that help create the illusion of more space.
One of the first tenets of small bathroom decor is to consider color and light. Generally speaking, a bathroom — or any space for that matter — will always seem larger if it's lighter and brighter. For this reason, be sure to take full advantage of any natural light available in your small bathroom. Make sure any curtains or shades are translucent, and keep windowsills free of any items that would obstruct sunlight from entering the space. Similarly, when choosing paint colors or a color scheme for the entire space, focus on lighter, livelier hues.
Your choice of an overall stylistic approach for your bathroom can also serve to expand or contract the space. Although any style can work in a small space if it's minimal enough, traditional, rustic or country styles tend to feature more adornment and decor than contemporary and modern styles, which are generally more sleek and streamlined. A great example of a space-saving fixture that works well in a more updated design is a pedestal sink. This efficient space saver can work great with a simple, straightforward style.
Lighting can go a long way towards creating the appearance of more space in a small bathroom. Task and decorative lighting can be strategically deployed to open up the bathroom, with the sink and shower areas illuminated specifically with task lights, and space over and below cabinets decoratively illuminated to create height and depth in the space.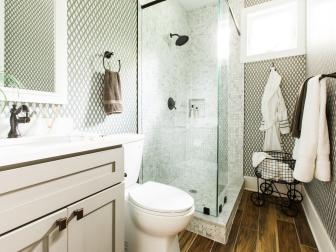 Get small bathroom decorating ideas from this year's guest bathroom.
Another way to add height and depth is with your choices for surface patterns. For walls, consider beadboard or wallpaper with vertical stripes to add a sense of height to the entire space. Hardwood floors or tile should run the length of the space to make it seem longer, and tilework on walls should be perpendicular to flooring, to create further depth in the space. Finally, for wall tilework, consider adding unbroken, continual horizontal line designs; these will serve to create the illusion of a space that keeps going everywhere you look.
More Bathroom Decorating Ideas
More Bathroom Styles for Your Home