10 Qualities to Look for in a Fixer Upper
What makes a house flip-worthy?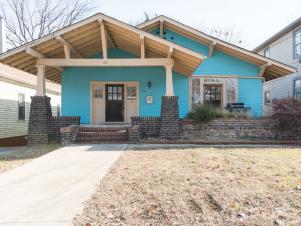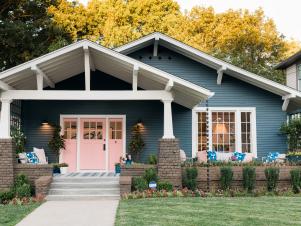 Robert Peterson; Rustic White Photography
The front exterior before renovations to HGTV Urban Oasis 2017 located in Knoxville, TN.
Up-To-Date Look
The combination of a striking color scheme and improved landscaping give this Craftsman home an up-to-date look that still respects the architecture and history of the house.
Let this once-dusty and deserted Craftsman be your inspiration to look past any lackluster, curbside first impressions. Instead of dialing in on the crusty-coated details, focus on the design and shape of the structure itself. You'd be surprised what some modern-day fine tuning, a little imagination and a lot of elbow grease can accomplish.
Can It Be Fixed With Paint?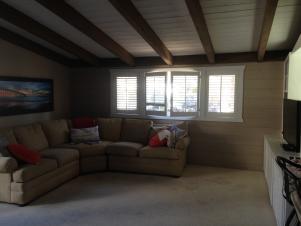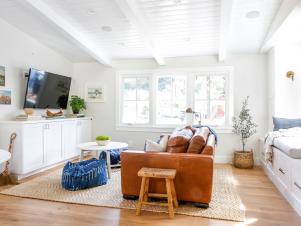 Before: Living Room
The living room is dark and cramped. It needs a complete makeover for this modern family of five.
Welcoming Family Room is Comfortable and Stylish
Designed to be a family room area where all the neighborhood kids will gather on movie night, this space needed to be durable and beautiful. The window seat with its easy-to-clean laminated fabric creates a cozy and sunny reading area and allows for additional movie viewing. The custom-made media cabinet hides all the kids toys, board games and AV equipment.
Dark and dreary… and that's putting it lightly. Not exactly ideal for your family movie night. Still, this isn't a lost cause. The large windows offer up loads of natural light and what better way to play that up than with some bright-white paint? A coat here, a coat there, a little rearranging and a built-in window bench turns this sad space into something spectacular.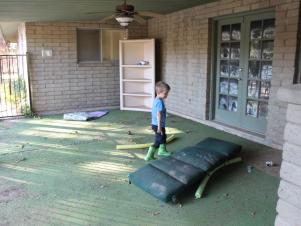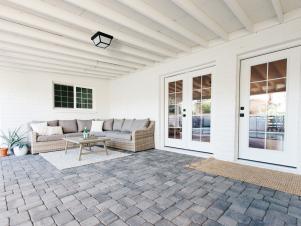 Before: Patio
This outdated patio needs a complete makeover to make it family-friendly space.
Chic, Welcoming Patio
Gray pavers ground this outdoor living space, while exposed beams bring in architectural charm. A comfortable sofa pairs with a sleek coffee table to create a cozy seating area.
For those of you who consider hosting an art form, this tip is for you. Set your sights on properties with large outdoor spaces — yes, even ones that are a little (a lot) rough around the edges. Look at it this way, the more square-footage, the more you can play to create a space you'll be proud of. Case and point? This prettified porch that went from scary to sophisticated, leaving the resident social butterfly itching to host an event.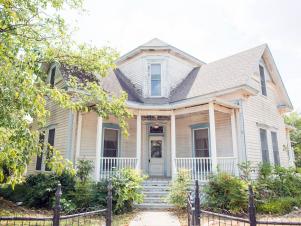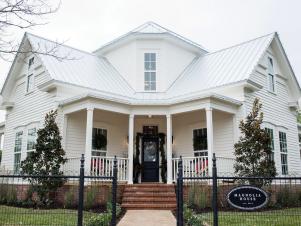 Chip and Joanna Gaines purchased a "fixer upper" bed and breakfast that's in a great location, but has peeling paint and a lack-luster appearance, as seen on Fixer Upper. (Before #17)
The newly renovated Magnolia House bed and breakfast has been transformed from the inside out. The exterior has a new brick skirt, updated paint, metal roof, and landscaping, as seen on Fixer Upper. (After #17)
Cliché though it may be, there's some truth in saying "they just don't build 'em like they used to." We think that the Magnolia House, flipped by Chip and Jo, is the perfect example of a timeless-meets-unique exterior to aim for when searching for the perfect flip.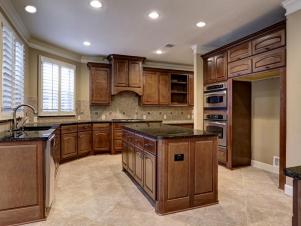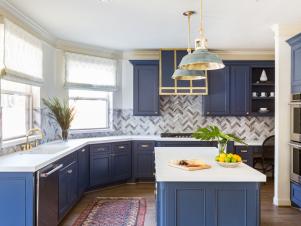 Neutral Traditional Kitchen With Blinds
This big kitchen features lots of cabinets, a central island, double ovens and plenty of space to move around easily.
Blue and White Transitional Kitchen With Shades
This formerly dark and uninteresting kitchen gets a whole new life with beautiful blue cabinetry, delicate pendants and roman shades with a subtle graphic print. The backsplash is the star of the room: gray tiles in a herringbone pattern.
This kitchen project proves that flip properties do not have to be haunting and horrific to qualify for dramatic before-and-afters. Love the layout of a space? Keep it. Then, coat it with paint to fit your style. This traditional, wood-clad kitchen got a major wow-worthy update with a cool blue hue and brass finishes.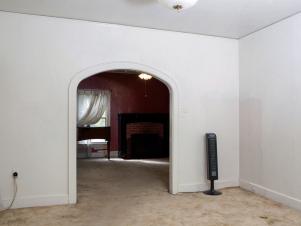 Jennifer Boomer/Verbatim Photo A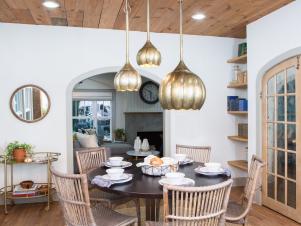 Jennifer Boomer/Verbatim Photo A
As seen on Fixer Upper, the dining room of the Flip-House needs new paint, floors and wainscoting on the walls to create more character in the room. There will be french doors added to the archway. (Before #9)
Contemporary Neutral Dining Room with Exposed Wood Ceiling
As seen on Fixer Upper, this dining room now has the original exposed wood ceiling, hardwood floors and new light fixtures.
Even in the bleak before photo, it's easy to be charmed by the oversized arches connecting this living and dining room. Work with the darling quirks and charming features of a home that led you to fall head-over-heels with it in the first place. The arches shine just as brightly in the after shot, don't you think?
Search for stylish bones. The trio of tall, handsome windows at the end of this living room fill an otherwise drab space with loads of natural sunlight. Bonus: the windows are gorgeous even before the first coat of paint. Find a flip that offers a beautiful, albeit grimy, blank canvas and use them to inspire the design of the space. What do you think inspired the ultra-charming coffered ceilings seen in the after shot?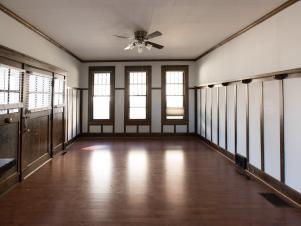 Robert Peterson/Rustic White Pho
The living room before renovations to the HGTV Urban Oasis 2017 located in Knoxville, TN.
HGTV Urban Oasis 2017 in Knoxville, TN
Potential Statement Pieces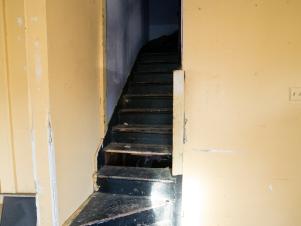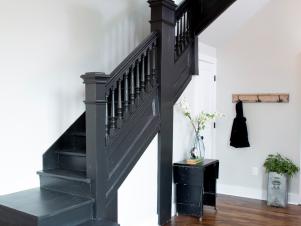 Sarah Wilson/Getty Images
The original stairs were unsafe and falling apart and the low ceiling created a difficult entrance to the stairway, as seen on HGTV's Fixer Upper. (Before 19) Before
The stairway way modified to fit the room better. The old drop ceiling was removed, adding height to the room, and wooden support beams were added. The wall between the entryway and living room was taken down to create an open concept feel, as seen on HGTV's Fixer Upper. (After 19) After
If you're totally creeped out by the before photo of these stairs, that's okay. You're in good company. But, friends, the after shot of this swoon-worthy staircase? If this doesn't prove that even the scariest of scary stairways a second glance, I don't know what will. If you come face to face with a similar space, rub your eyes a couple of times and take a step back. Maybe take two. Then, envision the statement-making potential just waiting to be brought to life.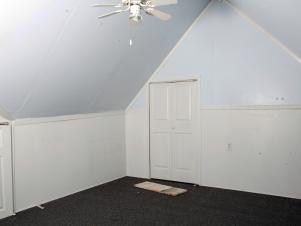 Jennifer Boomer/Verbatim Photo A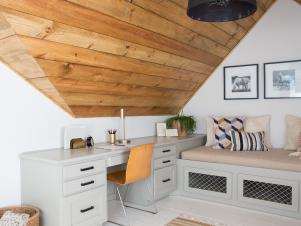 Jennifer Boomer/Verbatim Photo A
As seen on Fixer Upper, the office in the Flip House will have newly painted walls and flooring. (Before #15)
Contemporary Attic Nook with Built-In Bench
Joanna used attic's existing features to create a fun study with built-in reading nooks.
Older homes often treat homebuyers with loads of little, unused spaces to play with. And play, you should. View every little nook and cranny as an opportunity to make your home more livable, more stylish and ultimately more "you." This flip by Chip and Jo transformed a quirky, unused attic space into a double home office complete with a bench for the occasional afternoon siesta. Transforming every square inch into usable space also increases the value later on.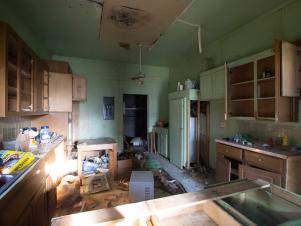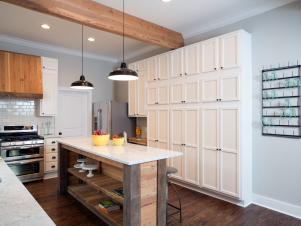 Sarah Wilson/Getty Images
The kitchen in the Harp's house was a disaster. There were holes in the ceiling and the floors, and it was full of trash and mouse droppings, as seen on HGTV's Fixer Upper. (Before 8) Befores
Tackling 'The Beast' Bight Spacious Kitchen
As seen on HGTV's Fixer Upper, Chip and Jo turned the old space into a bright, clean kitchen with new cabinets, wood floors, Carrera marble countertops and light gray paint with white trim. The old drop ceiling was removed, adding height to the room, and a wooden support beam was added. A subway tile backsplash, floating wood shelves, and stainless steel appliances were also installed.
Believe me when I say that I understand the initial reaction of wanting to run far, far away from this chaotic kitchen and never look back. But when shopping for a flip, search for the positives, then capitalize, capitalize, capitalize. The pros here? Sky-high ceilings serve as the perfect excuse to create a floor-to-ceiling wall of cabinetry. If you're finding it hard to see the possibilities in a place, simply look up for inspiration.
Unbelievable Transformations
It's hard to believe this jaw-dropping kitchen was once nothing more than a pile of trash. Don't believe us? Read on.
Fixer Upper Before
This kitchen was just plain scary. Covered in trash and mouse droppings, it was hard to imagine any light at the end of this kitchen-makeover tunnel.
Fixer Upper After
Hosts Chip and Joanna Gaines have done it again! Definitely one of their most impressive makeovers to date, this kitchen went from danger zone to dazzling. White cabinetry and light gray walls create a warm, cheery environment, while a stunning handmade island takes center stage.
Rehab Addict Before
Yikes! This Detroit home featured on HGTV's Rehab Addict put host Nicole Curtis to the test.
Rehab Addict After
New floors and appliances, creamy walls and the addition of classic white appliances turned this once-scary kitchen into an adorable family hub.
Buying and Selling Before
This kitchen had good bones but needed some help in the style department.
Buying and Selling After
It's amazing what a few smart touches can do. Structurally, this kitchen remains the same, but simple switches like swapping the dated wooden chairs for more contemporary metal stools made a huge difference aesthetically. The new glass backsplash brightens the room and adds some depth to the space.
Flip or Flop Before
An open layout is nice, but when it's bordered by hideous cabinets and linoleum floors, it's hard to separate the good from the bad.
Flip or Flop After
HGTV's Flip or Flop hosts Tarek and Christina El Moussa ditched the dated yellow cabinets and opted for sleek dark wooden cabinets instead. Stainless steel appliances and knobs give this space a more modern look.
Buying and Selling Before
Not all bad, this kitchen from HGTV's Buying and Selling features a good layout, adequate space and plenty of room for storage. The downside? Dated cabinets and a boring color scheme keep it from reaching its full potential.
Buying and Selling After
Some small tweaks, like painting the cabinets and adding a fun graphic backsplash, transformed this kitchen into a more modern space. Matching appliances and two-toned cabinets contribute to a more sophisticated color scheme.
Fixer Upper Before
It takes a creative eye to see how HGTV's Fixer Upper hosts Chip and Joanne Gaines could turn this dated kitchen into a more contemporary space. Luckily for the Jonklass family, the talented duo was up for the task.
Fixer Upper After
The original cabinets were painted white for instant warmth in this newly renovated kitchen. The wall to the dining room was removed, creating a more bright and open space. New wood floors, granite countertops and modern pendant lighting really take this kitchen to new heights.
Kitchen Cousins Before
After months of living in an unfinished kitchen, the Nolte family was more than ready for what HGTV's Kitchen Cousins had in store for them.
Kitchen Cousins After
Hosts Anthony Carrino and John Colaneri added a stunning granite countertop and some much-needed cabinets. A brand-new stove took the place of the old fridge, and a center island is the perfect spot to prep meals.
Love It or List It Before
This cluttered kitchen will not only get a makeover, it will be completely relocated.
Love It or List It After
Located where the living room used to be, this brand new kitchen features state-of-the-art appliances, large kitchen cabinets, and an attractive new backsplash. The long kitchen island highlights the length of the room and the openness of the space which connects the new living room and dining room.
Cousins Undercover Before
It may be outdated but at least this kitchen has plenty of space to work with, and HGTV's Cousins Undercover hosts Anthony Carrino and John Colaneri know just how to make the most of the Weber family's cooking space.
Cousins Undercover After
With tons of natural lighting and a cheery color palette, this kitchen could brighten anyone's day. The 12' glass doors flood the space in light and lead to the family's brand new deck. Gorgeous gray cabinets and a spacious kitchen island with butcher block countertops are a far cry from the builder-grade kitchen from before.
Fixer Upper Before
This kitchen was usable but in serious need of a facelift. Tile flooring and outdated fixtures would be the first thing to go.
Fixer Upper After
After the makeover, it's hard to believe this is even the same kitchen! A wall was removed to allow for a beautiful long kitchen island and to create an open, airy feel throughout the space. Bright white cabinets look stunning against the warm hardwood floors, while pendant lights and stainless hardware bring an updated feel to the charming kitchen.
Love It or List It Before
On this episode of HGTV's Love It or List It, it's no wonder the family is ready to list this home in search of a more modernized kitchen.
Love It or List It After
After host Hilary Farr's redesign, the new kitchen is located where the dining room once was. A fun chalkboard wall adds whimsy to the space, and brand new white cabinets present a nice contrast in the space. A center island features double sink basins and a casual spot for family dining.
Fixer Upper Before
This kitchen definitely shows potential, but Formica countertops and linoleum floors keep its beauty from shining through.
Fixer Upper After
Beautiful hardwood floors and granite countertops bring this fabulous kitchen into the 21st century. The original lower cabinets were painted a bright white, enhanced by the natural light from the large windows.
Property Brothers Before
Archaic appliances and dark wood cabinets were begging for an update. HGTV's Property Brother had their work cut out for them with this one.
Property Brothers After
Hello, Gorgeous! This updated space features bright white cabinets, lovely granite countertops and a beautiful tile backsplash. Hosts Drew and Jonathan Scott replaced the dated appliances with stainless steel versions, giving the entire space a more contemporary look.
Kitchen Cousins Before
The Goldstein's kitchen was not only dated, but old appliances and a dark floors and cabinets made the entire space feel dark and small.
Kitchen Cousins After
A green Moroccan backsplash adds instant warmth to this once-dated kitchen. White cabinets with black knobs add subtle contrast, and a center island with three chairs makes this kitchen the perfect place to gather and enjoy casual meals.
Love It or List It, Too Before
Cabinets that were falling apart were a pretty good reason to consider an upgrade. And if that wasn't enough, the fridge was so small that a separate freezer was a necessity in this outdated home.
Love It or List It, Too After
HGTV's Love It or List It, Too host and designer Jillian Harris transformed the former dining room into an adorable new kitchen, complete with stainless steel appliances, dazzling white cabinets and a stunning dual-toned backsplash.
Rehab Addict Before
With old floors, faded walls and ugly cabinets, this sad space needed to be fully gutted and renovated.
Rehab Addict After
Salvaged hardwood from the original home was laid in the kitchen, giving the room a hint of character, while new appliances, cabinets and granite countertops bring the space up to date.
Fixer Upper Before
Basic. Boring. Blah. This kitchen simply lacked personality and needed an update and a way to better utilize the open space.
Fixer Upper After
A center island makes great use of the space and provides an extra spot for food prep. New hardwood floors add warmth, while recessed and pendant lighting illuminate the space.
Kitchen Cousins Before
The Sosa family's kitchen simply lacked space and functionality. With no room for storage and very little counterspace, a smarter layout and a place to prep meals was a must.
Kitchen Cousins After
Hosts Anthony Carrino and John Colaneri extended the wall that cut through the center of the kitchen to make more room. With all that extra space, they were able to add new appliances (including a much-needed dishwasher!) as well as extra counterspace.
Cousins Undercover Before
In this small kitchen, an old oven takes up half the counterspace, leaving very little room for food prep.
Cousins Undercover After
After the makeover, there's plenty of counterspace to go around, and the crisp white cabinets contribute to the sweet cottage look. A gray and white backsplash adds depth and character to this cute kitchen.
Buying and Selling Before
Closed off and out of date, this basic kitchen needed a lot of help.
Buying and Selling After
By knocking down one wall, hosts Drew and Jonathan Scott were able to create a light, open atmosphere. A new island with a built-in sink and dishwasher is the perfect centerpiece, combining style and function.
Flip or Flop Before
Mustard yellow walls and dated cabinetry proved this kitchen was ready for an update.
Flip or Flop After
New countertops and warm wooden cabinets give this kitchen a cozier vibe with plenty of workspace.
Fixer Upper Before
From the flooring to the lighting, this kitchen could not have looked more dated. Thankfully hosts Chip and Joanna Gaines had big plans for this all-brown disaster.
Fixer Upper After
Voila! New wood floors make a huge difference, but the brick backsplash, stainless appliances and gorgeous black granite countertops don't hurt either.
Kitchen Cousins Before
This kitchen was definintely one of the worst. No cabinets and no ceiling called for a major overhaul.
Kitchen Cousins After
After the makeover, this once-scary kitchen is now a quaint cottage cookery with dark gray cabinets, a large farmhouse sink and gorgeous granite countertops.
Love It or List It, Too Before
Fluorescent lights and old-fashioned white oak cabinets left a lot to be desired in this '80s-style kitchen.
Love It or List It, Too After
Hickory hardwood floors look flawless in this updated space. The existing island was given a contemporary facelift with modern lines and a clean, white finish.
Cousins Undercover Before
This bland kitchen was lacking counterspace, and needed an updated look with new flooring and cabinets.
Cousins Undercover After
New white cabinets make all the difference, but hardwood floors, added counterspace and updated appliances certainly don't hurt either.