Animal Print Obsessed? You Need This Giraffe Decor in Your Life RN
Leopard, cheetah, zebra — give us all the animal prints. Lately, we've been crazy for everything giraffe. We've rounded up 10 of our favorite giraffe-centric pieces of decor you can add to your space for safari vibes.

Gallery walls can be hard to get right, but with a ready-to-go stylish collection of art like this, it's practically foolproof. This collection looks great in a nursery, a kid's bathroom, or playroom. Choose the same frames for a more polished look, or get creative by mixing up the colors and textures of the frames for an eclectic look. BUY IT:
Sure, you can store things in it. This giraffe basket is so darn cute though, it looks great totally empty. It's not just for a kid's space — store magazines in a family room, or display it at your front door or mudroom to keep dog leashes and toys. BUY IT:
You Should Have Put a Ring on It
Beyonce said it best. "If you liked it, you should have put a ring on it." This adorable brass giraffe ring holder sits perfectly on a nightstand, dresser, or bathroom counter. If you're as giraffe crazed as we are (and love to wear rings), buy a couple and group them together. BUY IT:
This giraffe print chair is a chic addition to almost any style living space. The neutral gray color allows you to add vibrant color through other pieces. It sits lower to the ground, giving it a modern look. BUY IT:
Spot the Coffee Table Book
If you're not ready to commit to giraffe print, but can't get enough of these majestic creatures, this is the coffee table book you need. With gorgeous photos of giraffes from all over the world, you'll easily get lost in its pages for hours. BUY IT:
Wild animals are a great alternative to the typical bunny and duck nursery themes, and gray and yellow is the perfect palette for a gender-neutral space. The Jonathan Adler bedding set includes everything you need including a quilt, crib sheet, dust ruffle, and diaper stacker. BUY IT:
Artwork is an easy way to bring wild giraffe decor into your home. This stunning photo was curated by Kate Spade and highlights the giraffe's unique features (like those long, lush eyelashes). Bonus: It already comes in a matte white frame. BUY IT:
You'll love this cozy, plush blanket, aside from the fact that it's giraffe print. The sherpa backing makes it extra warm and soft, and it's machine washable. Display it on a sofa or in a guest or teen bedroom. BUY IT:
It's hard not to smile when looking at this adorable giraffe sconce. Install it in a playroom, nursery or kid's bathroom. BUY IT:
All That Glitters Is Gold
Bring the safari home with these faceted giraffe sculptures. They'll make a statement on a bookshelf, mantel or coffee table. BUY IT: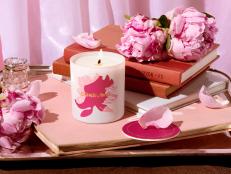 Light up your space with these stylish accessories.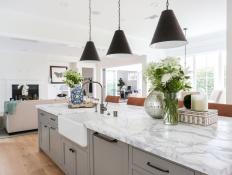 Paradise, found! Shop the makings necessary to transform your kitchen into an everyday getaway.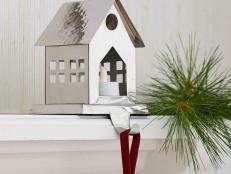 Come December, almost everyone is in the holiday spirit. Lights are hung, trees are trimmed and tinsel lines every nook and cranny of the house. But what do you do when you apartment takes merry little Christmas to a whole new level of small? Don't miss out on the holiday cheer. Whether you're a Grinch without an extra inch or your place qualifies for the nice list in regards to square footage, these festive pieces are the perfect size for your space.