How to Make an Easy DIY Yarn Wall Hanging
Looking to add texture and color to a not-so-vibrant room? Create a cute, cozy corner with a simple yet stylish wall hanging that's sure to draw every eye.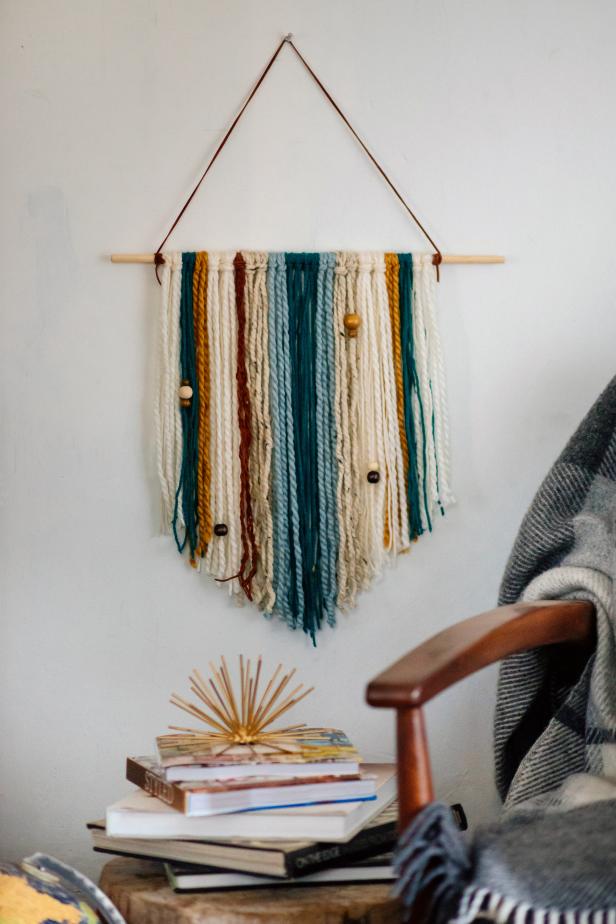 wooden dowel
balls of yarn in various colors
scissors
leather cord
tape
wooden beads
Get more HGTV
Trendy DIY Yarn Wall Hanging
01:42
Add color and texture to your decor with an easy-to-make yarn wall hanging.
Place the dowel on a flat surface, begin measuring the yarn from the top of the dowel to the maximum desired length. Double the length of the yarn and cut, repeating as needed until there are enough pieces to spread across the dowel.
Combine like colors to create fullness. Design a pattern by laying yarn in your preferred order, leaving the strands doubled in order to form a loop at the top.
Once you've perfected your pattern, secure each cluster of yarn to the dowel individually by looping the strand through itself. Slide the looped strands to one end of the dowel to make room for the remaining bunches of yarn. For added flair, incorporate a braided leather cord.
After making sure your strands are even, comb through the yarn to ensure all strands are straight and untangled. Create a chevron shape along the lower portion of yarn using tape. To ensure a straight angle, we used the remainder of the wooden dowel. Cut along the inside of the tape. To create texture and interest, consider mixing in a few wooden beads by simply sliding them up the yarn.
Attach Hanging Cord to Dowel
Finally, knot a leather cord to both ends of the dowel so you can easily hang your gorgeous new wall art.
Personalize Your Walls
The gallery wall in this cozy bedroom seating area is made up of several handmade art pieces, many which can be completed in just a few hours.
Paint Swatches
After amassing a variety of paint swatches from your home makeover, organize them into groups by color. Conceptualize an overall look or design based on the size, scale, shape and proportion of the swatches. Here, a gradient effect was created by lining up the colors and differentiating them by levels of saturation. For a cohesive look, consider cutting all swatches into the same shape using craft scissors. Attach the swatches to poster board using double-sided tape, and then add matting before placing into a frame.
Nail-Head Wording
Create graphic art for your space with corrugated foam core and nail heads or brass tacks. First, decide on a message, name or combination of words. Next, use a pencil to free-hand the message directly onto the foam core. Using the traced letters as a guide, apply nail heads or brass tacks with a hammer or rubber mallet. Once complete, place the foam core inside a complementary frame and hang.
Organic Branch Taxidermy
Create the look of taxidermy with all-natural materials. Pick up a wooden plaque and a bag of crafting moss, then search outside for a pair of branches similar in shape and size. Cut the branches back using pruning shears and attach the branches to the plaque using plumbing or cable clips and screws. Once complete, add a nail to the wall and hang.
Open Books
To create the look of flying-open books, add hot glue to different areas of back-to-back open pages. This will create the look of motion. Once the glue has dried, group several books together and attach them to the wall with drywall screws through the back of each book cover.
Collected Autographs
Homeowners who love to entertain will surely love artwork created from guests' signatures. Pick up a basic art canvas, then use nails or screws to add trim around the canvas's edges as a frame. Next, hang the blank canvas in a high-traffic area where guests are certain to gather. Keep a marker nearby and ask guests to add their signatures to the canvas. The random placement of the signatures will result in something personal and graphic which reads differently from far away than it does close up.
Layered Paint: From a Distance
While many art stores offer paint supplies which texturize canvases, texture and depth can also be created by layering paint. To layer paint with a textural effect, apply the paint in random areas using a painting knife, ensuring the layers are thick. After several hours of drying, continue to layer paint in different colors and in random spots on the canvas.
Layered Paint: Close-Up
Remember, as the layers build up around a layered-paint piece, the edges on the canvas can start to look messy and unprofessional. By simply adding four strips of MDF or wood trim along the edges with nails or screws, any eyesores become instantly concealed.
Gold Leafing
Turn any basic object into a work of art with a gold or silver leaf application. For a high-end metallic finish, all you need are leafing sheets, leafing adhesive and a detail paintbrush. Apply the sheets directly to the objects with a paintbrush dipped into the adhesive, then use the paintbrush to fill in any cracks. For proper display, either place objects inside a cloche, on risers or in an open frame.
Spray Bottle Art: From a Distance
Drip art is commonly known for its use in grade school art classes. It's created by holding a canvas vertically, then dripping latex or acrylic paint randomly across the top. Another interpretation of this style is spray bottle art which involves applying paint directly to a canvas, then spraying it with a bottle of water to dilute the paint and cause it to drip downward.
Spray Bottle Art: Close-Up
Add depth to spray bottle art by mixing touches of gold or silver leaf in with other colors. After all colors are added to the canvas, apply the gold or silver leaf to the surface using leaf adhesive and a small detail paintbrush.
Delicate Butterflies
Sweet butterfly wall art mimics the grace and delicacy of the real thing. To create a similar look, use cardstock paper and cut out butterfly shapes in various sizes. Gently fold the wings, and attach to the wall using a small amount of sticky putty.
Colorful Crate Bookshelves
Simple crates become a work of art and unexpected storage with a few coats of bright, colorful paint. Once painted, attach the crates to the wall by drilling a hole in each corner and screwing to the wall. Courtesy of HGTV Magazine
Framed Textiles
A vintage scarf may be just what you need to brighten your home and add a bit of retro design to your blank walls. Try framing your scarf for an instant statement piece.
Photo Collage
An easy way to make a bold impact is by printing out all your favorite Instagram photos and displaying them in a fun shape, such as the ampersand seen here.
Painted Ceiling Medallions
While this stunning display looks expensive, it was actually accomplished using a gorgeous mix of inexpensive ceiling medallions. Once painted in coordinating shades, the light-weight medallions can be attached using velcro or a strong glue. Courtesy of HGTV Magazine
Homemade Modern Art
You don't have to be an artist to create a one-of-a-kind piece that both adds style to your space and complements your home's color palette. Learn to make this modern, geometric art here.
Origami Paper Garland
Colorful sheets of origami paper make a striking wall garland when sewn together and hung in a prominent spot, such as above the sofa. Find the full instructions here.
Wall Decor With Woven Baskets
Add gorgeous texture and a brilliant blend of color with a few shallow baskets displayed effortlessly on the wall. To copy this look, try hanging the largest basket first, layering in others. Nail each basket to the wall by the basket's center to achieve the overlapping look. Courtesy of HGTV Magazine