Inside Clinton Kelly's Miami Home
Stylist and TV host Clinton Kelly showed HGTV Magazine around his stylish home' proving there's only one decorating rule to follow: Trust your gut!

For a decade as cohost of TLC's What Not to Wear, Clinton Kelly preached to women to incorporate "color, texture, pattern and shine" into their wardrobes. But it wasn't until 2013, when he and husband Damon Bayles bought a Miami apartment for weekend getaways, that Clinton finally got the chance to bring that style philosophy to his own life — only this time, it was via decorating. "Whenever I visit Miami homes, it's always white, white, white," says Clinton, who has been a cohost of ABC's The Chew since 2011. "I wanted something different, something fun."
After he and Damon finished renovating the 1,500-square-foot space — including gutting the '70s-era kitchen — Clinton took the decorating reins. So what if there are some unusual color pairings and far-out finds? That's the whole point. "I'm not interested in impressing anyone," says Clinton. "I don't care if things match. What I care about is that my space is filled with things that make me smile."
DAVID TSAY PHOTOGRAPHY DAVIDTSAY.com
When Clinton and Damon bought the apartment, the kitchen was completely enclosed, and it had a 1950s range that Clinton loved…"until I tried to cook with it," he says. They had the walls demo'ed to open up the space to the dining room and installed a gray-and-white-checkerboard marble floor. The cabinets are Porcelanosa, and the cotton candy pink countertops, made from recycled plastic, are by Durat. "I did a decent amount of research on mid-century Miami design and discovered pink was one of the most popular colors during that time," says Clinton. "I just googled until I found these."
Clinton's gallery wall is a collection of flea market portraits he amassed as a way to decorate his old What Not to Wear dressing room on the cheap. To fulfill his mandate of packing the apartment with fun, colorful things, he picked a pink velvet sofa from Room & Board, and an orange and chrome tray coffee table from One Kings Lane. "When I was shopping for this home, there were no rules," says Clinton. "If I liked something, I just bought it." The groovy patterned mid-century-style chair is from DwellStudio, and the graphic gray-and-white wallpaper is by Osborne & Little.
"This little space came about by accident, with a bunch of random stuff I bought online and just threw together," says Clinton. The brutalist-style mirror, which he found on eBay and admits "is weird and kind of ugly — but I love it," has all 12 signs of the zodiac. The chair with the malachite-pattern fabric and the pink table are both from One Kings Lane, and the multicolor zigzag Surya rug is from wayfair.com.
DAVID TSAY PHOTOGRAPHY DAVID...
The bedroom fell together after Clinton picked out the ocean-inspired Osborne & Little wallpaper. "I'm a big believer in prints — on clothes and in a room," he says. "They're the best way to reflect your personality." He found the teal velvet bed at Room & Board, and the Greek key bedding is by QzzieLife via amazon.com. But his favorite detail is the sailfish he bought from kingsailfishmounts.com. "We spend a ton of time in the American Airlines terminal down here, and that place is loaded with mounted fish," says Clinton. "Only recently did I realize that it was my inspiration for this bedroom — I'm no fisherman!"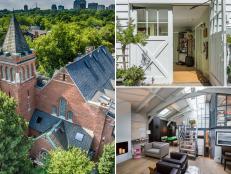 Step inside three houses with intriguing past lives.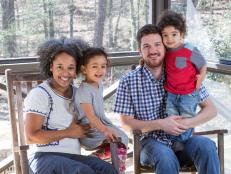 When two architects teamed up for the ultimate renovation — a house in the woods for their own family of four — they focused on making space for noise and quiet, introversion and extroversion, work and life.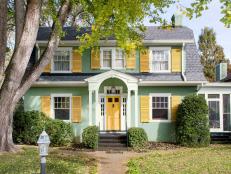 We rounded up a bunch of favorites and want you pick the ones you like best. Add a comment, too! It could appear in an upcoming issue of HGTV Magazine.
Peek into one of the country's top designer showhouses featuring work by the Bay Area's most celebrated designers.
Designer Regan Baker created a modern, no-fuss second home for busy clients. She dressed up a white palette with smart pops of color, textured walls and an open-concept layout.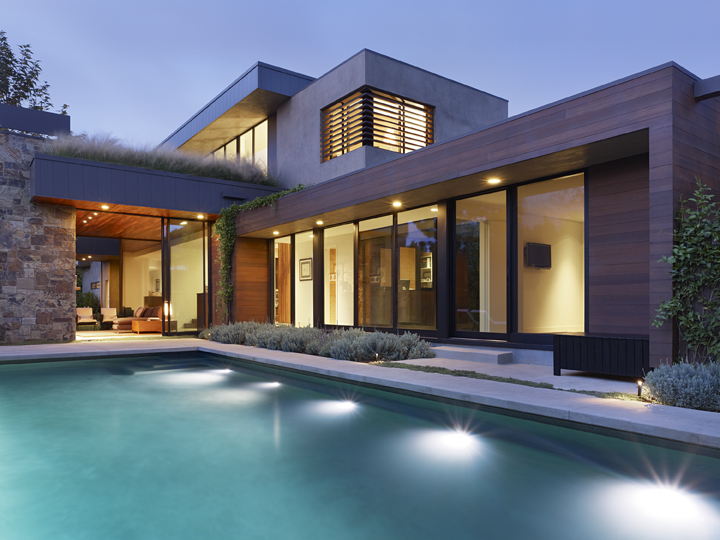 Explore a new side of a classic Los Angeles neighborhood on our virtual architecture tour. 
This modern home by STRANG Architecture epitomizes Miami living. The house features a cool, minimalist aesthetic, an interior courtyard, ocean views and is full of natural light thanks to large windows throughout.
Designer Barbara Vail reinvigorated a family home with a vibrant, midcentury-modern style. Heirloom and era-authentic furnishings pair up with metallic details and subtle patterns to create a space fit for entertaining and cozying up with family and friends.
A home was redesigned to be more family friendly, including opening up the floor plan, raising ceilings and adding architectural interest. The design by Regan Baker dresses up a mostly white palette with colorful wallpapers, tile and patterns throughout.
Chango & Co. redesigned a beach house for repeat customers with an eye on creating a fun, creative family environment through the use of bright colors, playful patterns and soothing textures.