HGTV's Property Brothers and Cousins Go Face to Face
Jonathan and Drew Scott take on John Colaneri and Anthony Carrino in a special episode of Family Feud.

Brothers versus Cousins...the epic battle is finally here. Who's ready to play the Feud?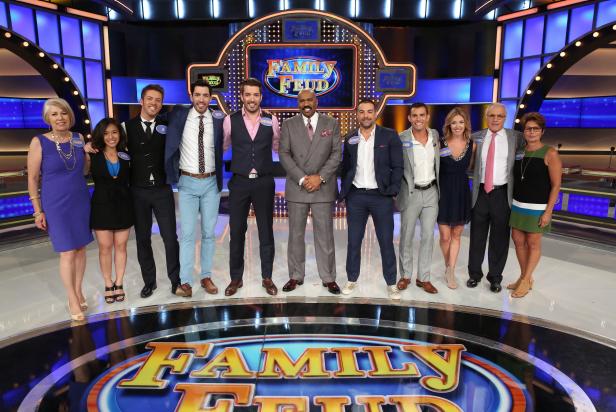 HGTV's Property Brothers and Kitchen Cousins on Family Feud
HGTV's Property Brothers Jonathan and Drew Scott face off against Cousins Anthony Carrino and John Colaneri on a special episode of Family Feud to benefit their favorite charities, St. Baldrick's Foundation and Rebuilding Together.
The two teams, along with their families will join Family Feud host Steve Harvey for the larger-than-life show down, as they compete for their favorite charities, (Team Brothers) and (Team Cousins).
The brothers' team includes Jonathan and Drew's older brother JD Scott, their mom Joanne Scott and Drew's girlfriend Linda Phan.
Team Cousins includes John's wife, Jennifer Lindsey Colaneri, and Anthony's parents, Alfonso Greg Carrino and Francine Carrino.
Watch Family Feud this Thursday (November 19). .
And in the meantime, cheer on your favorite team by joining us on and tweeting your vote for #TeamPropertyBros or #TeamKitchenCousins.