'Good Bones' Season Two is Headed Your Way
Those mighty Indy women, Mina and Karen, are back for a second season of home renos and rescues in their city's historic neighborhoods.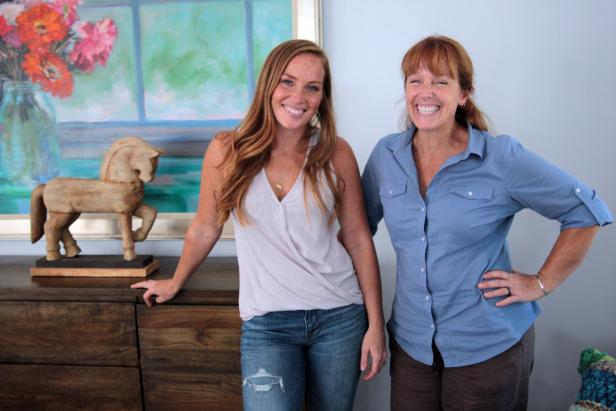 Mina Starsiak and Karen E Laine of HGTV's Good Bones
Mina Starsiak and Karen E Laine of HGTV's Good Bones
It's been almost a year, but we've got a hunch it will be worth the wait. Dynamic and irrepressible mother-daughter duo Karen E Laine and Mina Starsiak return for a second season of their popular HGTV series Good Bones. The season two premiere is happening on Tuesday, May 30 at 10p|9c, with 12 more brand-new episodes in the weeks that follow.
For those of you who got hooked on season one, you've got a basic idea of what's ahead. But, rest assured, there are surprises in store. For those who somehow missed the first round (shame on you!), here's the elevator pitch: Karen is a former lawyer who took time off from her litigating career to combine forces with her real-estate savvy daughter, Mina. After restoring and renovating one home together (Mina's first home after college), the two got bitten by the old-house bug and ultimately started a home renovation and restoration business under the name . Word spread. Notoriety began to grow. Next thing you know, they've got a show on a popular cable TV network. And it's a must-see on HGTV.
Okay, that's too long for an elevator pitch, but there you have it.
The thing is that neither Mina nor Karen can stand to see a good home (or potentially salvageable one) go down under the wrecking ball, so now they're on a mission to find and rescue troubled and distressed homes in their beloved city of Indianapolis — then flip them for a profit.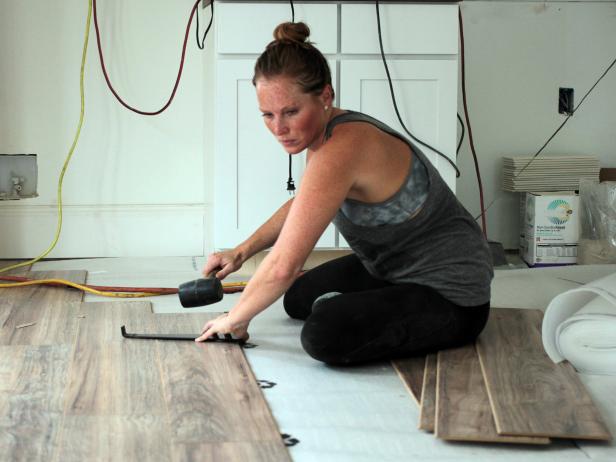 Mina takes hardwood-floor installation into her own hands.
Mina takes hardwood-floor installation into her own hands.
Said profits can then be channeled into similar projects, and so the cycle continues. The corollary and larger mission is to, through their own well-conceived efforts, contribute to the restoration and building up whole neighborhoods, to see them grow, and thus attract new residents — people of similar enthusiasm who value a community's history and roots.
Every tragic house deserves a second chance. With a little vision and a lot of hard work, we create beautiful homes for our neighbors.
Mina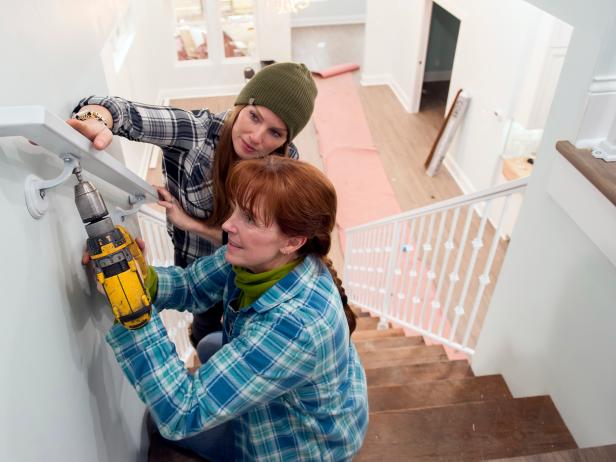 Mina Starsiak (l) holds down a railing as Karen E. Laine (r) uses a power drill on a portion of a metal staircase as seen on Good Bones. (action)
Mary Ann Carter/Getty Images
Clearly flipping old houses is something that can serve a base profit motive but, when done in the thoughtful and deliberate the manner that Mina and Karen go about it, also feeds a motive with a higher purpose. And it may actually foster a sort of self-fulfilling prophecy that's uplifting and positive beyond the limits of the projects at hand. A benevolent snowball effect. A grassroots phenomenon. Everybody wins.
It's important to us that the people who move into our houses love the house and love the neighborhood.
Karen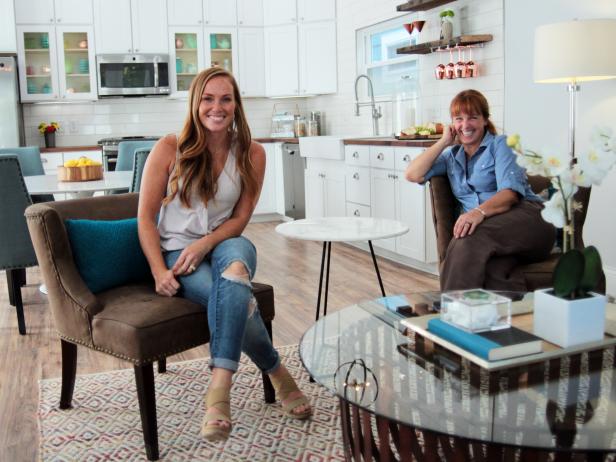 Did we mention that, put Karen and Mina in a room (or on a project) together, and the results can be hilarious? Dedicated as they both are to the job at hand, there's an interplay between daughter and Mom that can cause some sparks to fly, and make things — for you, dear viewer — irresistibly entertaining.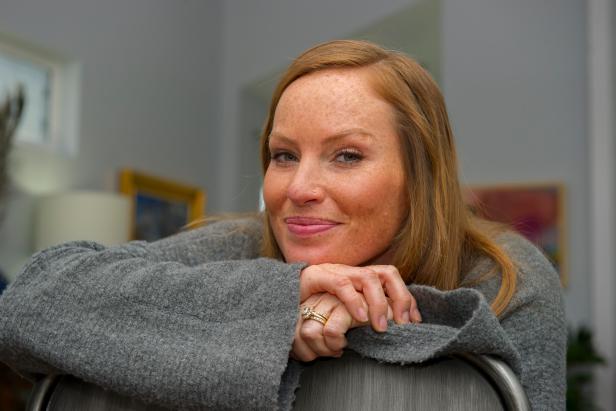 Mary Ann Carter/Getty Images
Mina Starsiak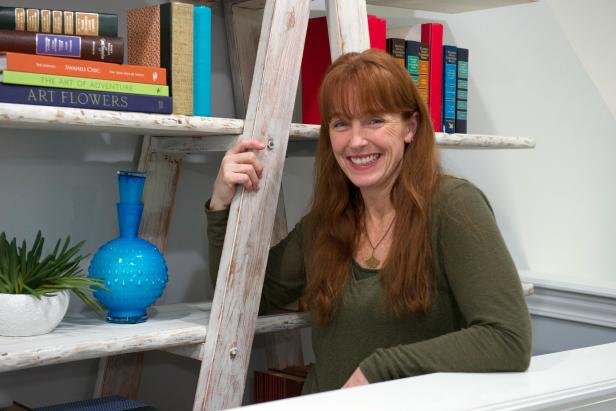 Mary Ann Carter/Getty Images
Karen E Laine
Mom, in this case, is the one inclined to be the free-spirited dreamer. Daughter Mina is high-energy, focused and may have to occasionally bring mom back to terra firma. Think things get interesting? They do.
The freshman season of Good Bones saw Karen and Mina pull off some impressive and charming home makeovers and rescue some remarkably distressed properties, often taking the homes down to the bare studs in order to resurrect them.
A lot has happened since then. (Mina got married, for one thing.) Scope and scale have grown. This season Karen and Mina will take on even bigger risks and tougher projects — from dealing with compromised foundations to essentially reconstructing homes from the ground up.
Count on the fact that each episode will still tell the story of one start-to-finish transformation, including the kinds of challenges and hurdles that come up with these ambitious types of undertakings, as well as some novel adventures and scenarios that only this duo could find themselves in.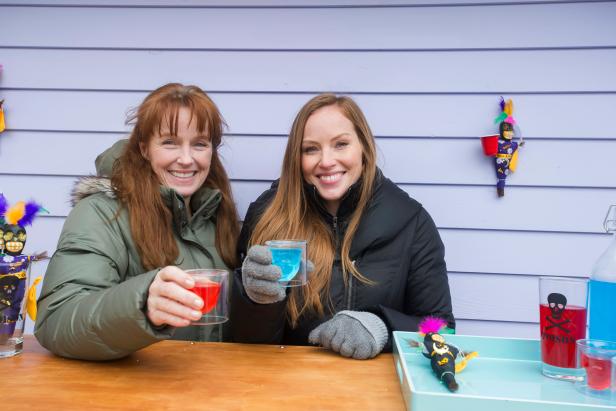 Karen E. Laine (l) and Mina Starsiak (r) pose at the Voodoo Lounge pallet bar in the renovated backyard as seen on Good Bones. (after)
Mary Ann Carter/Getty Images
As far as the makeovers and designs, viewers can expect to see the same kinds of novel and surprising end-results they've come to expect, with re-envisioned homes and interior spaces that blend historic elements with an imaginative and sometimes funky vibe.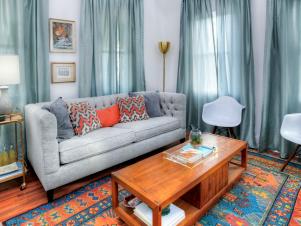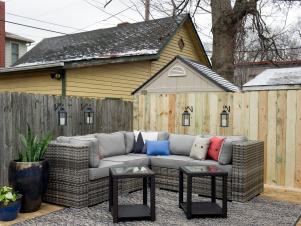 Mary Ann Carter/Getty Images
Interior view of the living room at the remodeled home at 308 Sanders Street in Indianapolis, Indiana as seen on HGTVÕs Good Bones.
A seating area is in the backyard after renovations are complete as seen on Good Bones.(exterior, after)
Set a reminder now, and keep checking back here for more updates, new galleries, exclusive videos and more on HGTV's Good Bones. Moreover, if you don't tune in, you may never find out what's up with this...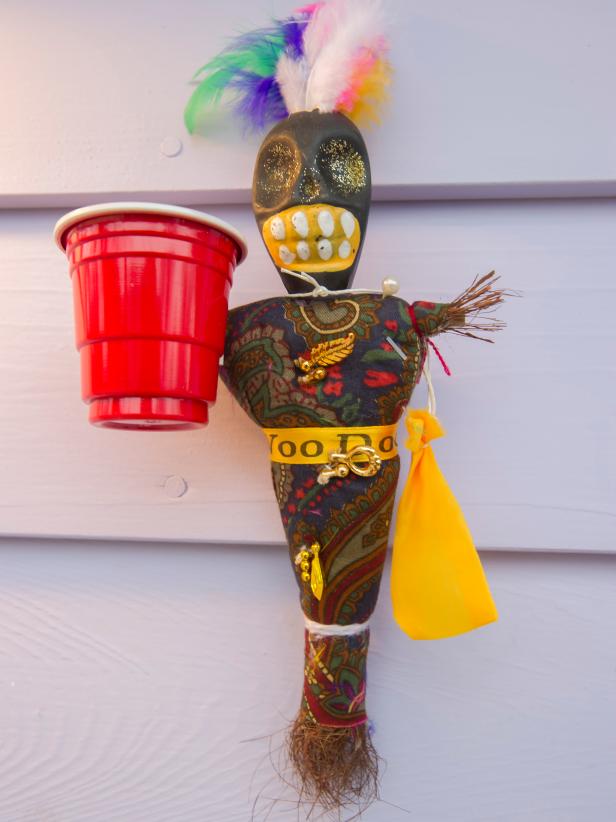 A voodoo doll hangs aboe the Voodoo Lounge bar in the renovated backyard as seen on Good Bones. (detail)
Mary Ann Carter/Getty Images
Creative Upcycling, With Context
When Karen and Mina undertake a renovation on an old home, Karen likes to incorporate touches of the home's history in the modern design. Here Mina installs some custom wall accents in the finished kitchen of a remodeled home in the Indianapolis neighborhood known as East of State. Karen took ceiling medallions salvaged during the demolition phase of the project, then modified and repurposed them as wall art.
Gallery Opening
In this former duplex newly converted to a bright and open single-family home, Mina and Karen reconfigured entire spaces, removing walls and reworking the home's front entrance. When they put the house on the market, they not only staged the home with stylish furnishings, but had the brilliant idea of letting the open house also serve as an showing of works by a local artist. As seen here, original paintings are featured throughout the home.
Cloistered and Secluded
The master suite is located at the rear of the home for maximum privacy. Rich, dark tones and a textured accent wall give the room a luxe and opulent feel.
BEFORE
Mina and Karen purchased this boarded-up and dilapidated duplex for only $15,000. The home is located in a transitioning neighborhood just east of State Avenue in Indianapolis. "East of State" is an area adjacent to the historic and revitalizing Fountain Square neighborhood. "I feel like if Fountain Square is the frontier," says Karen, [then] East of State is the territory beyond the frontier."
AFTER
As part of the conversion to a single-family residence, the home's front porch, stairs and entrance have been substantially modified. A new front door was installed on the left side of the house and three new large windows added on the right. The porch-stair entry on the right side was filled in with new brick and the wall skim-coated for a clean, uniform look. The exterior is repainted in a bold green with white brick and trim.
BEFORE
The rear of the Woodlawn duplex prior to the renovation
Every tragic house deserves a second chance — because underneath all that mess, we might find some really good bones.
—Mina Starsiak
AFTER
Large windows were added at the rear of the home, providing a nice view onto the private back yard. A new deck makes an ideal spot for relaxing, entertaining and grilling out.
The Woodlawn Project: Behind the Scenes
Mina pitches in on demo day. The Woodlawn duplex is actually the second house that Mina and Karen purchased in Indy's East of State neighborhood. "The nice thing [is that] we have one renovation two doors down," says Mina, "and that one's kind of standalone on the block. It's the only house that's renovated. So doing this second house, I think, is not only going to help the first house sell, but help people kind of buy into East of State."
The Woodlawn Project: Behind the Scenes
Karen helps out with on the job site. In this transitioning area of southeast Indianapolis, the prices on homes can vary widely and easy resale is by no means guaranteed, so Mina and Karen took a bit of a risk with this venture. They had to keep repair costs low but were confident they could make the house super-attractive to buyers — and perhaps even help jumpstart more quality home renovations in the area. "Because we're starting in this new area," says Karen "we really need to set the tone. This is our flagship."
The Woodlawn Project: Behind the Scenes
Mina lends a hand on exterior trim painting as part of the effort to boost the home's curb appeal. "Because prices in this neighborhood are just starting to edge up," says Mina, "we want to lure buyers in with a feeling of luxury."
The Woodlawn Project: Behind the Scenes
With respect to the exterior trim, Mina corrects an earlier aesthetic "error in judgment." After trying bright yellow trim paint, then teal, she ultimately opts (despite protests from Karen) to go back to basics with a simple cream white.
The Woodlawn Project: Behind the Scenes
Karen provides ample evidence that she has no fear of power tools.
BEFORE
Prior to the renovation, each unit in the duplex had a small front room just inside the front entrance.
AFTER
This dining area is part of the new open floor plan that extends across both sides of the former duplex. To achieve the structural modificaitons, a new header was added where the central load-bearing wall had been. This enabled the creation of a large, open space that incorporates the dining and living areas and kitchen. The massive header beam is made from LVL (laminated veneer lumber), a super dense and strong material capable of supporting large amounts of weight.
Dining Room, Detail
A cage chandelier creates an interesting shadow pattern on the dining room ceiling. This area uses high narrow windows to allow natural light into the space while maintaining a private feel. "What we try to do in a lot of the houses," says Mina, "[is to] have full windows facing the back, which is your pretty, private space. But on the sides, because we're in an urban area, you're usually pretty close to your neighbor, so we do high windows."
BEFORE
Like many of the homes that Karen and Mina take on, this one was in a distressed state both inside and out prior to the renovation. The total square footage is just under 1200 square feet, so each of the two duplex units was tiny. But the joists were in good shape and the structure was sound enough to withstand a major overhaul.
Living Room, AFTER
In the reconfigured spaces, the more commonareas — the living/dining room and kitchen — are all located toward the front of the house while the private spaces, the bedrooms and bathrooms, are at the rear.
Living Room, Detail
Felt pouf ottomans with flower petal design in neutral shades are one of the distinctive accents used in the living room.
Two Chicks and a Hammer
A literal take on Karen and Mina's company namesake makes an appearance on a throw pillow on the living room sectional.
Dinosaur Bones?
A toy dinosaur, excavated from the backyard prior to the renovation, makes its way into the new dining room decor.
Kitchen, AFTER
Prior to the renovation, each duplex unit had only a tiny, cramped kitchen. In the home's new layout, the new kitchen features plenty of room and a large serving bar that can seat up to eight. To save on costs and help make budget, Mina and Karen went with laminate flooring that emulates the look of wood.
Kitchen, AFTER
Other features in the new kitchen include ceiling height cabinets, new appliances and granite countertops and backsplash.
Kitchen, Detail
Karen salvaged the home's ceiling medallions, added some batting and burlap fabric and created these decorative wall accents that can also serve as a station to post notes or shopping lists.
Master Bedroom, AFTER
The master bedroom is done in dark tones for an elegant and masculine feel. The textured accent wall creates an impressive visual focal point.
Master Bedroom, AFTER
In the new floor plan, the master bedroom is accessed via a hallway and creates a quiet and private space. "We've designed and decorated the house," says Mina, "so when you walk in, everything outside just kind of disappears because [inside] it's just beautiful and perfect."
Karen adds: "This home is going to be someone's oasis."
Master Bedroom, AFTER
"We're going to push the envelope to give the feel of luxury finishes without breaking the bank" said Mina of the home's overall design scheme. "We're going to give it some drama in a tailored way; a little whimsy, and glamorous."
Master Bedroom, Detail
So we [put] a little bit of like 1920s art deco glamour in the back of the house. In the front, you have this really serene, very tailored, but still a little bit of sparkle. — Karen E Laine
Master Bath, AFTER
The newly renovated master bath has high windows to let in natural light, twin vanities and a soaking tub/shower with white tile in an arabesque design.
Guest Bedroom, AFTER
The center portion of the house contains a second bedroom and bath as well as a laundry closet.
Guest Bedroom, AFTER
The guest bedroom is fairly spacious, with ample closet space, a bright color palette and lots of natural light.
Guest Bath, AFTER
The guest bath can be accessed both from the guest room and the adjacent hallway.
The Woodlawn Project, Staging Day
Mina stages the newly renovated guest bath in preparation for the open house.
The Woodlawn Project, Staging Day
The Woodlawn Project, Staging Day
Following a four-week renovation, Mina and Karen add finishing touches at the Woodlawn house. Furniture arrives for staging the home just in time for the open house.
The Woodlawn Project, Staging Day
The Upshot
Karen and Mina purchased this home for just $15,000 but put $130,000 into renovating it — for a total outlay of $145,000. Within four weeks, including renovation time, they were able to sell it for $175,000 to Keaton and Deanna, a young couple who love older, historic homes. "It's an older neighborhood," says new homeowner Deanna, "and we like that feel. We like to be a part of something that's growing."
The Upshot
The best part about it," says new homeowner Deanna, "is that we could get a home that's been almost completely rebuilt, and the price is affordable. And we know in a few years, that that's going to be an investment for us."
Back Yard Deck, Detail
As seen on Good Bones, host Mina Starsiak paints the trim on the exterior of the house on Woodlawn