10 Remodeling Lessons We Learned From the Property Brothers
If you'd rather not learn your lessons the hard way, then listen up. Our favorite brothers have a thing or two to teach us all.
When it comes to remodeling, Jonathan and Drew Scott have seen it all. Whether you're itching to gut your entire house or you'd just like to give your bathroom a facelift, it's always best to grab some advice from the experts. Look no further! We've rounded up some of our favorite lessons from the Scott brothers.
Create a Design That Will Stand the Test of Time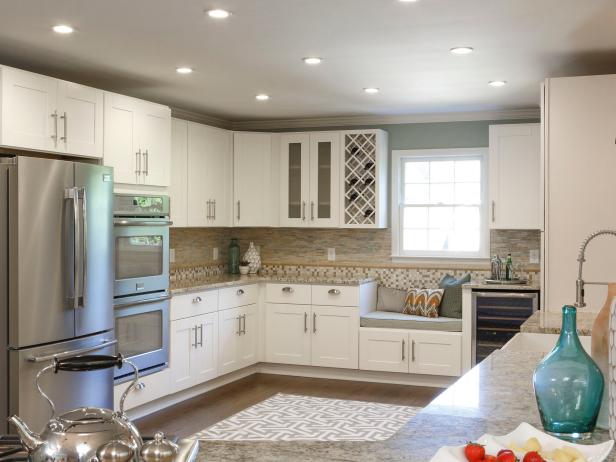 Transitional Kitchen With Built-In Bench
As seen on HGTV's Property Brothers, Jonathan and Drew Scott removed the old cabinets and pantry to create an open gourmet kitchen with modern stainless steel appliances and plenty of storage space. A built-in wine rack, wine cooler and cozy built-in bench are other bonus features in the new kitchen.
While Drew and Jonathan definitely go for a fresh, updated look, they always opt for timeless choices, especially when it comes to the more permanent decisions. For example, these kitchen cabinets are sleek and on-trend, but their crisp, white color will ensure they never look dull or dated.
Make Your Home as Comfy as It is Stylish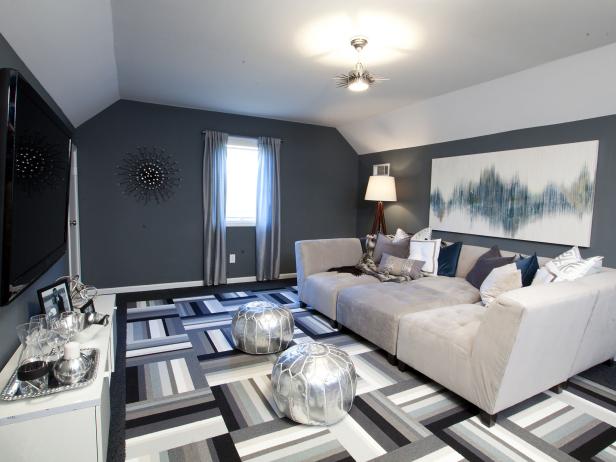 Modern Black, White and Gray Home Theater
This renovated room now houses a stylish home theater with comfortable seating for family and friends. Movie-goers can watch sitting up or lying down on large comfortable couches with enough pillows for all. And the color scheme of black, white and gray works well when the lights go down.
Drew and Jonathan are all about designing livable spaces. Aren't you dying to curl up on that cozy sectional and watch a movie?
Don't Be Afraid to Mix Old With New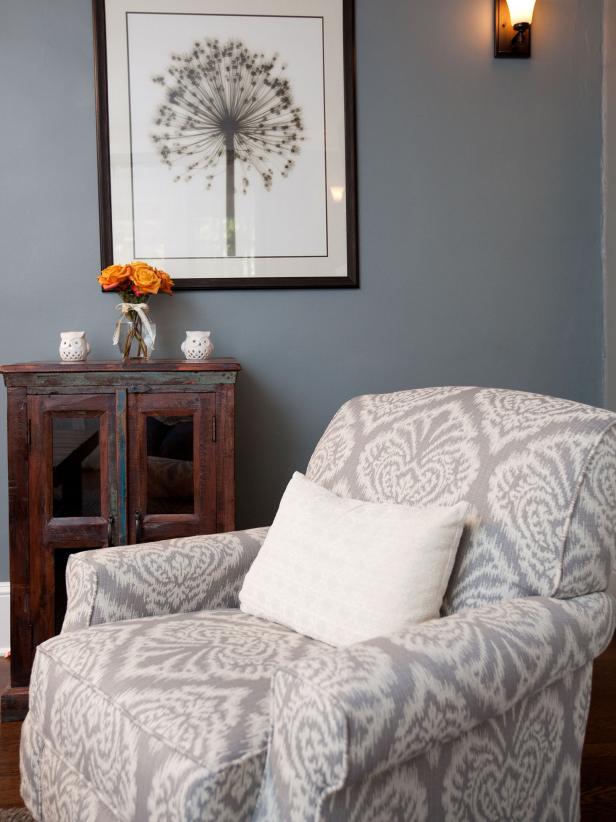 Contemporary Gray Living Room
A cozy club chair adds seating in a gray living room that was renovated by HGTV's Property Brothers where a mix of new and antique furniture and accessories add charm and creates a collected-over-time look.
Pair antiques with trendy pieces, like the brothers did with this gorgeous wood cabinet and stylish patterned chair. Drew frequently uses this strategy to make a space feel more personalized. The best part? It usually helps keep your budget in check, too.
Work With What You've Got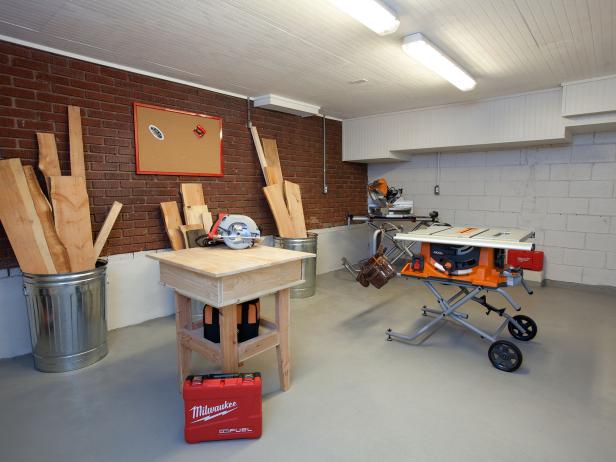 Garage Workshop With Beadboard Ceiling
The ceiling in this carport-turned-garage workshop was insulated and covered with beadboard to control the temperature and help prevent critters from moving in, as seen on HGTV's Property Brothers.
Yes — even if it's a 70-year-old carport. Can you believe the bros transformed this once critter-infested garage into an ultra-functional workshop?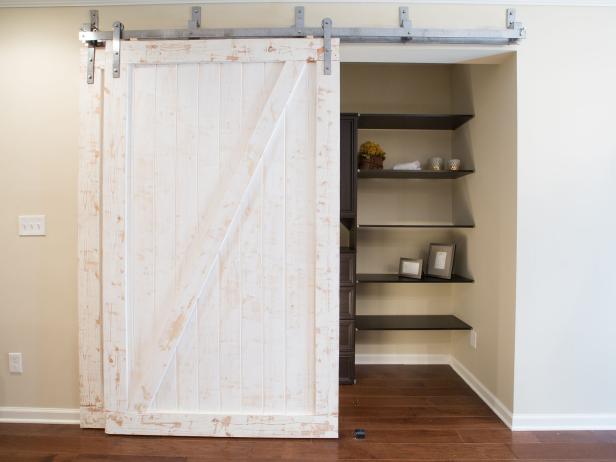 Sliding Barn Doors
This living area features a ton of storage hidden behind custom barn doors. This unique feature adds character to this basement space.
Jonathan and Drew used these whitewashed barn doors to hide a handy storage area. The bros sure know how to make practicality pretty.
Incorporate Your Lifestyle Into Your Home's Design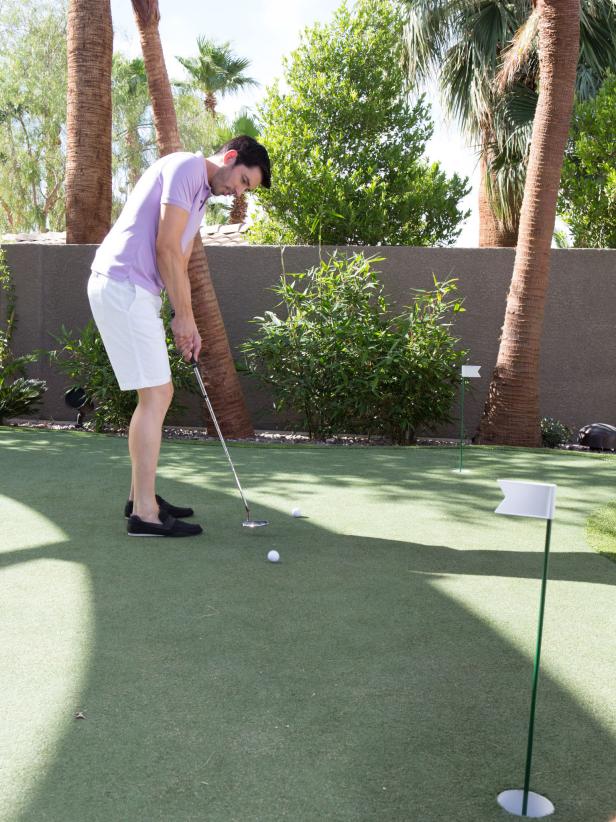 Drew Scott Practicing Putting
Drew Scott practices his putting on the putting green at his new Las Vegas home.
From:
Property Brothers At Home
The Scott brothers love golf, so they designed their very own backyard putting green at their Las Vegas home. If you're an avid crafter, carve out a crafting space. Have a green thumb? Make sure your backyard leaves plenty of space for gardening.
Accentuate Your Home's Character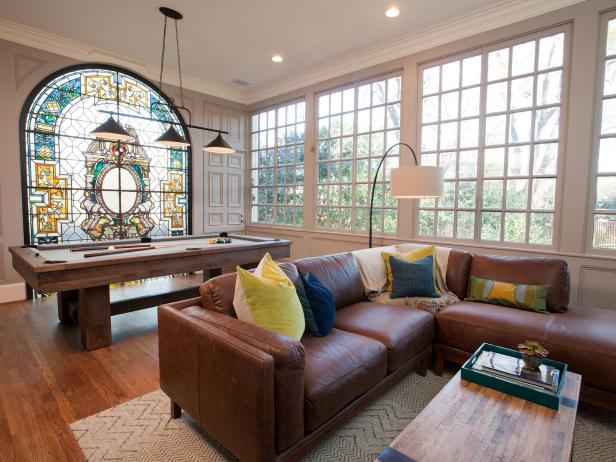 Contemporary Living Room With Arched Stain Glass Window
The focal point of this large living room is the ornate stained glass window that envelops a wall of the room. However, the modern leather couch and custom pool table bring a contemporary and lively look to the space.
Here, Drew chose accent pillows that picked up the hues in the home's gorgeous stained-glass window. The lesson? When you have bones that beautiful, don't mess with them — draw attention to them.
Don't Forget About Your Most Loyal Companion(s)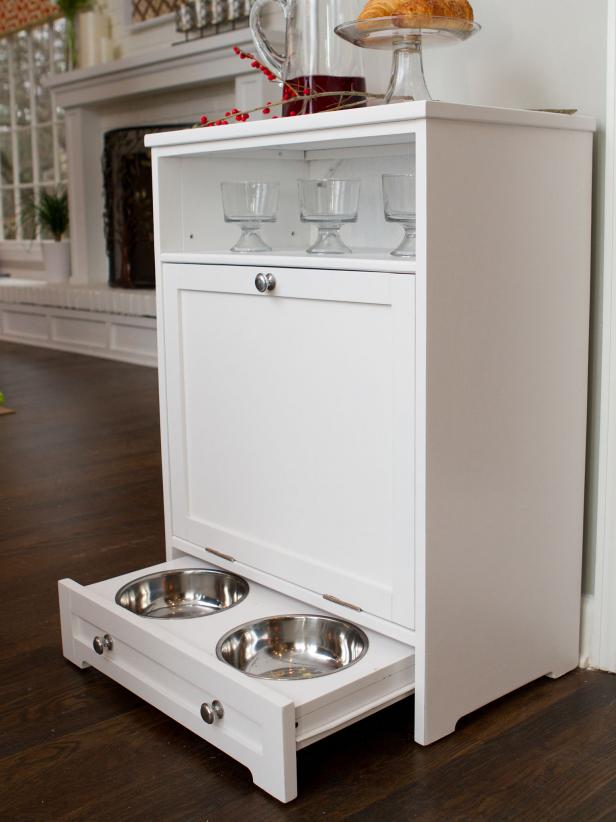 White Doggie Feeder and Storage Cabinet
A dog feed & water station is a sleek and creative addition to this kitchen. The cabinet also provides storage for pet food, treats, glassware and other small items. The drawer can be closed when not in use.
If your furry friend plays a big role in your life, why leave them out of your renovation? Drew and Jonathan incorporated this genius doggy station into their client's home to keep the pup's feeding area clean and tidy.
Opt for Lighting With Wow Factor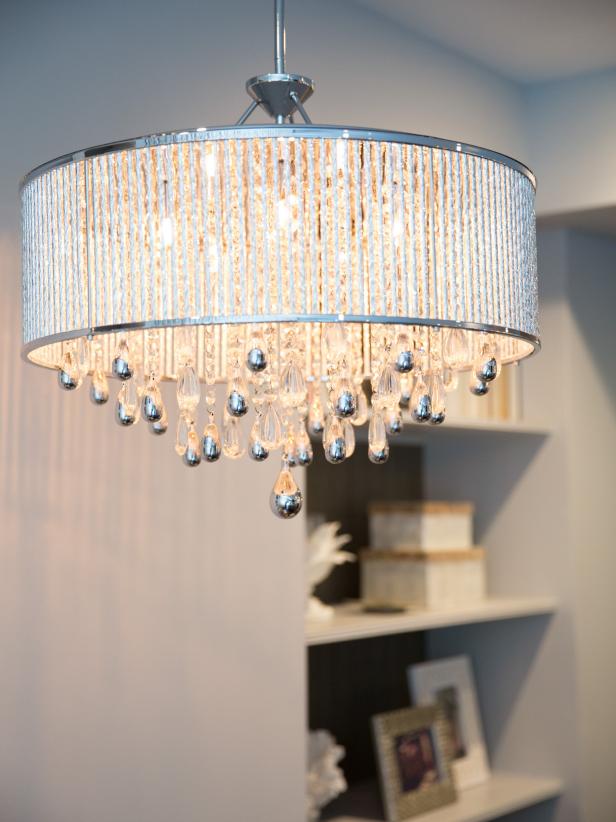 After the renovation, the living room in Beeban Natt and Sukhvir Dhamrhat's new home in Rye Brook, New York is bright and open to the kitchen. A delicate chrome and glass chandelier adds visual interest over the secondary seating area, as seen on Property Brothers. (Detail)
Stephanie Diani / Cineflix
Drew and Jonathan know how to make a space shine, and it's definitely not by using ho-hum light fixtures. Here, a bedazzled chrome chandelier adds some sparkle to a seating area.
Be Selective When Choosing Paint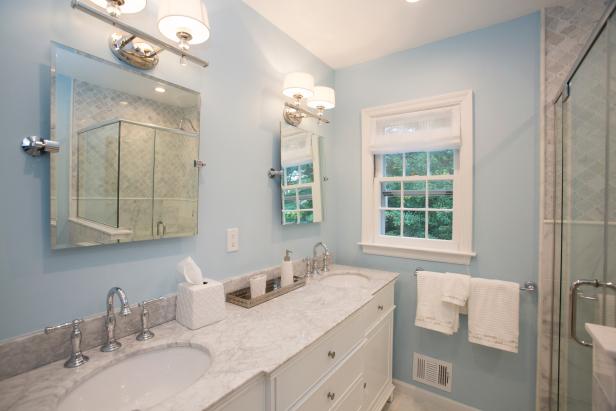 Master Bathroom - After 1: After the renovation, the master bathroom in Tom and Bridget Suvansri's Stamford, Connecticut new home is bright and spa-like with marble floor and shower tile, twin vanities, and plenty of under-sink storage, as seen on Property Brothers. (After)
Stephanie Diani / Getty Images
Choose a paint color that reflects the mood you'd like to achieve. The Scott brothers completely renovated this master bathroom, choosing soft blue walls to create a calm, spa-like atmosphere.
Check out these goofy, behind-the-scenes shots of Drew and Jonathan having fun while they buy, sell and renovate houses.
"Smile, Drew!"
Navigating the real estate market can be trying. Jonathan attempts to cheer Drew up by pinching his cheeks and letting him know how cute he is in that plaid tie.
Singing Scott-sman
Paint roller or microphone? Jonathan says both. Painting is so much less tedious with a Scott brother to serenade you.
Try Before You Buy
It only makes sense to try a product before you buy it. Jonathan proves that this tub in plenty big while shopping for bathroom fixtures.
Fashion Policing
Drew and Jonathan Scott stay stylish while getting the job done as they host shows like HGTV's Buying and Selling, Brother vs. Brother and Pumpkin Wars.
Joy Ride
Drew couldn't resist taking this kid-size four-wheeler for a spin before putting the family's house on the market.
Pillow Fight
A mark of quality in decorative throw pillows is their ability to withstand a few good pillow fights. The Brothers take a break from staging this room to pelt each other with sofa pillows.
Luau Time
After revealing this renovated home on HGTV's Property Brothers, Jonathan stripped down to a grass skirt and coconut bra, but he couldn't be parted from his work boots. Drew was not impressed.
King Drew and His Apprentice
Drew took this little guy shopping for furniture and believes he'll make a great real estate agent when he grows up.
Future Renovator
But Jonathan thinks he'd make a better DIY-er. He's already got his first set of tools.
Taking a Dip
There's no better way to test out a new in-ground pool than to push your brother in. Jonathan surprised the homeowners by pushing Drew into the water, but Drew made sure to take Jonathan down with him.
Big Fork, Small Jonathan
Jonathan thought this fork made for a cool decorative piece, but found it less practical for everyday use.
Big Drew, Small Chair
This particular reclining chair might be better suited for someone who's not over six feet tall.
Strength Challenge
Amid a kitchen overhaul, Jonathan breaks for a quick arm wrestling match with eight-year-old Zion Matamoro.
Petting Zoo
Jonathan attempts to pacify both his brother and the family dog in a house the Brothers renovated and sold on HGTV's Buying and Selling.
Drew the Dog
Drew demonstrates how even the dog will be comfortable in this newly-remodeled home.
Fun and Games
Before starting the demolition process, the Brothers play a game of living-room soccer with a bouncy ball.
Dated Disbelief
Drew and Jonathan couldn't believe how dated this house was. The light fixture was one of the first things to go.
Unexpected Workout
Jonathan worked on his biceps by lifting the homeowners' two daughters after revealing this renovated room to their family.
Brotherly Love
The Brothers disagreed over whether to play video games or watch TV before throwing out this oversized sofa.
Nap Time
Jonathan was so exhausted after explaining how to install these hardwood floors to the homeowner that he needed to lie down. Fortunately the camera crew caught the entire incident.
Pies for Charity
Drew gave a donation to a group raising money for cystic fibrosis research and got to smash a pie in this college student's face in exchange on HGTV's Pumpkin Wars.
Share the Cookies
Drew tries to sneak a cookie out of the cookie jar after this little girl grabs a couple of her own.
What a Charmer
Jonathan, the perpetual romantic, snatches a flower from this unique living room vase and strikes a provocative pose.
Wearing His Welcome Out
Wanting to be extra hospitable for a home tour, Drew donned a "Welcome" sign as a fashion accessory. Jonathan wasn't sure this was the best tactic to draw people in.
Brotherly Brawl
Drew and Jonathan still wrestle like when they were kids, the only difference being Drew wears a suit now.
Rough Tumble
In an attempt to impress this family, Jonathan attempts a cartwheel. He doesn't quite succeed.
None for Drew
Inspired by this homeowner's new kitchen, Jonathan decides to whip up a batch of cookies. Here he makes it clear that the cookies were for the family, not for Drew.
Healthy Snack on Set
Drew seems confused by Jonathan's snack of choice during the filming an episode of Property Brothers.
Done With Demo
Demolition can be tiring, especially when you're tearing a room down to its bare bones. Jonathan and this homeowner had to take a short break while removing the hideous pink tile of this bathroom.
Brothers Behind Bars
The Brothers imagine living in a house this dated would feel like being trapped in the 1970s.
Pie Eater
Jonathan had no reservations about digging into this pumpkin pie during a pie-eating contest in 2012 on HGTV's Pumpkin Wars.
Battle of the Brothers
In the Brothers' latest show, HGTV's Brother vs. Brother, Drew and Jonathan show their sibling rivalry is alive and well as they coach opposing teams in home renovation challenges.
Producer Tug-of-war
They even feud behind the scenes as they vie over Brother vs. Brother co-executive producer Nina Joseph.
Perfect Team
Despite their shenanigans and competition, in the end, Drew and Jonathan always get the job done.
Scott Brother Selfies
The Brothers aren't shy about uploading behind-the-scenes photos of themselves to social media. For more photos like this, follow Drew (@mrdrewscott) and Jonathan (@mysilverscott) on Instagram. For more photos of their renovations, follow HGTV (@hgtv) on Instagram.