10 Incredible Kitchen Makeovers From Fixer Upper
Missing Chip and JoJo? We've got your Fixer Upper fix.
I don't know about you, but ever since Fixer Upper's third season ended, I've been dreaming about season four. Chip and Jo have a way of firing me up for my own home renos. While the dynamic duo is off filming the next season of design magic, I've rounded up some of their best makeovers to date. Check out these amazing kitchen transformations, and try not to drool.
The second story kitchen of the Meek home before renovations, as seen on Fixer Upper. (Before #10)
Before: With dated cabinets, wallpaper and linoleum, the original kitchen needed some major updating.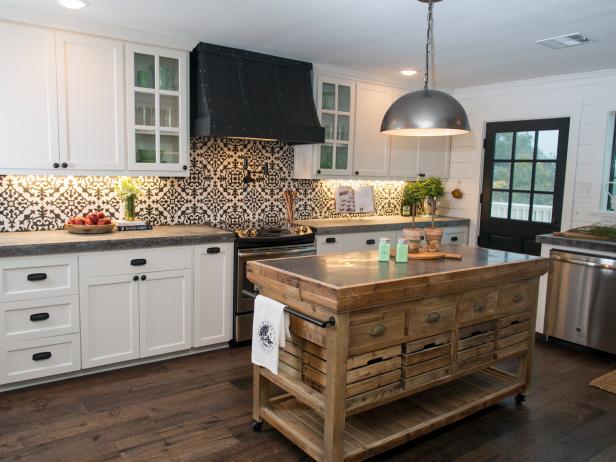 Barn Home in the Country: Custom Vent Hood and Backsplash
As seen on HGTV's Fixer Upper, this home's custom kitchen features a black and white tile back splash that complements the space. The kitchen also features stainless steel appliances and wood details that give the space a perfect blend of contemporary and rustic styles.
After: Natural wood helps soften the bold black-and-white color scheme and patterned tile backsplash in the completely renovated kitchen.
The Coastal Makeover for a '70s Ranch House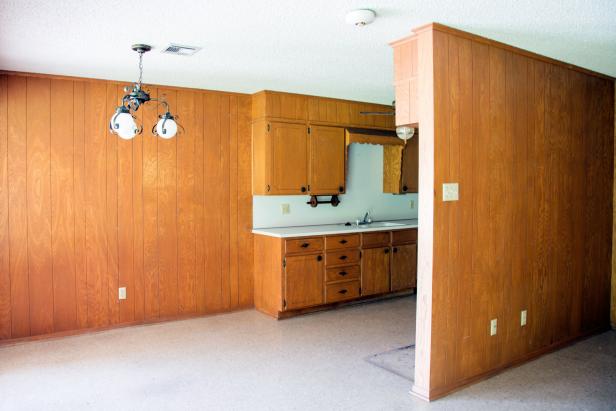 Before: The '70s-era kitchen was ultra closed off, so Joanna suggested removing the partition and adding a large island.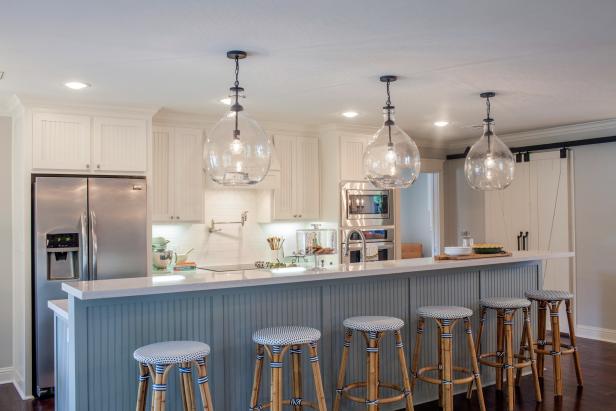 Bright Blue and White Kitchen With White Barn Doors, Large Island and Wicker Bar Stools
This kitchen features white cabinets, a large island, pendant lighting and white tile backsplash. The grey and white tones and wicker bar stools help to compliment the beach theme that runs throughout the entire home, as seen on HGTV Fixer Upper.
After: A soft gray and white palette makes the new kitchen feel clean and fresh, and barstools offer ample seating for impromptu dining.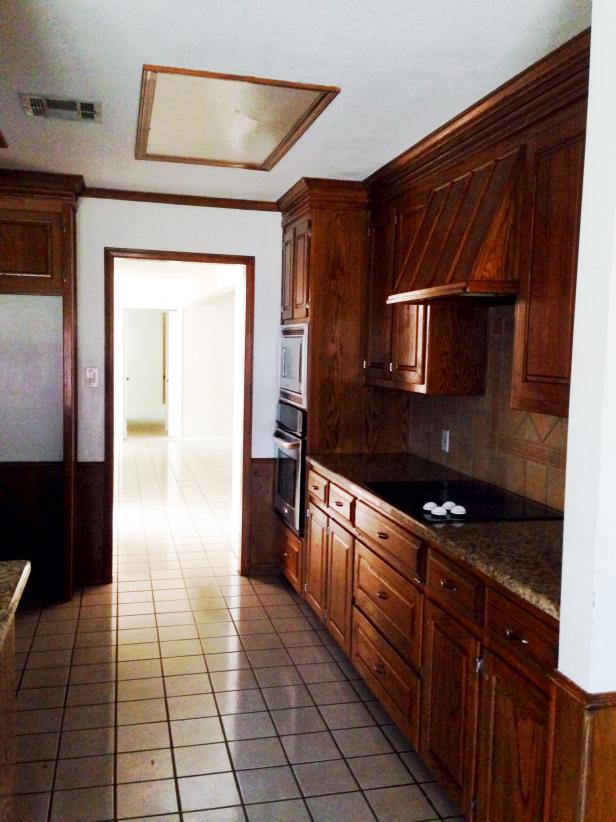 Before: The original kitchen was narrow and dark.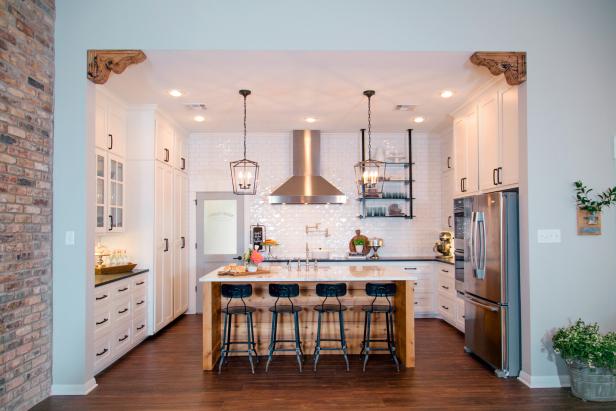 Kitchen With Large Center Island and Industrial Pendant Lights
The newly configured kitchen has a large center island, crisp white cabinetry with contrasting black hardware, new stainless steel appliances and custom vent hood. Joanna Gaines found vintage wooden corbels at a local salvage shop for the perfect finishing touch.
After: Crisp, white cabinets, an oversized wood island and a sparkling white tile backsplash combine for a totally new look.
The Texas-Sized House With Small-Town Charm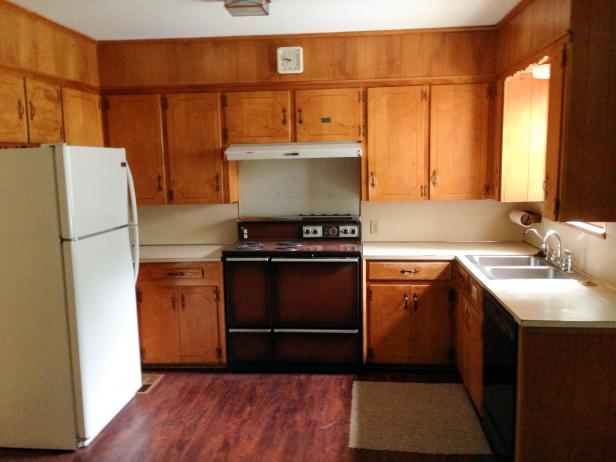 The Dansby kitchen prior to any renovations, as seen on Fixer Upper. (Before #2)
Before: Orange-hued cabinets are cramped into a tight space before the renovation.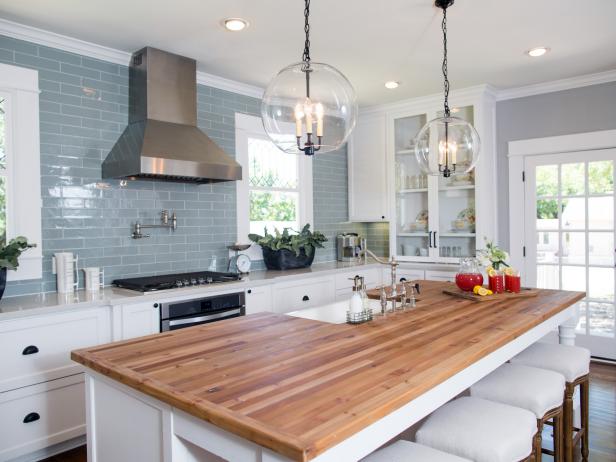 Spacious Kitchen With Custom Island
Joanna Gaines's recommendation was not simply to expand the kitchen, but to actually relocate it. The new kitchen is in a space that was previously a den. In the new layout, the old kitchen becomes the combined pantry and laundry room.
After: For this home, Joanna recommended relocating the kitchen. The new kitchen is in a space that was previously the den.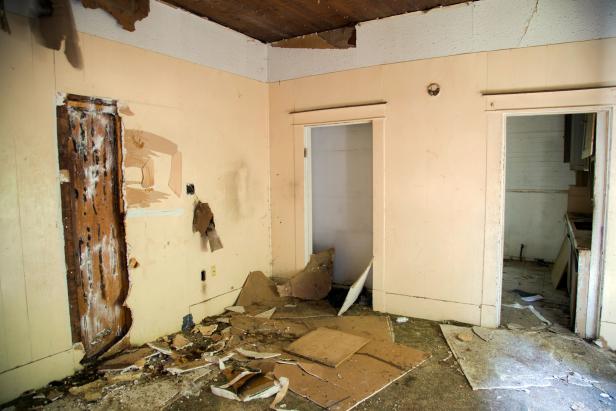 The second room of the Bell home before renovations that will soon be turned into the kitchen area, as seen on Fixer Upper. (Before #4)
Before: This central room was formerly used as a bedroom but would become part of the kitchen in the renovation.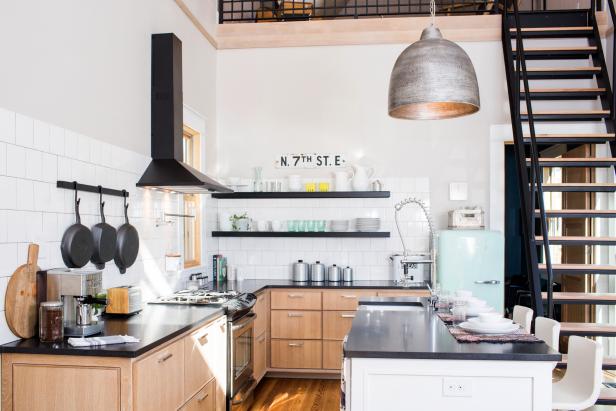 Small Kitchen with a Wide Open Feel Tiny Vintage Home
The small kitchen was opened up by removing walls and vaulting the ceiling. The neutral color palate keeps the space bright and complements the vintage refrigerator, vent hood, floating shelves and wooden flooring, as seen on HGTV's Fixer Upper.
After: The tiny home's new kitchen features white oak cabinets, black countertops and floating shelves to create a sleek, clean aesthetic.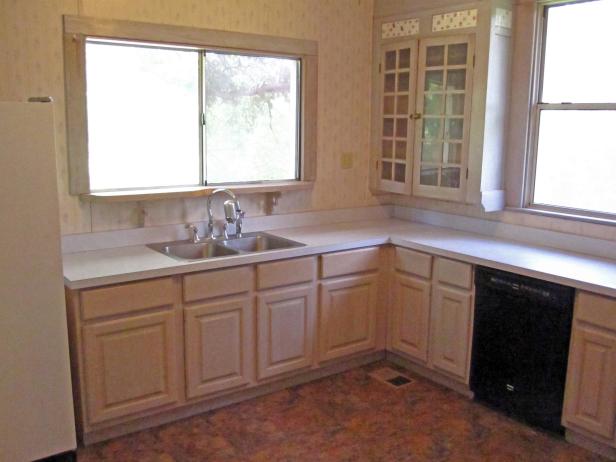 Before: Bland Kitchen
The homeowners' bland kitchen before being renovated on HGTV's Fixer Upper.
Before: Bland and lifeless, the original kitchen needed some personality.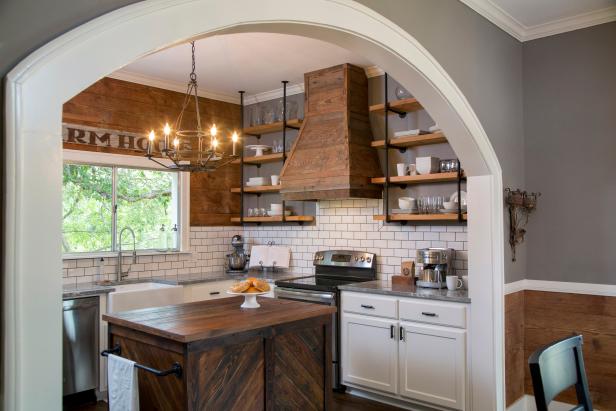 Arched Door Frame Leading from Living Room to Rustic Kitchen
Fixer Upper hosts Chip and Joanna Gaines expanded the entryway to the kitchen by cutting a wide archway, creating a better flow between the kitchen and dining room.
After: Industrial open shelving and a reclaimed wood island give the renovated kitchen major 'wow' factor.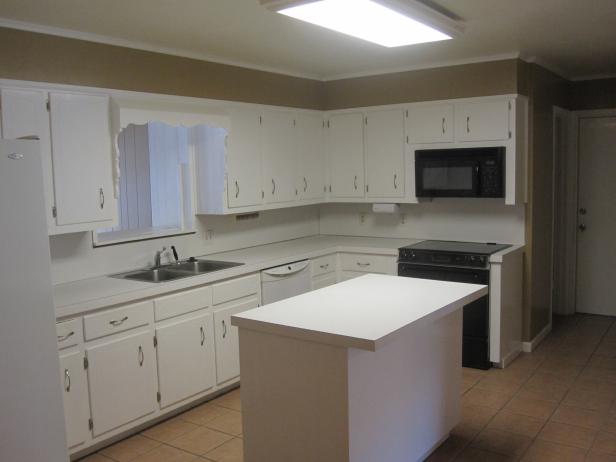 Plain Outdated Kitchen
As seen on HGTV's Fixer Upper, the Haires' original kitchen was old and and outdated, but Chip and Joanna will open it up and renovate the cabinets to make this kitchen a statement piece for the home.
Before: This kitchen was a prime example of all-white gone all-wrong.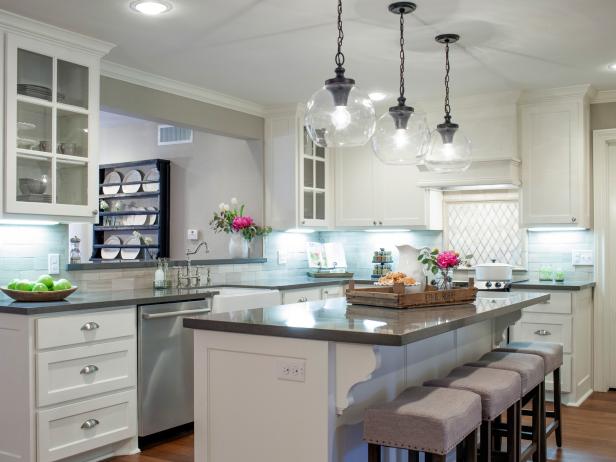 Updated Kitchen with Recessed Lighting
The remodeled kitchen has raised cabinets, a large island, new crown molding, pendants and new recessed lighting.
After: In the renovated kitchen, gray countertops provide contrast against the updated white cabinets, and stylish pendant lights add pizzazz.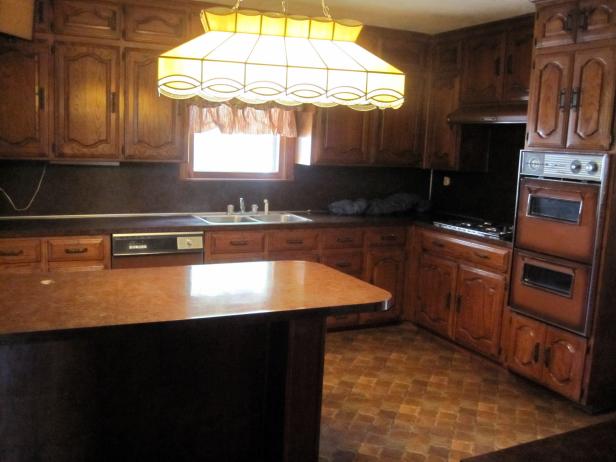 Old Dated Kitchen
The old kitchen was dated and had dark cabinets, countertops and appliances that seemed to soak up what little light made its way into the room.
Before: The lack of natural light and deep brown tones left this kitchen feeling dark and dull.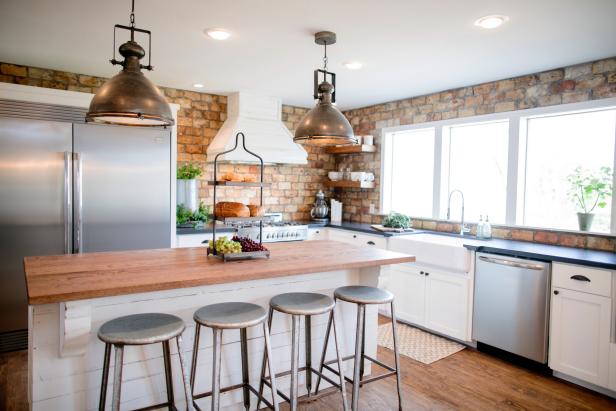 Naturally Rustic
The kitchen in the King home has been completely transformed and repositioned. Some of the key elements of the kitchen are the open shelves, the black granite countertops, the brick backsplash, a vent hood, stainless steel appliances, industrial light fixtures and a custom island, as seen on Fixer Upper.
After: Chip and Joanna completely transformed the kitchen with brick walls, black granite countertops, industrial pendants and a custom-built island.
The Messy Mid-Century Modern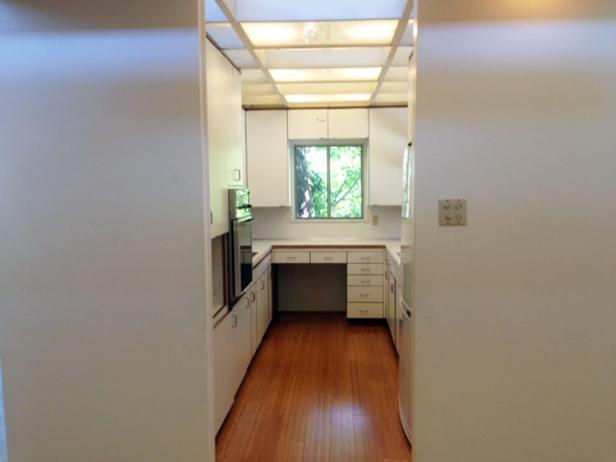 Before: Kitchen
With its box-like enclosure and awkward placement, the kitchen was a visual intrusion within the larger living space.
Before: An awkward, box-like floor plan made this kitchen undesirable.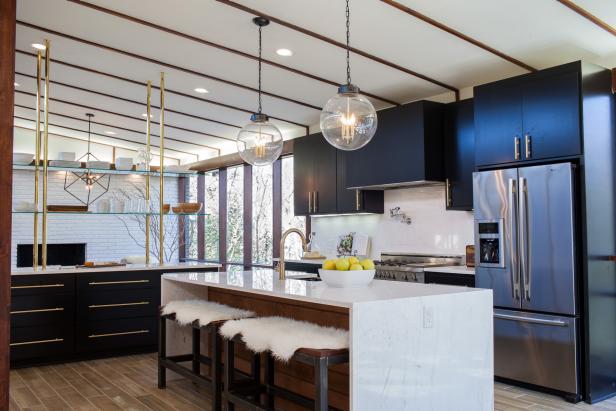 Renovated Modern Kitchen
Walls were removed to expose the formerly enclosed kitchen, freeing up more space and creating an open but elegant floor plan.
After: Chip and Jo knocked down walls to create an open layout and opted for an eye-catching mid-century modern design.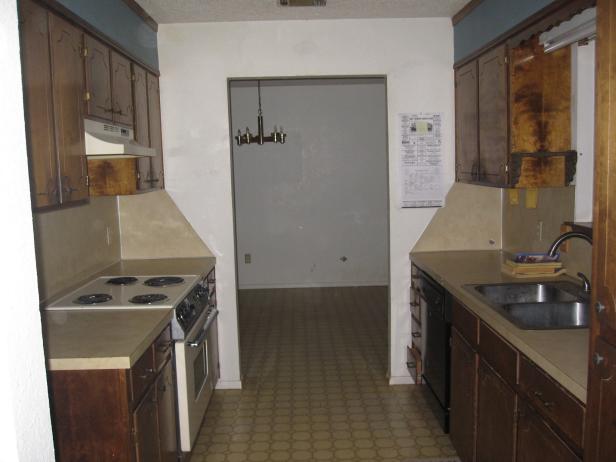 Kitchen Before Renovation
Prior to the renovation, the dated kitchen had linoleum flooring, laminate countertops, wood-paneled cabinets and aging appliances.
Before: The original kitchen had a tight layout that didn't flow with the home's open floor plan.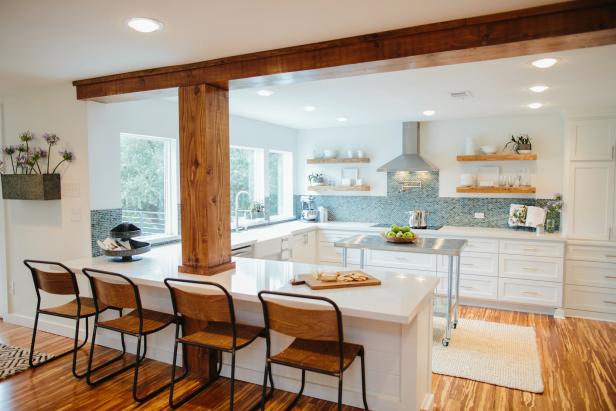 Kitchen, AFTER
Wood wrapped support beams provide a welcome contrast with the kitchen's white cabinets and light granite countertops
After: Joanna suggested moving the kitchen upstairs to give it a more central location. The new kitchen flows seamlessly with the home's design.
We asked some of Fixer Upper 's biggest fans to share the moment they knew they were officially hooked. Can you relate to any of these?
You refer to the Gaines couple as JoJo and Chip when discussing the show, like they are your close friends.
-Facebook fan Mindy
Joanna Gaines, co-host of HGTV's Fixer Upper with her husband Chip (seen here also) loves the color green, but isn't a fan of purple.
You find yourself looking at old bikes, rusty signs and scrap wood and think..."Yeah, that would look good on my wall."
-Facebook fan Katherine
As seen on Fixer Upper, Chip and Joanna have updated the dining room with a new redwood mantel, farm table, dark metal chandelier and black accents that offer a contrast against the white brick.
You make a big printed picture on wheels to reveal all surprises to your family.
-Facebook fan Laurie B.
Homeowners Jonathan and Amy Gulley cheer as Fixer Upper hosts Joanna and Chip Gaines pull back a large photographic banner of their home in its original state, to reveal the newly renovated home.
You want every room in you house painted gray.
-Facebook fan Natalie
With one wall removed, the old dining room was absorbed into the new kitchen, creating an open feel and making room for a long kitchen island. The old tile floors were replaced with wood flooring. New cabinets, appliances, marble countertops, tile backsplash, stainless fixtures and paint give the kitchen a modern look, yet the wooden vent hood and pendant light fixtures are complimentary to the Sanders' French Country style, as seen on HGTV's Fixer Upper. (After 14)
You not only know the names of all the Gaines' children, you know the names of their goats and chickens, too!
-Facebook fan Erin
The 40-acre farm owned by Chip and Joanna Gaines, co-hosts of HGTV's Fixer Upper, is also home to 60 animals, including chickens, cows and goats.
"If you want to buy the worst house on the best street so you can either hire them or say "Now, what would Chip & Joanna do???"
-Facebook fan Melissa F.
Before renovation, the landscaping was so overgrown that it obscured most of the house, so Chip and Joanna cleared out the unkempt trees and shrubs. Charmaine said, "It was a shame to see such a sturdy, well-built home going to waste."
You do your best to recreate a design you saw. The chalkboard paint wall with reclaimed wood shelves and buffet? Did it!!!
-Facebook fan Maria M.
HGTV Fixer Upper hosts Chip and Joanna Gaines transformed this casual dining space into a family coffee bar – a place for family and friends to gather for eating and entertaining. Chalkboard paint on the wall creates a cafe-like atmosphere, while the floating shelves add a hint of rustic style.
Your birthday wish is that Chip and Joanna knock on your door and yell "We are here to fix up your home!"
-Facebook fan Sheryl
"We didn't buy a TV when we first got married, and we have yet to buy one," says Joanna Gaines, co-host of HGTV's Fixer Upper, of the home she shares with husband (and co-host) Chip.
You consider moving to Waco just so you can hire them to find you a fixer upper!
- Facebook fan Cindy R.
"I started a local boutique and partnered with Chip to implement the Magnolia style in the homes he was flipping," Joanna Gaines, co-host of HGTV's Fixer Upper says of her husband. "We later branched out and started renovations in the central Texas area."
You have used the term "shiplap" in the last 24 hours!
-Facebook fan Amy P.
Chip and Joanna Gaines had the homeowners' favorite quote etched in sheet metal and hung as an art piece in their master bathroom for them to reflect on everyday, as seen on HGTV's Fixer Upper
You check every mirror to see how your hair looks.
-Facebook fan Nell S.
A mirror hangs above a wooden end table providing light, color, and the illusion of more space in an otherwise dark corner of the living room, as seen on Fixer Upper.
You have more paint samples than shoes.
-Facebook fan Terri
The new fireplace blends into the built-ins with white paint providing a neutral palette for decor to pop, as seen on Fixer Upper.
You like old, distressed furniture better than brand new stuff.
-Facebook fan Heather R.
After removing a built-in in the living room new bar seating is added space between the family room and kitchen, as seen on Fixer Upper.
You cry at some point during each episode.
-Facebook fan Jennifer M.
Hosts Chip and Joanna Gaines stand with homeowners Denitia and Norris Blount as they talk about their home before the renovation, as seen on Fixer Upper.
You can't pass up an old dresser with a "free" sign on the side of the road, because you want your house to look like an episode of Fixer Upper.
-Facebook fan Michele S.
This living space is open concept and connects the entryway, kitchen and dining room. White distressed furniture, slipcovered chairs and a soft color palette all lend a shabby chic style to the rooms.
You use the quote "Today is a good day for a good day."
-Facebook fan Tiffany
A custom black metal sign with a positive message greets guests in this entry space. A small black wood bench and floor lamp provide a cozy sitting area before entering the adjacent dining room and kitchen.
You laugh at all of Chip's jokes.
-Facebook fan Lisa
Chip and Joanna Gaines, co-hosts of HGTV's Fixer Upper, have four kiddos who range in age from four to nine.
Everywhere you go, you're looking around envisioning how you could remodel the place.
-Facebook fan Shirley
http://all-happy.info/shows/fixer-upper/a-new-home-and-a-fresh-beginning-for-a-texas-mom-pictures
You brake for all garage sales and flea markets.
-Facebook fan Joseph Z.
This backroom was transformed into a play space for a young boy with light gray paint that contrasts with the new wood floors and corrugated metal awnings over the windows that bring a masculine element to this cottage-style room.
You wish every night was Tuesday night.
-Facebook fan Sue
A new large kitchen island with a countertop made from the wood of an old train car offers additional counter space and a casual dining area.
You see the potential in almost all old stuff.
-Facebook fan Julie D.
A section of a windmill fan serves as a compelling piece of wall decor above a rustic wood console.
You find yourself buying big clocks...
The study is staged with industrial shelving, antique furnishings and decorations.
...and metal letters.
-Facebook fan Bernie
A metal letter sign displays "g" for Gulley and serves as an art piece in the living room at the Gulley house.
You possibly "considered" eating a "small" roach just to see if Chip is on to something.
-Facebook fan Grace U.
The 40-acre farm owned by Chip and Joanna Gaines, hosts of HGTV's Fixer Upper, is also home to 60 animals, including chickens, cows, goats......and horses! (Here, Chip takes a late-afternoon ride.)
Your eyes don't see the dump...
The Baston family home before renovation on HGTV's Fixer Upper.
...but instead, the dream.
-Facebook fan Pam R.
Fixer Upper Hosts Chip and Joanna Gaines transformed and updated this farmhome with new paint and warm natural wood support beams, porch railings and fencing.
You've filled every vase in the house with white flowers.
-Facebook fan Kim
A large glass vase with elegant white flowers serves as a centerpiece for the table in the dining room, as seen on HGTV's Fixer Upper.
You plan a trip to Waco hoping to bump into them at the Magnolia store!
-Facebook fan Melissa R.
Where does Joanna Gaines, co-host of HGTV's Fixer Upper, find all the great pieces she uses in her farmhouse and in her shop? "Off-the-beaten-path antique stores and flea markets," she says. "My favorite thing to do is hunt for really cool pieces to sell or repurpose and use in my home."
You have pulled up the corners of your carpet looking for hardwoods.
-Facebook fan Debbie C.
Interiors spaces that were once segmented and closed off are now more open, giving a new sense of unity and breadth to the home's interior.
You envy and appreciate the rapport between JoJo and Chip, the love they have for each other and their children, and the amazing transformations they create for deserving families.
-Facebook fan Laurence B.
"I wanted to surprise JoJo with a bold backsplash at a flip property," Chip Haines, co-host of HGTV's Fixer Upper says of his wife and co-host Joanna. "It took me all day to install this beautiful tumbled-stone backsplash, but when I went to grout it...it soaked up the color and turned maroon. It was horrible, and JoJo was surprised to say the least."