Take Your Landscape Design to the Next Level With These Creative Paver Ideas
Pave your way to the patio of your dreams. #sorrynotsorry

When planning your patio, there are many elements to consider: the landscape, climate, budget and how you and your family will use the space. But there's one workhorse material that manages to find its way into almost every outdoor patio design project: pavers.
With the variety of paver materials, sizes, styles, colors and textures, they truly are one of the most versatile materials out there. Pavers can likely work for your home no matter your style or budget. Check out these creative ways to use them: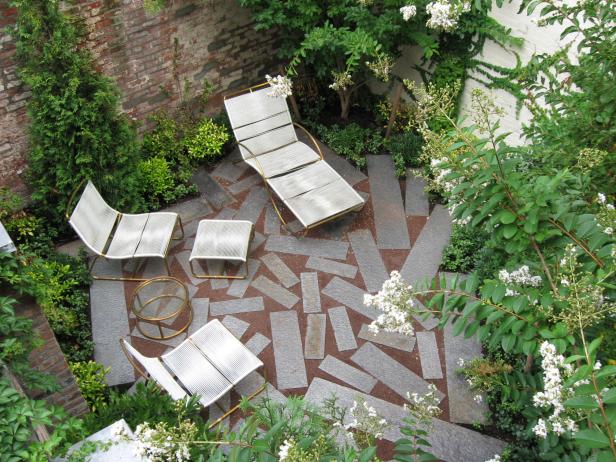 Patio with Rectilinear Stone Pavers
This idyllic backyard hideaway in Brooklyn by Statile & Todd combines nature and contemporary design in a patio that utilizes rectilinear stone (Mica Schist pavers) and an infill of barn red dust with a stabilizing agent.
Statile & Todd Inc., design by Michael Van Valkenburgh Associates, Inc.
While symmetrical placement is more typical when it comes to pavers, don't be afraid to think outside the box and use them in a random pattern. While the placement of these pavers might seem haphazard, the look is casual with lots of visual interest. This technique is also good to use if you have some leftover pavers from another project.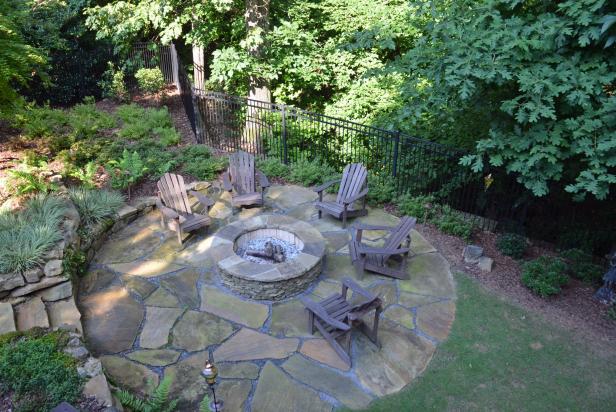 Round Fire Pit in the Woods
A round fire pit made of crab orchard stone works best here because the whole landscape design is more curvilinear, according to King Landscaping in Atlanta. One of the curved, stacked stone walls was existing before they implemented the design. Marrying straight lines into the space would have been awkward.
Pavers also work really well when you need to define a space. In this case, pavers arranged in a circular pattern leading out to a pathway, create a quiet refuge with a comfy hammock and a couple of iron chairs.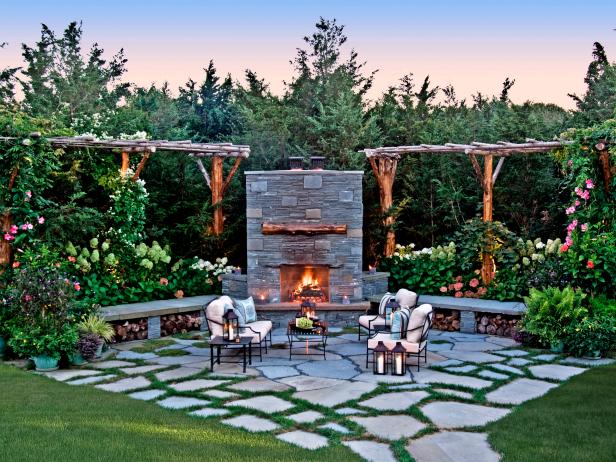 Patio Fireplace
This outdoor patio features a custom stone fireplace and rustic pergolas with lush landscaping.
If you're lucky enough to have a fire pit or outdoor fireplace, consider using pavers to define the space around it. In this case, the corner of a yard was turned into a beautiful garden patio. Concrete benches and a rustic trellis add to the charm of this little outdoor oasis.
Incorporate Into Your Lawn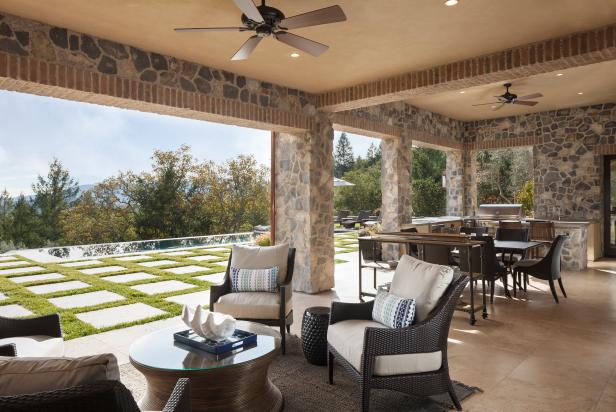 Beautiful Covered Patio
This beautiful covered patio features a plenty of seating for ultimate outdoor entertaining.
Intero Real Estate Services, Inc., a member of Luxury Portfolio International
Pavers can also be used to define spaces where you might typically expect to see a lawn. In this case, the pavers were used with grass to define a larger outdoor patio area around a pool. To ease up on lawn care, consider using faux grass for a treatment like this and you won't need to ever worry about mowing.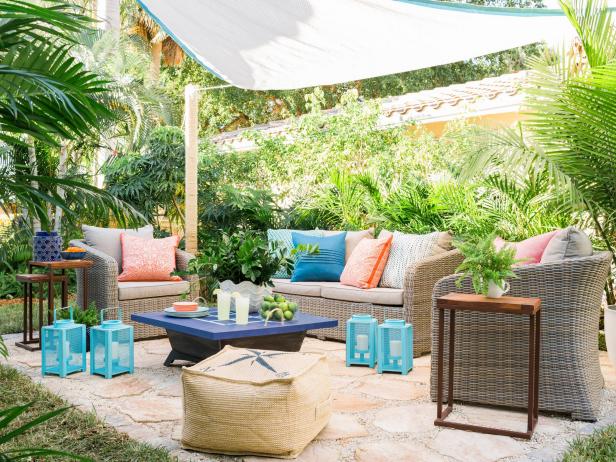 15 Ways to Bring Indoor Comfort Outdoors
In its original state, this long and narrow yard was wasted space. To give it new life as an outdoor living room, it was grounded by a 10-foot-by-10-foot square of pavers, made more secluded from neighbors with planted palm trees, furnished with hardy seating and anchored by an interactive coffee table.
© Rustic White Photography, LLC
If you live in a warmer climate and don't need to worry about the change of seasons, you could create a true outdoor living room using pavers to define the area. Try to stick with outdoor fabrics, and come up with a game plan for storing cushions and pillows. While outdoor fabrics are durable enough to take the rain, you will ensure your pillows last a lot longer if you can keep them dry as much as possible.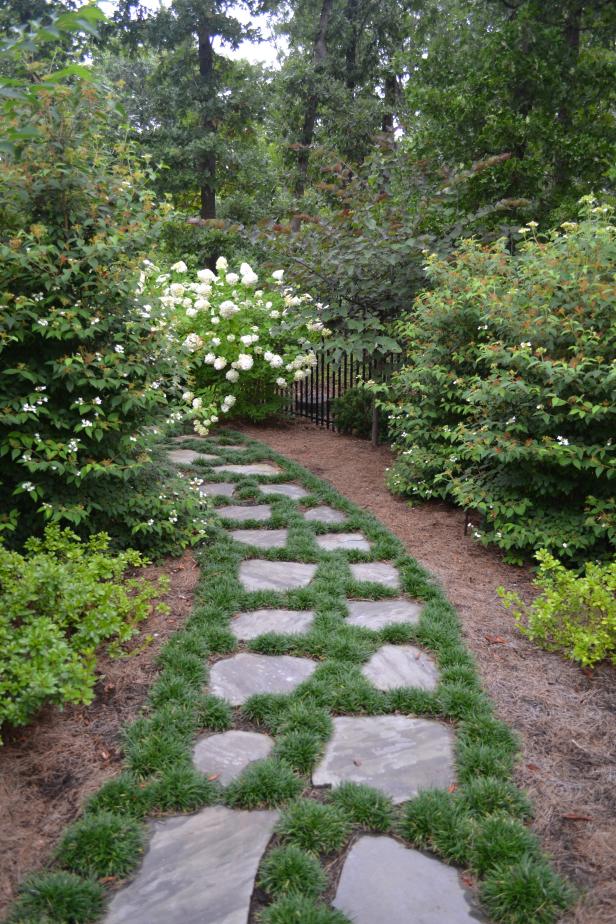 Stone Paver Garden Path
A stone paver pathway with grass accommodates relaxing morning and afternoon walks through the garden. Hydrangea bushes and flowering hedges line the walkway.
For larger properties, pavers are an amazing solution for defining paths and creating natural movement throughout your entire outdoor space. You'll want to ensure that paths connect easily from one area to another, while providing an obvious route for walking. Since pavers are so versatile, they'll work well with almost any materials or elevations.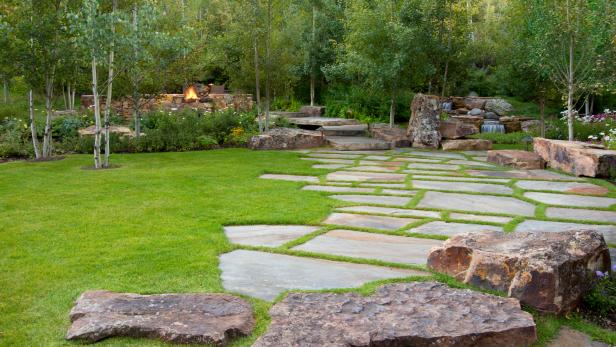 Stone Paver Walkway Trimmed With Green Grass
Rugged rocks and smooth stone pavers are scattered along the edge of the lush lawn leading to the fire pit patio.
D.A. Horchner/Design Workshop, Inc.
Even if you have an area on your property that won't necessarily be used as a functional space, pavers still do a lovely job of tying together the landscape. In this case, pavers are used right outside the fire pit area and in front of a beautiful fountain. They create visual interest for the space and also connect one area of the yard to another.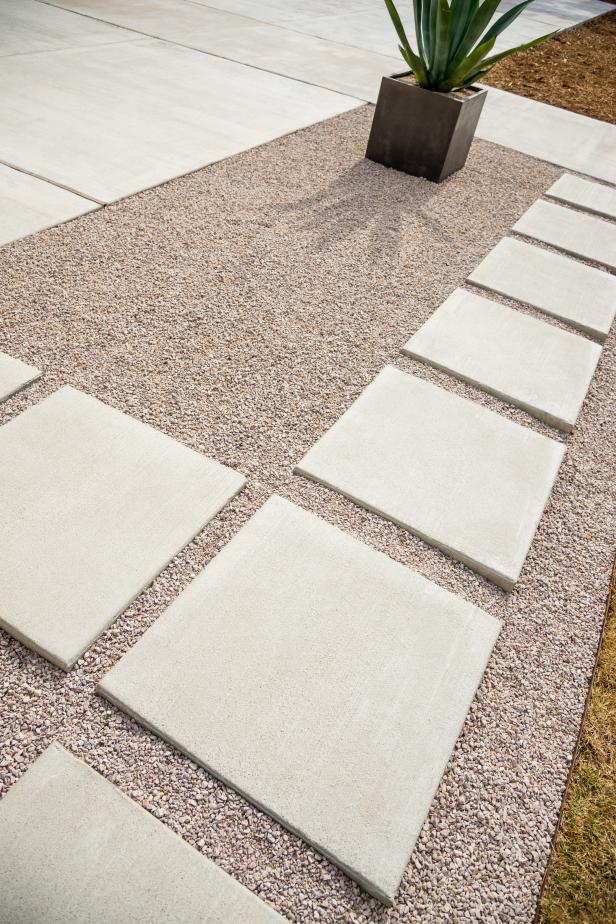 Concrete Paver Walkway in Gravel
Front Yard of HGTV Smart Home 2015 in Austin, Texas
If you have a more modern home or you're simply looking to bring a more modern vibe to your patio, concrete pavers are a great way to achieve it. These types of pavers can be poured to any size or shape, so you can really have some fun with pattern while also using the shapes to help easily navigate throughout your yard.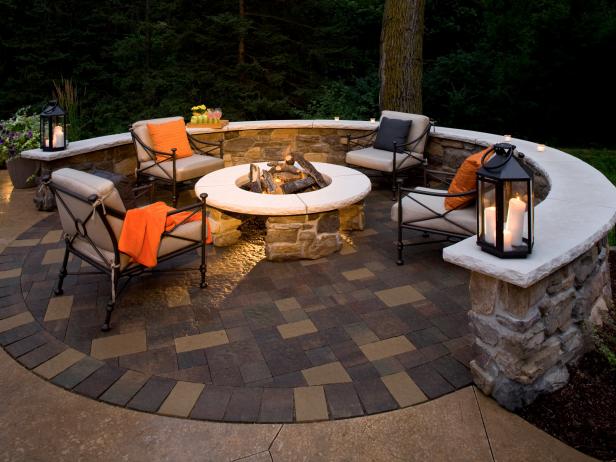 Fire Pit and Paver Patio on the Edge of the Woods
Look closely and you'll see this stone fire pit's design is a bit unusual. The fire pit bowl is perched on pillars of veneered stone and topped with Indiana limestone. The paver patio is surrounded by a veneered-stone seat wall, also topped with Indiana limestone. It creates a captivating setting on the edge of the woods.
While pavers look great with some space between them, they also work well as an outdoor flooring option. In this case, the pavers are arranged in a tightly woven circular pattern. There is a nice mix of neutral colors paired with a second type of paver that defines the area outside of the fire pit.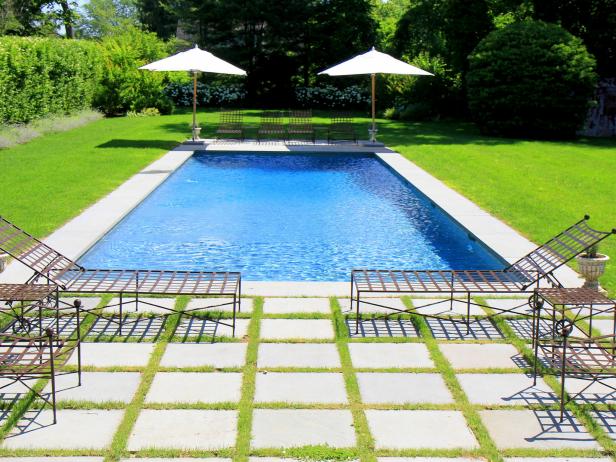 Backyard Oasis With Swimming Pool and Lawn Chairs
This backyard oasis features a rectangular in-ground pool in a simple, traditional layout. Ample seating provides a space to enjoy the serene surroundings of the water and elegant landscaping.
Picasa, Scripps Networks, LLC
Pavers also work really well as a solution to use around a pool. Here, the lounge area is defined with pavers, while the lawn area is kept clear. Depending on the setup of your outdoor space, you could choose to do something similar; however, pavers would also look great all the way around the pool.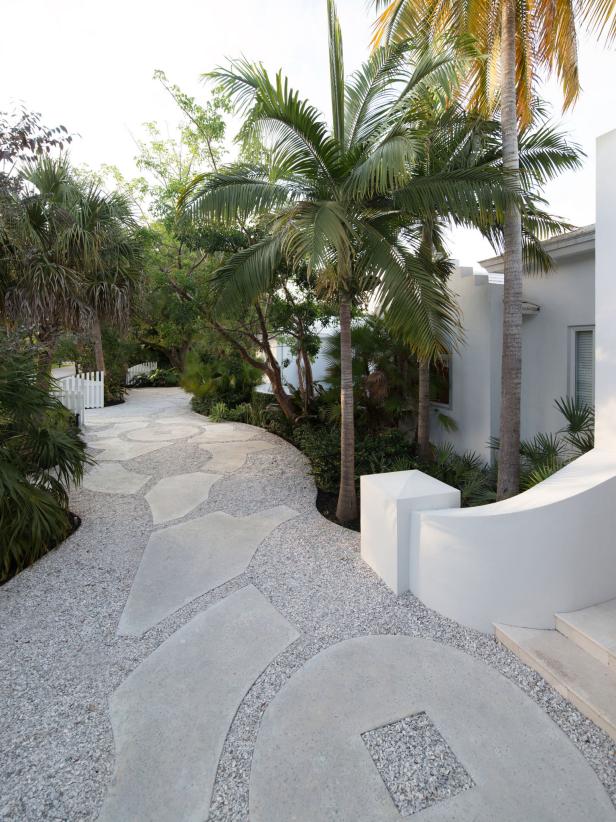 Large Paver Walkway Lined by Palm Trees
Pavers in the entry of this Coral Gables, Fla., home are spaced closely enough for even ladies wearing heels to walk from the pavers to the front door. The landscape design project, by ArquitectonicaGEO, won an FLASLA Design Award.
While we often think of pavers as having symmetrical placement, we think of most pavers having a symmetrical shape, too. However, this treatment shows us that that it's not necessary. We can see in this design that larger, free-form pavers can also look quite chic.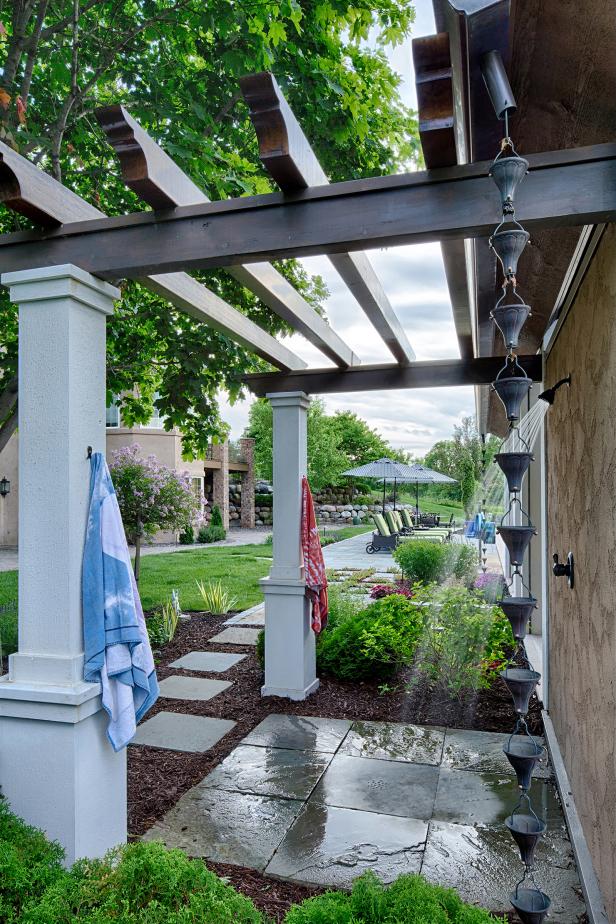 Outdoor Shower
A pergola flows from inside the poolhouse to outside, providing artful cover for an outdoor shower. It's the perfect place to rinse off after swimming and eliminate everyone having to go inside and track water everywhere. Poolhouse stucco matches that on the main house. Rainchains provide a decorative touch with a practical purpose.
For warm climate-dwellers, an outdoor shower could be the ultimate luxury. If you have enough space for one, consider creating an outdoor shower with pavers. This is sometimes an easier project than you might think, as you're likely already set for plumbing.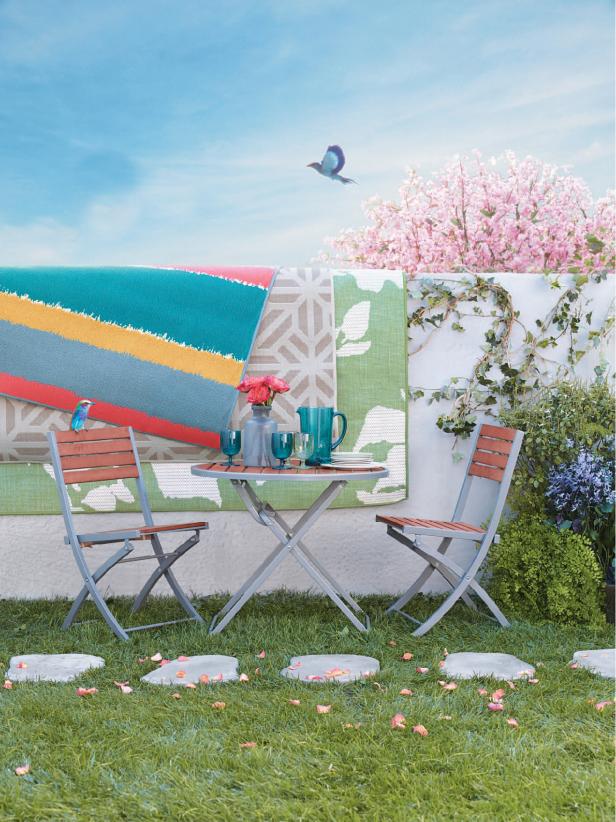 Outdoor Entertaining With Target Outdoor Bistro Set
Enjoy a cold drink in the backyard or on the patio with this Threshold outdoor bistro set from Target. The colorful slated seats correspond with the tabletop, while each piece is foldable for seasonal storage.
Even if you have the tiniest yard, you can still use pavers to help define a petite hang-out space for you and your family. Even a small grouping of pavers can help to define an area and create some coziness.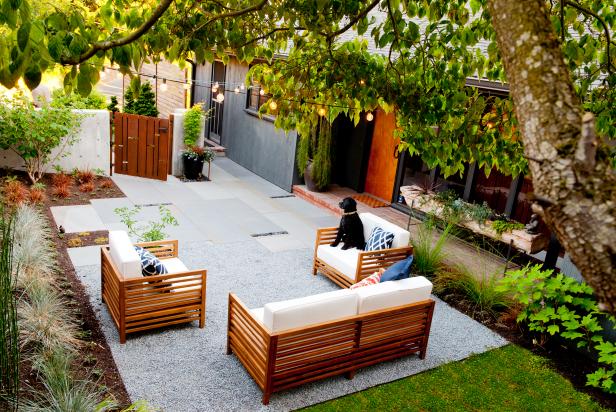 Modern Seattle Courtyard with Bluestone Paving and String Lights
Trees shade a spacious and stylish courtyard accented by drought-tolerant plants and LED string lights. The hardscaping combines bluestone paving with pebble accents and crushed granite paving. Both existing trees were retained when the new garden was installed in December 2014.
Coreen Schmidt Photography
Pavers work well with a variety of other materials, but they work especially great with gravel. Depending on the type you choose, gravel can be a very inexpensive option when you need to cover a larger area. You can pair pavers with gravel to define your space and save a bit on your outdoor reno.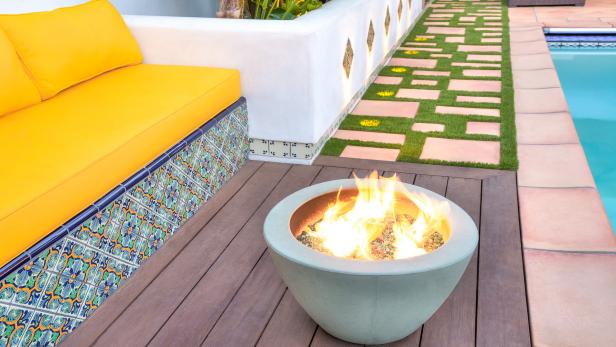 Mediterranean Modern Outdoor Fire Pit
Vibrant yellow cushions make a bold statement, especially paired with blue and green patterned tile. Staggered paver stones in grass lead to a modern fire pit situated poolside.
Pavers also pair beautifully with wood. Here, the wood decking looks great next to the various pavers mixed in with the grass. The colorful tile and white stucco brings a bit of a resort vibe to this beautiful outdoor space.