11 Perfect Gifts for Mom That Give Back to Women All Over the World
"Giving back is the new black."

We love that quote so much that we were inspired to put together a Mother's Day gift guide featuring gorgeous gift ideas from women-owned businesses. These gifts all have one thing in common — they come from companies built around the idea of doing good globally and in local communities.
So, if you have a special lady in your life, consider giving her a gift that shows her how much you love her, while also doing some good.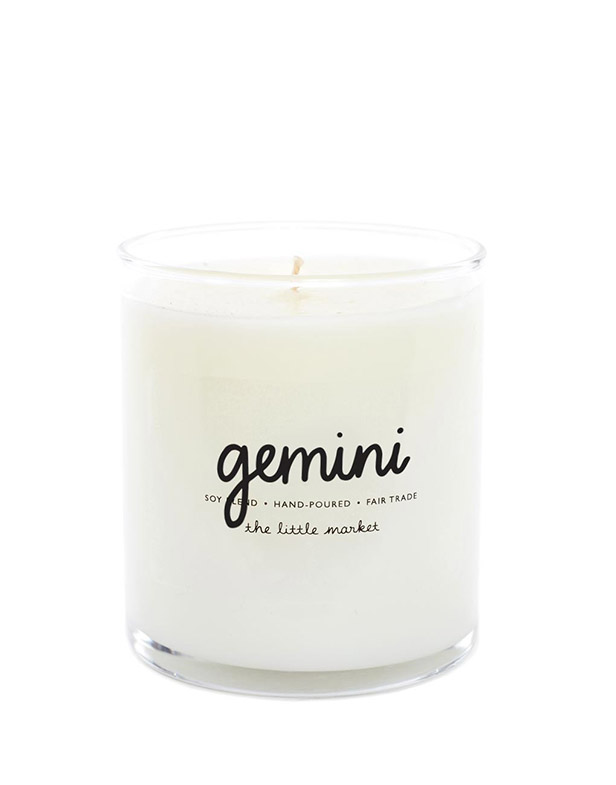 If you have a spiritual mama in your life, then surprise her with a zodiac candle on Mother's Day. These candles are made by , which is a company that supports female entrepreneurs by helping them get out of poverty. The women who the company employs have recently resettled from refugee camps and are taught how to produce and create these special candles. Plus, each one is signed on the bottom by the artisan who made it.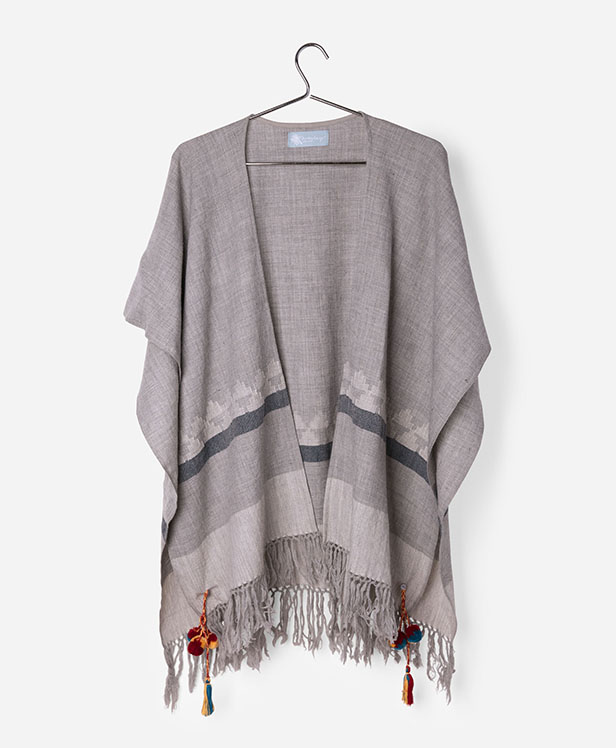 This gorgeous cape, made in India, would keep any Mom warm and cozy. Featuring colorful tassels, it also has a stylish, boho vibe. uses fashion to help build and strengthen communities around the world. They work with artisans across 12 countries, helping them develop their businesses by connecting them with growing marketplaces. These artisans, in turn, are then empowered to make meaningful changes in their vulnerable local communities.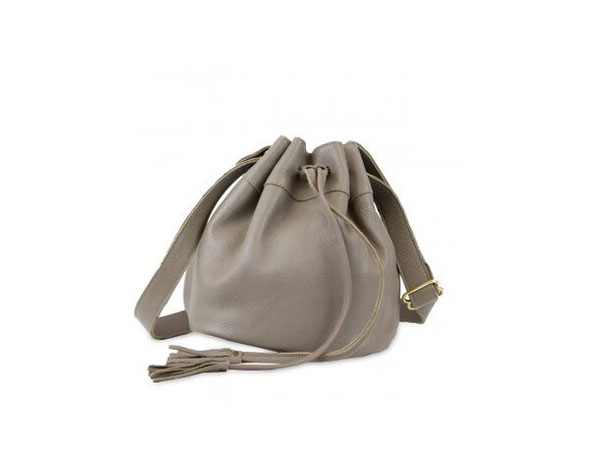 The crossbody bag trend is still front and center in all the fashion magazines, so this chic, leather crossbody satchel would be the perfect summer accessory for Mom. is a fashion brand based in Uganda that was established to help send Ugandan women to college. Each purchase goes toward ending the cycle of poverty in East Africa through empowerment and education. So far they've enabled 87 women to attend and graduate from college.
"Giving Back is the New Black" T-Shirt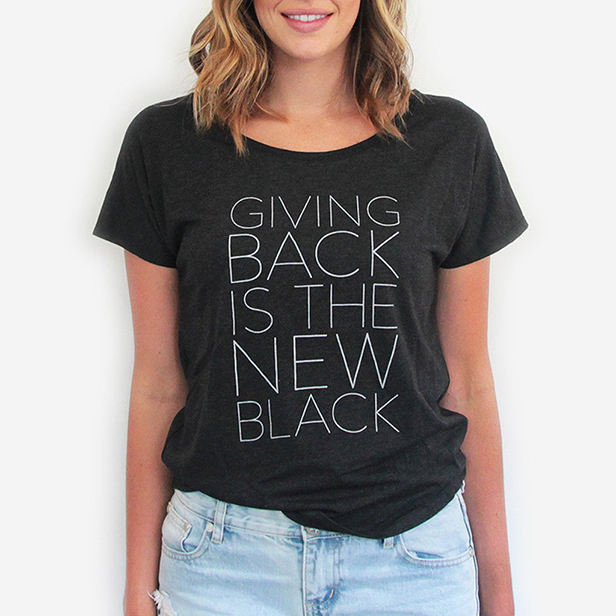 This is a thoughtful Mother's Day gift for all of the do-good mothers. is a company dedicated to making a difference in the global fight against hunger. For every Half United product you purchase, you provide seven meals for a child in need. Not only do these make a great gift for Mom, but they'd be a wonderful gift to keep on hand for birthday parties or work colleagues.
Pay It Forward Necklace Set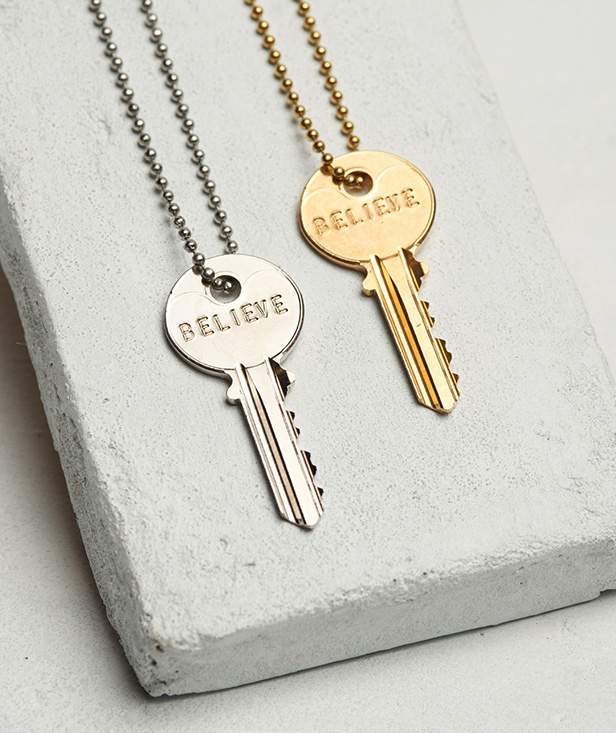 Here's a beautiful gift that would give your special mom the opportunity to share. Each set comes with one gold key and one silver key with an inspiring message stamped on it. Dream, Inspire, Believe — the message is up to you. But once Mom gets her set, she can decide who to give the second necklace to. is a company that wants to inspire the world to pay it forward. Each purchase helps support job creation for people who are transitioning out of homelessness.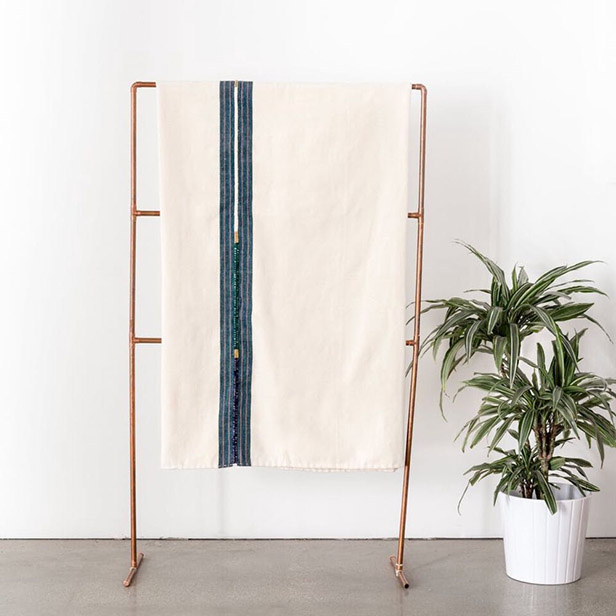 This organic cotton blanket was handwoven by the women of Chichicastenango, Guatamala. Each blanket is unique and created by different members of this family-run weaving cooperative. is a company committed to helping local artisans all over the world build their businesses, improve their communities and preserve their cultural traditions.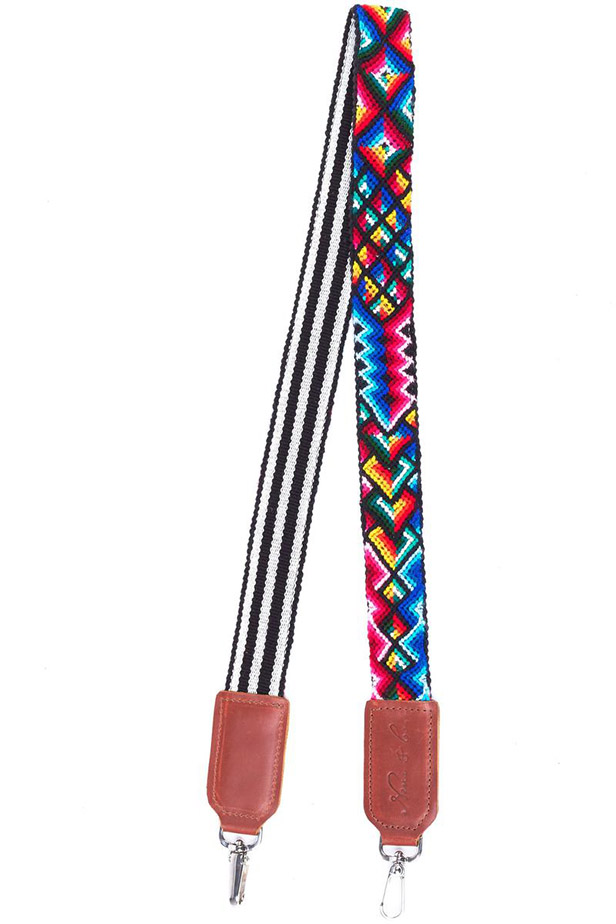 These colorful bag straps are made using pieces from vintage Guatemalan fabrics. They can be used on purses, weekend bags or as a chic camera strap. Each pattern represents the designs of the different areas in Guatemala where the artisan came from. uses profits to help support a variety of different causes in Guatemala like providing purified water to different communities and educational scholarships for female artisans and their families.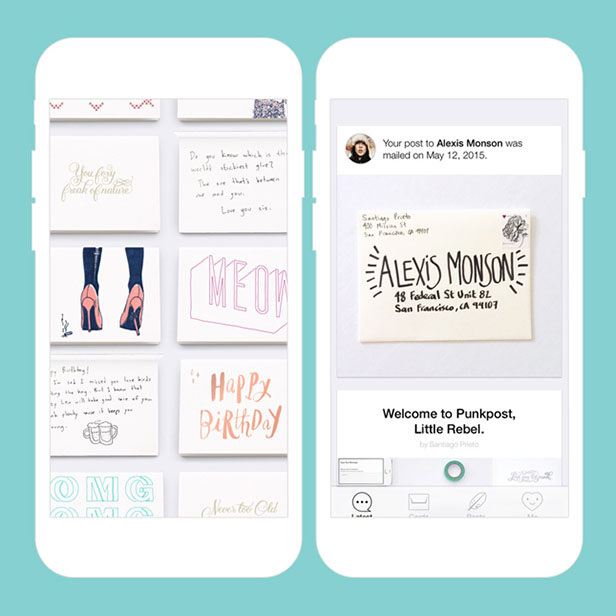 Punkpost is a fun way to send cards to the special mamas in your life. Each card is signed and hand-lettered by a talented artist or scriptist who writes out your own personalized messages. You can choose the style of your lettering and even add confetti or photos. After your card is mailed out, you receive a picture of what the final card looks like. By , you're supporting hand-picked artists who are able to share their love of letters with you and your friends and family.
"Every Mother Counts" Bandana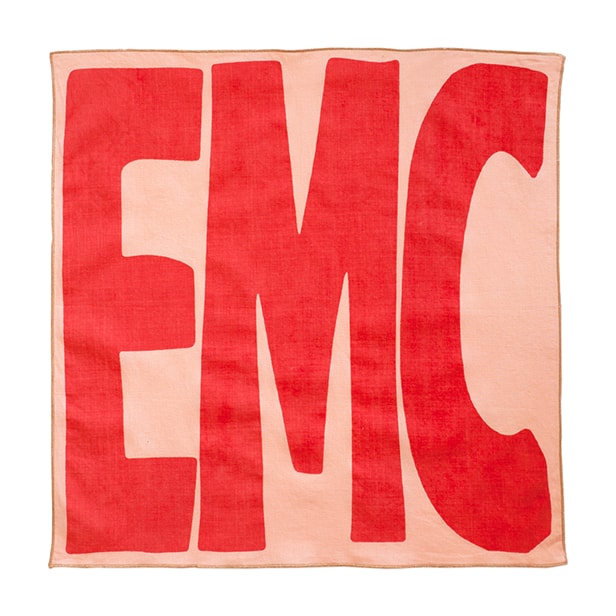 This stylish bandana from handbag and accessories designer Clare Vivier is a fun Mother's Day gift for a fashionable Mom. One hundred percent of the net proceeds from each of these bandanas will support , an organization committed to helping make pregnancy and childbirth safe for every mother in developing countries all over the world.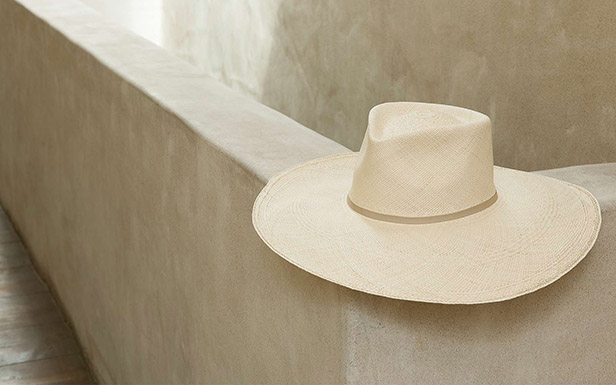 Made in Ecuador, this hat is woven with toquilla straw and inspired by the Panama hat. offers their customers a truly unique program called "lean shipping." If you choose this during checkout, they'll send you a reusable bag that you can use to fill up with items in your closet that "aren't helping you to live your most beautiful life." Through their non-profit partner H.E.A.R.T, they then pass along your clothing to women who are looking to make fresh starts. You will also receive $10 off your next order for contributing.
Jeni's Splendid Ice-Cream Pint Club Subscription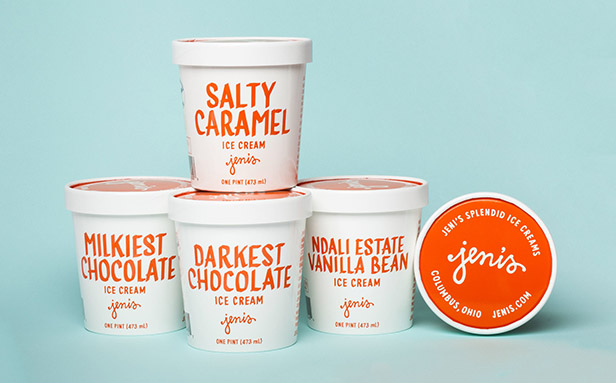 For the ice cream-loving Moms, a Pint Club subscription from could be the perfect choice. This subscription includes a quarterly delivery where Mom would get three pints of Jeni's delicious ice cream. Jeni's is a company committed to a fellowship model of doing business which uses direct-trade and fair-trade ingredients, has a diverse group of employees and works with women- and minority-owned businesses.
Hand-Painted Wooden Bracelets
These stylish bracelets are so easy to create and will make any mom smile. From fingerprints to polka dots and stripes, the kids can get creative making these especially for her!
Kids' Garden Stepping Stone
Shiny, sparkly finds instantly become artwork for Mom when turned into a found object stepping stone.
Special "Mom" Banner
Moms everywhere will love being presented with this handmade paper banner. Little ones' handwritten messages on the back will make this a keepsake to cherish.
Block-Printed Napkins
Turn basic household items into simple stamps, then create your own custom-stamped towels and napkins.
Herringbone Tray and Box
With a little paint and simple balsa wood tiles, you can make a beautiful, customizable tray or box to give Mom for Mother's Day.
Kids' Artwork Candleholder
Personalize simple glass hurricanes with kids' artwork as a sweet handmade gift for Mother's Day. This easy project can be made by children of all ages.
Fingerprint-Embellished Frames
The kids will have a great time making these one-of-a-kind keepsake frames that Mom will love, especially when a favorite photo is included.
Easy-Sew Lined Tote Bag
A straightforward sewing project for tweens, teens or anyone new to sewing, this lined fabric tote bag is perfect for moms on the go.
Chic Macrame Planter
Macrame is back in a big way. To bring this craft out of the 70's and into the 21st century, a neon and metallic color palette was used. It's the perfect size for a small vase or planter, but it would be a great way to show off succulents or air plants, too.
Printable Mother's Day Cards
Show her your care with one of these easy-to-make printable cards, then add ribbon embellishments to make it special. The inside is blank and ready for your heartfelt note.
Colorful Dipped Utensils
Give Mom something practical, beautiful and handmade this Mother's Day by dressing up wooden utensils with a splash of her favorite hue. Trendy dip dye looks even fresher when you paint each one with gradually lighter paint, creating an ombre effect.
Chalkboard Flower Pots
Inexpensive terra-cotta pots get a playful makeover with chalkboard paint; fill with her favorite blooming bulbs for a cheery pop of spring color.
Fingerprint-Decorated Table Runner
This darling, colorful table runner is so easy to create. Kids can personalize a plain white table runner with colorful fingerprints.
Painted Glass Vases
Dress the table with these easy-to-make confetti-dotted vases. All you need is a small glass vase, opaque glass paint and a tooth pick to create your design.
Decoupaged Photo and Quote Cans
Transform empty tin cans into personalized desk storage for Mom's office supplies. Glue on colorful images and favorite sayings to create a look she'll love.
Framed Child's Silhouette
A framed silhouette is a classic keepsake that Mom will cherish for years to come. A digital camera, computer and printer make this centuries-old craft a snap.
Easy-to-Craft Handmade Jewelry Box
Turn inexpensive fence-post caps from the home improvement store into a pretty jewelry or gift box. By itself, the box makes a sweet Mother's Day gift; fill it with sweet treats or a small trinket for a handmade gift she won't soon forget.
Painted Market Basket
Send Mom to the farmers' market in style this season with a vibrant basket painted with a trendy pattern. This craft would look equally at home storing blankets, pillows and magazines beside the sofa.
Pressed-Flower Coasters
Skip the bouquet this Mother's Day — give your mom a set of pressed-flower coasters instead. Dry or buy the flowers of your choice, then set them between cut glass with a little glue.
Victorian-Inspired Jewelry Box
This DIY jewelry box was inspired by Victorian garden grottos. Plastic insects and seashells affixed to a paper suitcase and spray painted gold are a fun nod to the Victorian obsession with collecting and displaying natural specimens. Mom will love the metallic hue and the storage space for her own collection.
Wine Crate Jewelry Organizer
Don't trash those empty crates of vino: Give them a brand-new purpose by turning them into jewelry display boxes that will showcase Mom's stunning collection and keep it organized, too.
Low-Sew Felt Bowls
Scared of the sewing machine? That's okay! You can still make these adorable hand-sewn felt bowls with just a couple stitches. They're perfect for organizing Mom's craft supplies or sweetly packaging up one of her gifts.
Chalkboard Kitchen Canisters
Glass canisters are practical, inexpensive and readily available, but can be a bit boring. Chalkboard paint and an easy-to-apply stenciled detail transform them into gift-worthy kitchen accessories.
"Mom" Centerpiece for Mother's Day
Create a special centerpiece as a tribute to Mom this Mother's Day. The kids will love getting involved in this simple, family-friendly project.
Pom-Pom Banner and Decorative Letters
Colorful pom-poms and 3D cardboard letters combine to form a festive party banner or fun bookshelf decor Mom will cherish for years to come. Spell out "Mom," "Love" or another fitting phrase to make it extra special.
Easy-Sew Outdoor Pillow
Stitching up an outdoor pillow to brighten up a porch or deck is a great project for a sewing novice. Select materials that are made to withstand bright sun and moisture to keep Mom's custom pillows looking great year after year.
Colorful Wind Chimes
Transform tiny terra-cotta pots into cheery music for Mom's garden. These chimes are constructed entirely by knotting and gluing — no drilling required!
Doily Dream Catcher
Present Mom with a handmade dream catcher fashioned from an old doily.