Have a Big Space to Fill on Your Wall? 7 DIY Art Projects to Try
Frustrated with a big, empty space on your wall? Try these easy and creative DIY art projects to take an empty wall from drab to fab.

Whether you live in a house, an apartment, a cottage or a mcmansion, my guess is you've got some giganto empty wall space you need to fill.
I've long been frustrated by the fact that it's next to impossible to buy giant pieces of art. On most online sites, big art is either not available or super duper scary expensive. Why is this? Should we start a petition!? Do you want to join me in the "BIG ASS ART FOR ALL" movement? Let's change the world!
Until then, here are 7 easy DIY art projects that will help you fill up that big empty space on your wall with some fabulousness.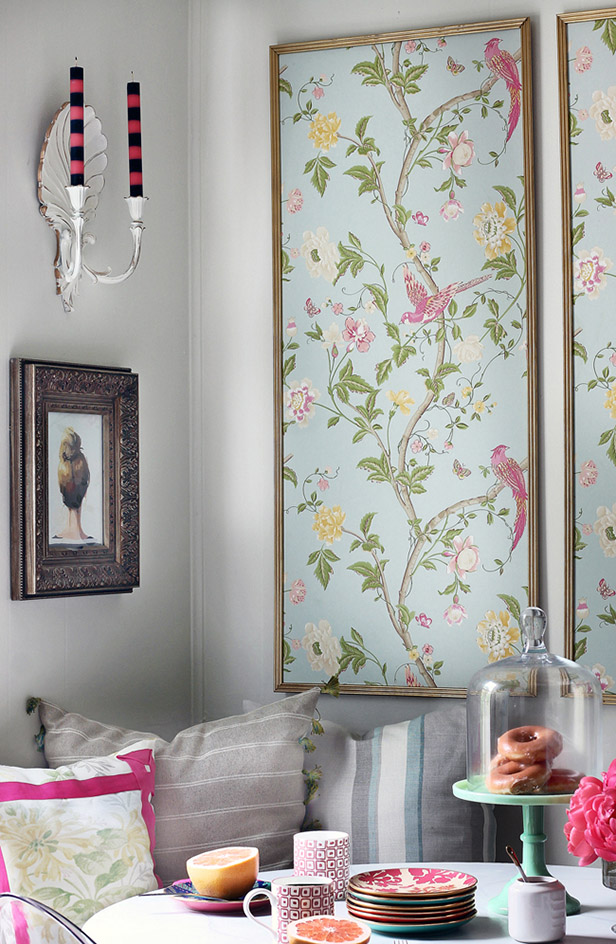 This one is a great option if you're ready to dip your toes into the wallpaper pool, but still want to wear your floaty wing thingys while doing it. You can hang a piece (or several pieces!) of wallpaper either vertically or horizontally, and then create a "frame" around it with painted wooden trim from the hardware store. has a great tutorial showing you how she put together her chinoiserie wallpaper panels.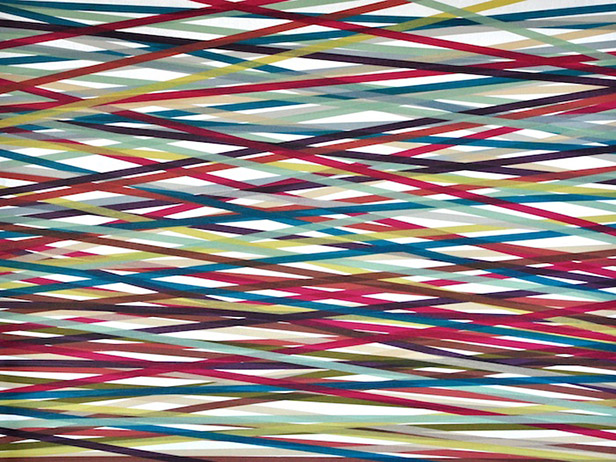 If you've not yet discovered the magic of washi tape, BREAKING: washi tape is seriously amazing! Washi tape is sort of like masking tape, but it's made of rice paper so the texture is much different. This is a great abstract art DIY for anyone that's gun shy about painting. You can purchase a large canvas to fit the size of the space you are trying to fill, as well as a variety of colors of washi tape. Then you just go crazy, crisscrossing lines until you have something you dig. Hop over to to get step-by-step instructions on this one.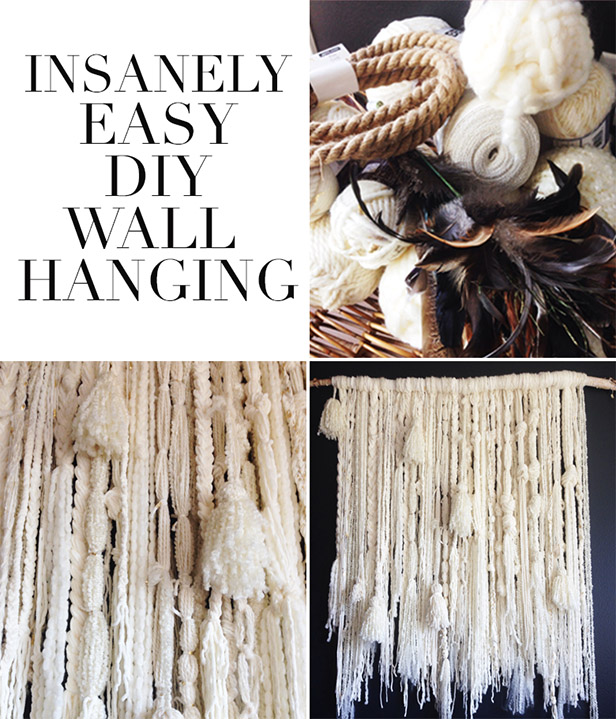 I love me some woven wall hangings and also some macrame wall hangings, but I don't know how to do either. So a few weeks ago I decided to tackle my own big space dilemma by creating a "knotted" wall hanging. Basically I bought a bunch of yarn in the same off white color, but in all different textures. I also purchased a big branch at a floral supply store. Then I got to work making all sorts of fun knots, braids, tassels and tie offs. I knew my Girl Scout training would pay off one day. This one is super duper easy, and I included all of the directions over on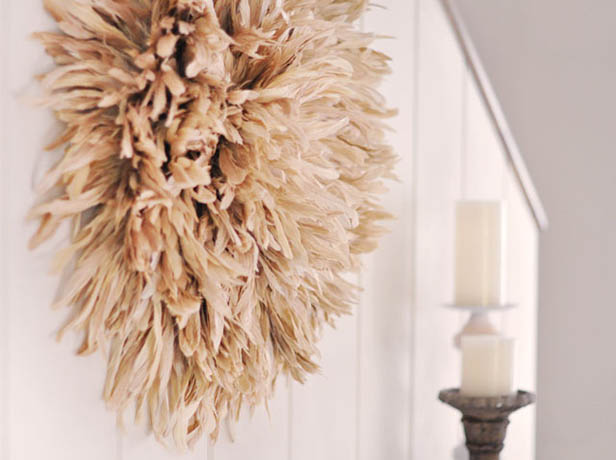 A Juju hat is not, in fact, a hat covered in jujubes candy, but actually a beautiful African headdress. Several years ago these gorgeous feather numbers started showing up in design mags and blogs, but the problem was, most of them cost 11 bazillion dollars. Lucky for us, enterprising bloggers started scheming up their own Juju Hat DIYs and has a great one for you to peep. You'll need feathers, a glue gun, some rug canvas and scissors. You can do this…I believe in you.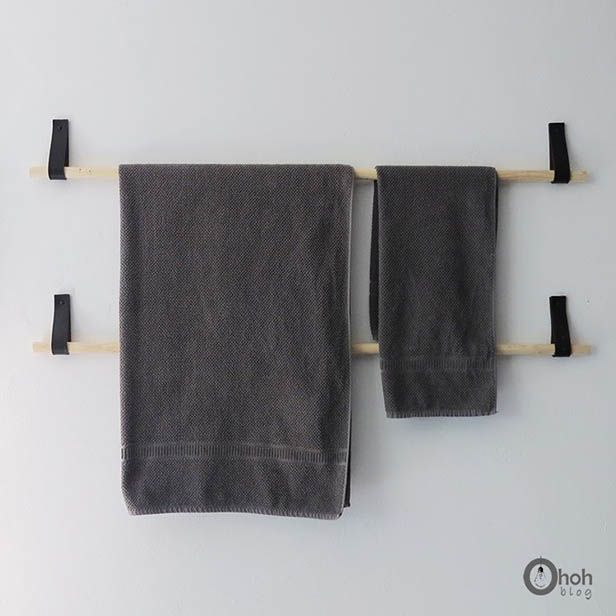 So this one was actually designed as a towel rack DIY, but I thought it would work great as a display for gorgeous quilts. You'll need two wooden rods, some leather pieces, screws, dowels and a drill. You can easily customize this to fit a larger space by using longer wooden rods. You could also hang beautiful fabrics on this, colorful scarves, blankets or signed autographs from any of the Real Housewives. Ok, kidding about the Real Housewives! Mostly! Get the DIY lowdown on the .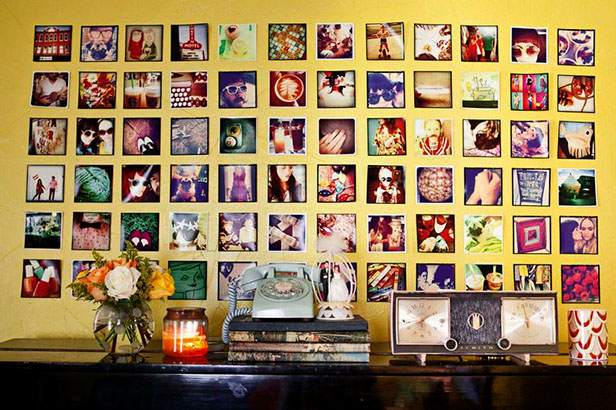 If you're looking for a unique way to display your photos, an Instagram wall might be your future. Printed Instagram photos remind me of old polaroids, and polaroids are the coolest, so if you do an Instagram wall you're obviously cool. Nice work. put together a great tutorial on how to set up your Insta wall and evenly space everything using a painters tape grid as your guide. They got all of their prints from .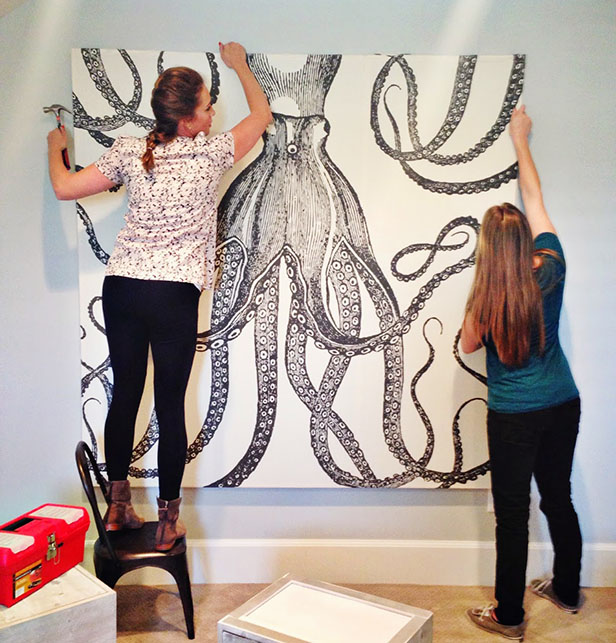 I saved the best for last, because this giant shower curtain art is off the chain! You can pick out a cool shower curtain, buy some cheap wood to make a simple frame, wrap the curtain around it with a staple gun and BOOM: you have a gigantic, unique piece of art (that's also super duper easy to switch up if you ever want to). is the genius behind this simple DIY, and I just nominated them for the best big art project on the entire world wide web. OMG, you guys! I just voted and they won! No one else was nominated, but still!