10 Gender-Neutral Nursery Decorating Ideas You'll Love Now + They'll Love Later
Design a space they can grow into.

In decades past, the trend was to go all in by decorating your nursery with the gender of your baby in mind. Most people either decorated in pink, light blue or yellow (if they were unsure if they were having a boy or a girl). Period.
These days, the trend in nursery design has moved toward more gender-neutral spaces. The focus is much more on good design, rather than traditional boy/girl color palettes.
Here are 10 of my favorite gender-neutral nursery designs, as well as some tips and ideas you can steal for your own child's room.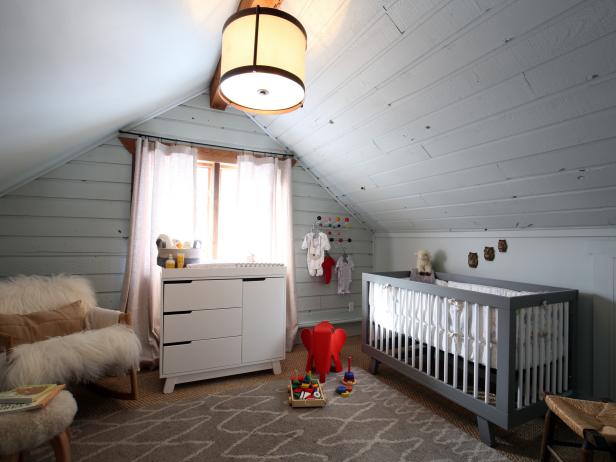 Upstairs Nursery Bedroom
The couple turned a small upstairs bedroom into a nursery to accommodate their growing family. The neutral colors make it a sweet place for a baby, while the light pouring in from the window and the chandelier on the ceiling makes the space light.
From:
Rocky Mountain Reno
While yellow certainly still works beautifully as a gender-neutral shade, gray seems to be your best bet for a fresh, modern update. The great thing about gray is that it's so versatile, it can be paired with almost any color palette. Bright hues look especially beautiful against a light or medium gray.
Wall Murals Have Grown Up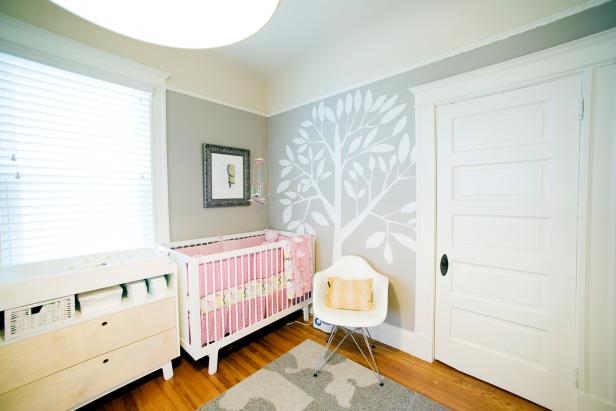 Wall murals are another area in kids' room decor that has gotten a major upgrade. Gone are the days of the simple baby duck murals. Beautifully illustrated scenes are now available via wall decals. Here is for modern wall decals.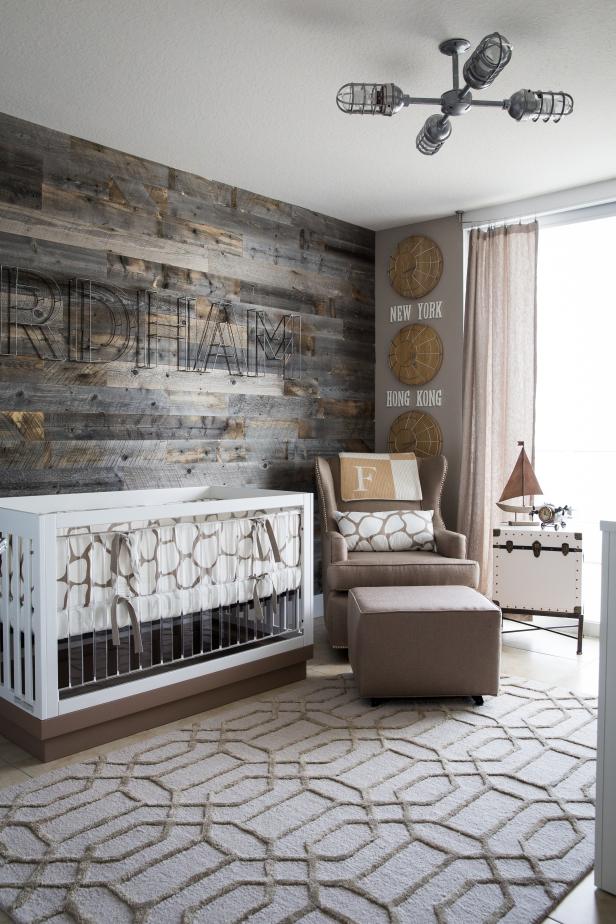 Serene, Travel Themed Nursery
This subtle travel-themed nursery features a driftwood wall fused with modern details like an acrylic crib to create the perfect modern meets rustic baby room that's serene and inviting.
Using wood elements in a nursery is the perfect way to bring in some warmth or modern rustic vibes. Creating a wood wall is a fun option; however, you can easily achieve the same look by using wood furniture or decor.
Graphic Wallpaper Adds a Style Punch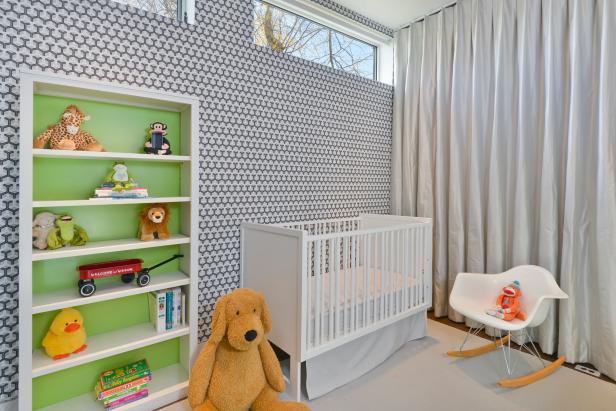 Modern Nursery Boasts Geometric Wallpaper
This nursery designed by Linc Thelen features simple furnishings and geometric patterns that will work as Baby gets older.
Jim Schetter, IC36O Images
A bold, graphic wallpaper is another great idea for upping the design game in your space. Use temporary wallpaper if you want less of a permanent solution. And if you're afraid to dive in and wallpaper your entire space, consider just doing it on one wall.
The Gallery Wall Trend Comes to the Nursery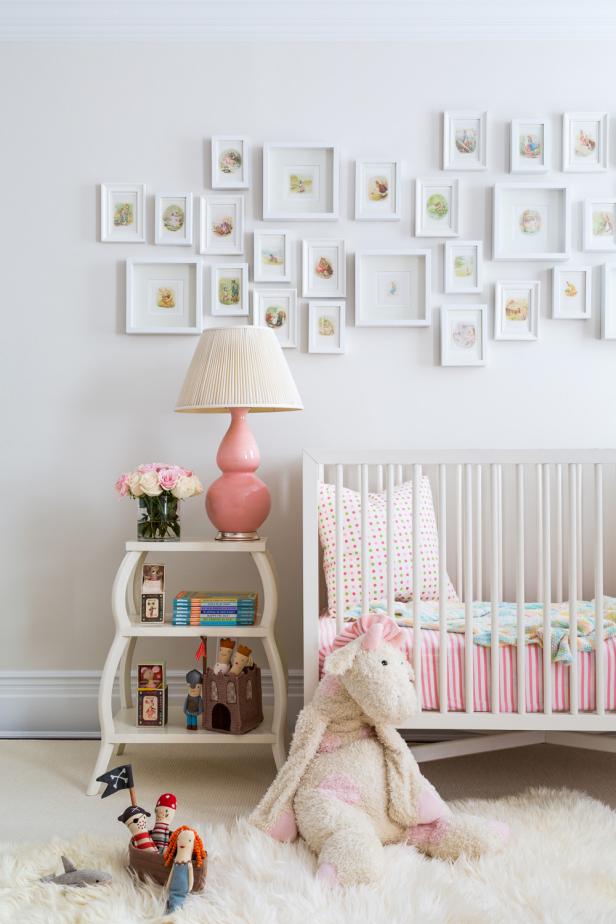 Chic, Understated Gallery Wall in Girl's Nursery
A simple gallery wall adorns the space above the crib in this girl's nursery. Accessories are fun feminine but will adapt well as she grows.
Gallery walls are everywhere in design these days, and there's no reason not to bring this trend straight into your nursery. Here, beautiful illustrations from children's fairytale books are displayed in varying sizes of simple, white frames. However, if you want to mix things up a bit, you don't even need to stick to a theme with your nursery gallery wall. Simply gather up some of your favorite pieces of art and create your own grouping. Sticking to one type of frame isn't necessary, but it may be a good trick to bring a bit more cohesiveness to the space.
Animals Work for Boys + Girls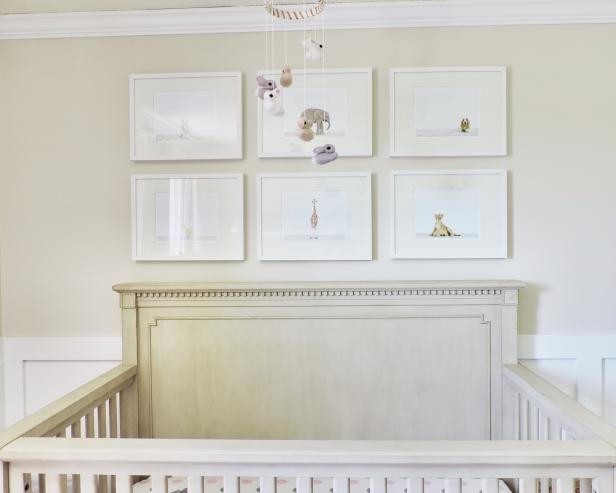 Playful Artwork in Girl's Nursery
An arrangement of baby animal photographs adds a whimsical and fun touch to this girl's nursery. For the baby to look at, a mobile of bunnies hangs above.
While we joked about the baby ducks, the truth is animal decor is a fun trend that's still a fantastic option for a more gender-neutral nursery. Again, you can choose to stick to a theme or feature one type of animal throughout the space. You can even use the coloring of the animal as inspiration for your color palette (i.e. gray for an elephant).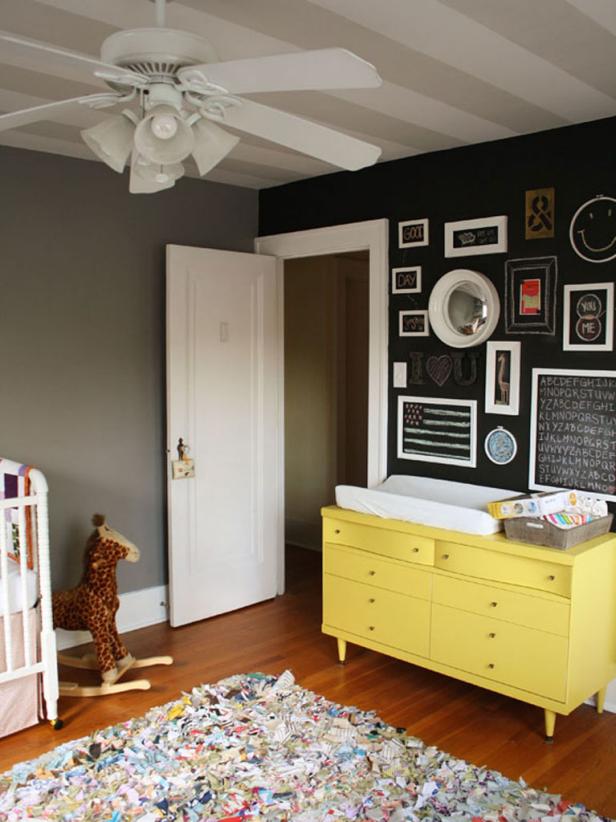 DIY Rug And Striped Ceiling In Nursery
You don't need to invest in a fancy and expensive rug to get a polished look — think outside the box. Buy a few mats and tape them together to form one larger rug. Choosing ones with variations and multiple colors makes it easy to hide any seams.
Using a dark paint color in a nursery is not necessarily traditional; however, it's a great way to bring a modern, gender-neutral feel to your space. Much like gray, darker colors serve as a beautiful backdrop for spaces that you want to feature additional pops of color in. And art looks especially fab against a darker wall.
Don't Forget About the Ceiling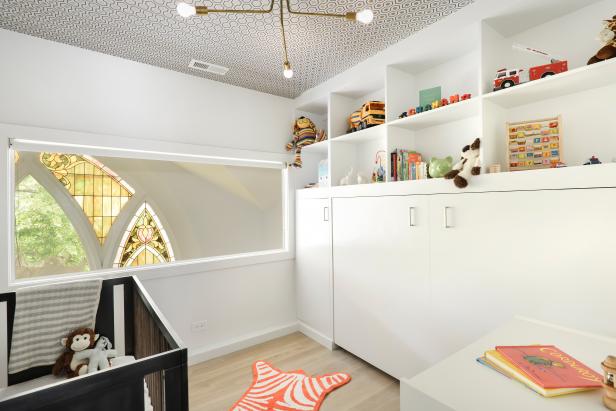 White Contemporary Nursery With Graphic Wallpaper Ceiling
Simple and sweet, this contemporary nursery features plenty of storage, a modern chandelier and a dynamic graphic pattern on the ceiling, perfect for Baby to gaze at while lying in the crib.
Painting or wallpapering your ceiling is another great option for a nursery where you want to really up your design game. Here, a simple white palette on the walls pairs perfectly with a patterned wallpaper on the ceiling. It feels both unexpected and super modern.
Typography Art Keeps Things Neutral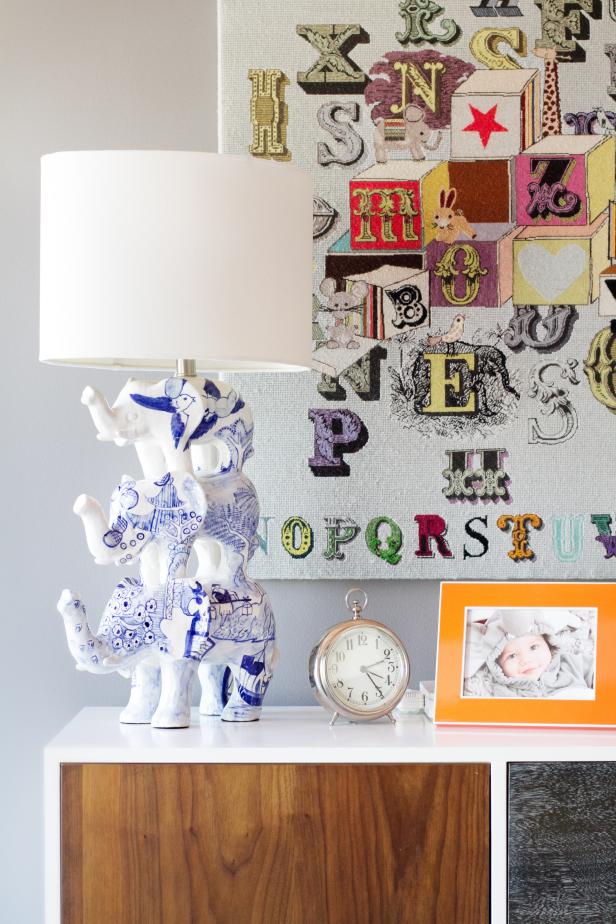 Blue and White Ceramic Lamp With Stacked Elephants
A trio of elephants stand on each other's backs to create this whimsical ceramic table lamp, a perfect fit for a kid's room or nursery.
Using typography-inspired art is another easy trick to incorporate in gender-neutral nursery. Letters, phrases or a favorite quote could work well in a nursery, too. A typography gallery wall would be a fun way to combine two popular trends.
Black-and-White Palettes Always Work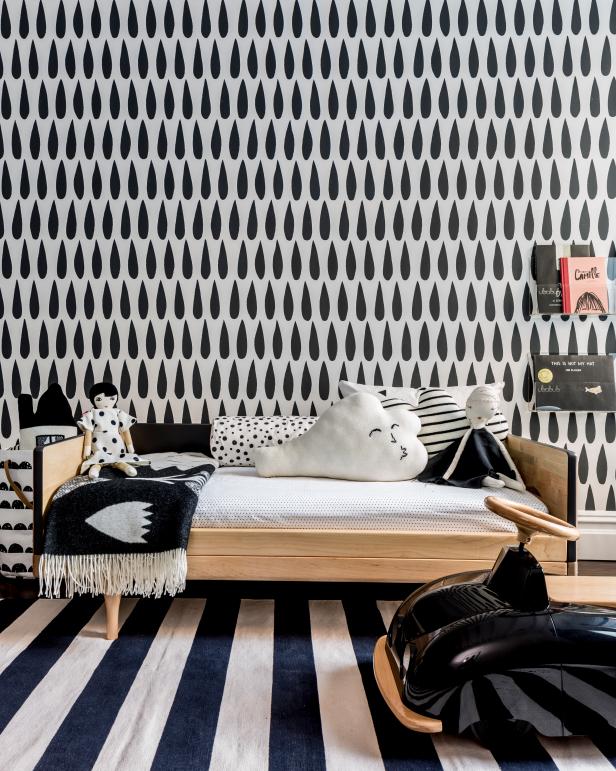 Playful Children's Room with Bold Wallpaper
Go bold or go to bed! Fun patterns on the wall with a simplistic daybed make this room a playful room for a child. Keeping the color palette similar lets the different prints work together.
A black-and-white color palette is another tried and true go-to for a space where you don't want things to feel either too masculine or too feminine. You can choose to keep everything in the space black and white if you're looking for your nursery to feel more cohesive. Or you can introduce some bright pops of color via your bedding or artwork to bring a bit more variety.
Tour the Gender-Neutral Nursery From HGTV Smart Home 2016
See All Photos
Gender-Neutral Nursery
The second floor gender-neutral nursery with teal blue walls and playful patterns includes a convertible crib, lots of storage options and the latest in technology that helps create a safe environment for a new baby.
Flexible Furniture
The 4-in-1 crib grows with the baby, and can be converted into a day bed by leaving off the front, a toddler bed with an additional kit, and a full bed with the use of optional bed rails.
Delightful Drapes
The nursery's fun red drapes include blue and white peacocks on branches with leaves and small flowers, adding a touch of nature and pattern to the room.
Beautiful Bedding
A crisp crib bumper, a ticking stripe crib sheet printed on the softest cotton and a crib skirt make up the nursery's beautiful and comfortable bedding.
Natural Light
Two large windows that flank the crib allow lots of natural light inside the nursery and frame the sleeping area.
Handy Baskets
Two graphic print baskets with red stripes and handles provide attractive toy storage that can be moved around the room where needed.
Rustic Bookcase
A rustic bookcase with brown and gray hues provides attractive open storage for artistic accessories, color-coded books, reclaimed wood photo frames and baskets for organizing and storing smaller nursery items.
Smart Toys
A collection of smart toys that encourage early learning including an app-enabled ball and an iPad game system that allows a small child to play with real world objects and get feedback from a digital app sit on the shelves of the nursery's bookcase.
Mobile Storage
The graphic print baskets with red stripes come in two sizes, to offer attractive and flexible storage for stuffed animals, toys and accessories.
Adjoining Spaces
The nursery also enjoys a direct connection with the hallway bathroom next door, that has a sophisticated look with luxurious layers of gray.
Stylish Swivel Glider
An adjustable brushed aluminum floor lamp provides illumination over the swivel glider. The updated reading chair with shaped arms and tight back includes a navy stripe throw for warmth on chilly nights.
Hanging Storage
Vintage-style metal and rope hooks on the nursery wall provide attractive hanging storage for baby clothes.
Wild Prints
A neutral-toned zebra print accent pillow adds another earthy touch to the nursery, and comfort for the swivel glider.
Zebra Print Rug
A 5x8 cowhide area rug with a brown zebra print adds color and pattern to the nursery's off-white carpet.
Cottage-Style Dresser
A gray full-size cottage-style dresser with seven drawers provides organized storage for baby clothes and accessories.
Modern Monitor
The nursery's cutting edge video monitor with two-way audio and one-way video includes a smart HD camera, video recording and live streaming to a smartphone with alerts that can be customized.
Adorable Accessories
Framed paintings of whimsical owls above the dresser set a playful tone for this carefully curated nursery. A pair of wood horse statues on metal stands and greenery add texture to the top of the dresser.
Lovely Lamp
The elegant table lamp on the nursery's dresser with a cream shade has a base with different hues of blue, done with a drip glaze that creates a distinctive look.
Well-Detailed Nursery
An old bronze semi-flush mount ceiling fixture provides ambient light for the nursery. A smart humidifier and nightlight help regulate the air and illumination in this well-detailed nursery.